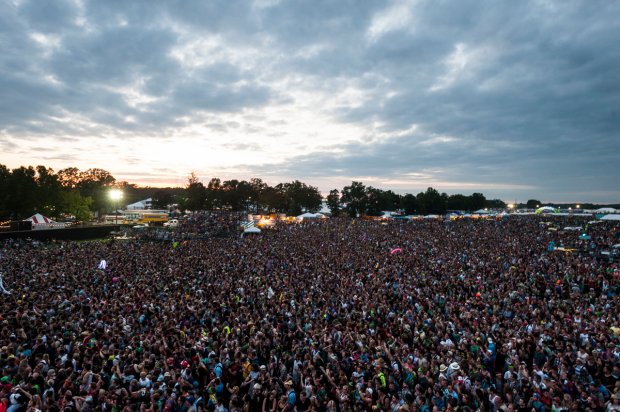 Festival season has officially begun. (Image via bonnaroo.com)
There are so many festivals throughout the entire year now that the idea of a "festival season" has almost been rendered useless. Can we call it "high season" instead? Either way, the most concentrated festival frenzy has already begun – SXSW sorta rings it in – and will last until fall. And whether you're playing or not, it's peak time for growing your fanbase. Peruse these tips to ensure you make the most of the next few months.
1. There's still time to book
Just because a festival has revealed its lineup doesn't mean that booking is completely closed. What organizers revealed could be only a portion of the bill, meaning there's still room for more bands. There are still loads of 2015 festival opportunities open to Sonicbids artists, but many are closing the application window soon. A few you might want to apply for:
2. Even if you don't get booked, you can still benefit
Don't get too down if you didn't snag a spot on the official lineup. Big events usually spawn after-parties and unofficial shows that feed off the festival crowd. Why not try getting a gig at one of those shindigs? If you haven't seen any spillover shows listed, then consider booking your own.
[How to Leverage Your Favorite Band's Fans by Creating Your Own 'Aftershow']
Additionally, attending the festival as a non-paying band doesn't mean you should treat it as such. Make the most of the event by giving away free merch – preferably something that includes your Facebook or website listed – to anyone who'll accept it. And while you won't be backstage, you can still try to network with artists and organizers. Keep an eye out for VIP lanyards and try striking up a conversation. For help avoiding cheesy schmoozing or a fruitless conversation, check out these networking tips.
3. Make your performance count
We've said before that giving away merch at a festival is a great way to capitalize on all the potential new fans in attendance. Don't wait until after your set to do this, though. Canvas the entire site relentlessly before your set as well – and tell each and every person where and when you're playing. Playing for a festival crowd means there will likely be performing for a lot of people who've never heard of you before. Instead of relying on your typical set, try tailoring it to this particular audience. Keep the slow jams to a minimum, and consider incorporating a cover of a well-known (but not overdone) song to pique the interest of new listeners.
Is it your first time playing a festival? Find out what Phil Sgrosso of Wovenwar wish he knew before his first festival!
Jhoni Jackson is an Atlanta-bred music journalist currently based in San Juan, Puerto Rico, where she juggles owning a venue called Club 77, freelance writing and, of course, going to the beach as often as possible.