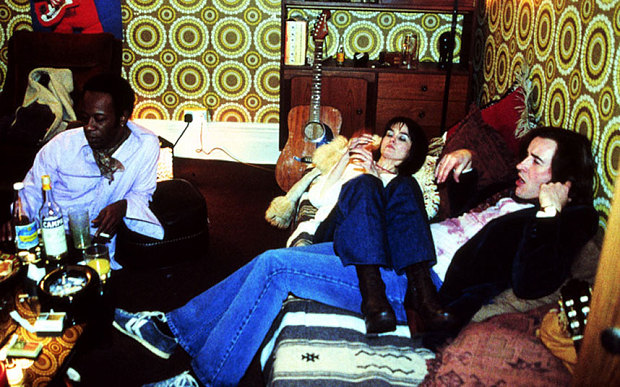 Image via telegraph.co.uk
Last month, I talked about what you need to do to maximize your music PR campaign. In this follow-up article, I'm digging deeper on how you can specifically take action on those steps I outlined.
1. Beef up your social networks
There was a time when social networks didn't rule the decision making of media outlets, but those are now bygone days. Although there are some outlets that solely decide to cover a band based on whether its staff likes the music, many are now looking at the social networks to determine how many fans could potentially be driven to the website as new traffic. If your Twitter and Facebook numbers are hovering under 1,000, it's time to look at a strategy to increase your followers and engagement. Here are a few articles to get you started:
2. Take strong publicity photos
Think about what you want to get across with your image, and find a great photographer who can accomplish it. The old adage "a picture is worth a thousand words" rings very true here. I've seen amazing bands be completely disregarded for the simple fact they had photos that implied they didn't really care one way or another. Take a look at the outlets where you'd like to receive coverage to gain ideas and start there. Google band photographers in your area, and look at their portfolios to determine if they can capture what you want.
[5 Ways to Impress Music Journalists With Your Promo Photo]
3. Write a bio with a distinct story angle
What is your story that hasn't been told before? Make a list of 10 ideas that truly set you apart from every other band out there. Then narrow it down to one central idea that's the most captivating to your audience. If you're not sure what that is, go back to those outlets where you'd like to be covered and see if there are any themes that seem to interest them to give you a starting point.
[Ask a Publicist: How to Tell a Compelling Story in Your Bio]
4. Play shows with more established acts
When you're an emerging artist, it can often be tough to be heard over all the competition. One way to do that is to align yourself with bands who are more established. This can be done by submitting to play music festivals where larger acts perform. If you haven't already, build relationships with the better venues in your market and bands you'd like to play with, and see what you can do for them first. It may sound counterintuitive to focus on what you can do for someone else when you're the one who needs help, but it will be a breath of fresh air to those who are often asked, "What can you do for me?"
5. Begin building your music industry network
This goes along with the last point. Building your music industry network is one of the most crucial things you can do for your career. First, make a list of 10 contacts you'd like to meet or get to know. Look at what social networks they're most prone to use, and then start there. Once again, you should be making it about them over pitching your music. Let that part come naturally once you've had a chance to build the relationship.
[How to Connect With Influencers When You Have Zero Music Industry Contacts]
As you can see, there's a lot that goes into a music PR campaign beyond simply contacting media and asking them to cover your band. I often hear from bands that their publicist "dropped the ball." That can very be well true, but the chances of a music PR campaign's success is often based on having all these things in place before and during the campaign. Take a look at all the points discussed, and make sure it's all top notch, so when your campaign does launch, you know you've done everything on your end to make it a success.
Janelle Rogers began her 20 year music industry career working for SXSW Music and Media Conference. She then went on to work for BMG Distribution for 10 years in the alternative music department where she championed bands like Kings of Leon, Ray LaMontagne, The Strokes, Belle & Sebastian, and The White Stripes. In 2002 she launched Green Light Go Music PR as a haven of honesty, integrity, and passion for underrepresented artists and labels. She has since been named Mentor of the Year by the University of Michigan, Dearborn, appeared as a panelist at NXNE, and been an official SXSW mentor.