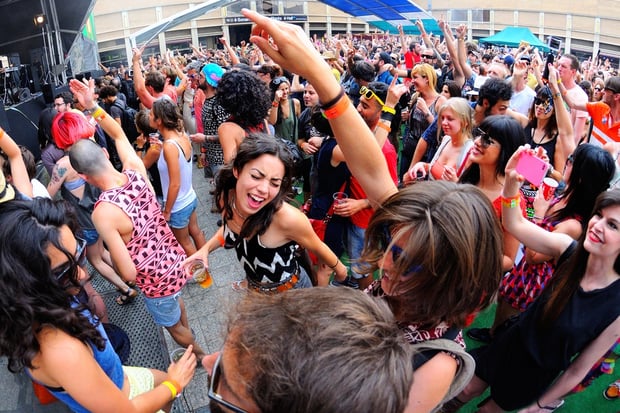 Image via Shutterstock
There's a special magic in independent music scenes centered around college campuses. The university years, of course, can be the most energetic and enthusiastic period in a person's life — that vigor is often channeled into a love for bands and artists or a love for music making. The end result can mean a super-charged underground: a perfect storm for touring independent acts.
Here, we've highlighted five college cities to check out. Some are reminders of noteworthy must-stops, but there are also a few you've probably overlooked. At any of them, though, you're bound to find an eager crowd ready to hear new sounds and plenty of cool locals to pair up with.
1. Olympia, WA
Music-wise, it's best known as the originating epicenter of the riot-grrrl movement, and while that's certainly true, there's even more to the indie output of Washington's capitol city than that. K Records and Kill Rock Stars, both labels closely associated with that monumental '90s monsoon of feminist DIY music and culture, remain mainstays of the independent realm.
The student population at Evergreen State College deserves plenty credit for helping support all styles of underground sounds throughout the decades, and even educating some of its key players. Among the notable musicians counted as alumni are Bikini Kill's Kathleen Hanna and Tobi Vail, Sleater-Kinney's Carrie Brownstein and Corin Tucker, Marcy Playground's John Keith Wozniak, Martin Courtney of Real Estate, and Macklemore.
Today, the scene is overflowing with DIY punk; dismantled trans-feminist outfit G.L.O.S.S. lives on through offshoots like Stiff Love, and they're definitely not the only bands championing the ethos of intersectional feminism. (See Mala Racha, Table Sugar, Xylitol.)
Then, of course, there's nearby Seattle, only an hour away — a separate can of wor ms, its underground scene overlaps into Olympia's on a regular basis.
Best venues for indie artists:
2. Athens, GA
Historically famous musicians of Athens, about two hours west of Atlanta, include the likes of R.E.M., the B-52's, and Widespread Panic. Beneath the mainstream surface, indie icons like the metal-sludge greats of Jucifer and beloved indie bands like Of Montreal, Neutral Milk Hotel, and Elf Power — all part of the iconic Elephant 6 Collective, a cult favorite, in its '90s heyday — count Athens as early stomping grounds.
That's not even the half of it, of course. The downtown area around the University of Georgia campus is a perpetual hotbed for alternative and underground sounds — for the most up-to-date coverage, check Flagpole magazine, the foremost independent outlet for all things Athens since '87, and the music lineup at AthFest, the still-active annual celebration founded a decade later.
Best venues for indie artists:
3. Asheville, NC
Why Asheville isn't commonly included among the top music towns in the US is kind of bewildering, really. The North Carolina city has delivered the music world influential stalwarts like Earl Scruggs, 9th Wonder, Corrosion of Conformity, J. Cole, Superchunk, George Clinton, John Coltrane, and the Avett Brothers — a range that hits every note, from hip-hop to indie rock to funk to metal and alt-country. No, they weren't all born there, but all of 'em were denizens of the Blue Ridge Mountain town at some point in their careers.
Notable studio Echo Mountain, whose past clients include the Zac Brown Band, VHS or Beta, Widespread Panic, White Denim, Band of Horses, and tons more is located there. And the city lays claim to majorly impactful instruments, too — Moog Music relocated its headquarters to Asheville in 2010.
In terms of indie culture, Asheville is in its prime right now. Although long-standing shop Karmasonics Records has shuttered, its weekly showcase organized from the '90s through the 2000s helped shape what's become a solid and vibrant local scene. The 2009 addition of a smaller 80-person club — called Pulp — within the Orange Peel, a high-capacity venue named as one of the country's best by Rolling Stone, has also upped opportunities for musicians, and continues to bolster local acts today.
Minutes from the University of North Carolina at Asheville are the Odditorium and the Mothlight, both Haywood Road spots for underground sounds of all styles; head fewer than five miles over to North Lexington Avenue for more at Tiger Mountain or the Lazy Diamond. Pro tip: Join this Facebook group that facilitates the booking and boosting of local DIY shows.
Best venues for indie artists:
4. Ithaca, NY
With its booming all-ages DIY scene, the student population of Ithaca College, well-established legacy of readying alumni for hugely influential roles in arts and culture (Maureen Tucker of the Velvet Underground went there, for one), as well as that of Cornell University, what reason have you got to not book a show in Ithaca? If you're playing NYC, you really should pass through — after all, it's only four hours away.
Local nonprofit Ithaca Underground has been a boon to Ithaca's indie landscape, tirelessly cultivating a new community since 2007 that's inclusive and supportive of local musicians and music lovers. For upstart acts who can get down with art-punk, experimental hip-hop, electronic noise and anything else decidedly outside the mainstream, reaching out to IU and the bands it supports is a given.
Best venues for indie artists:
5. Madison, WI
One litmus test for any indie scene is the existence of publications dedicated to covering them — and in Madison, home to the flagship campus of the University of Wisconsin, there's Isthmus and Tone Madison. Both independent outlets help foster support for the local underground with quality reporting churned out on a regular basis.
The venue at the heart of it all is hands down the High Noon Saloon, which has repeatedly snagged the "best venue" award from various local institutions, again and again, since first opening its doors in 2004. There's also the Frequency, a 175-capacity spot, as well as the Arts and Literature Library, though programming there isn't restricted only to music. The Art In is another DIY friendly spot: venue keeps the bar, bands take the door — but they do require a modest rental deposit up front.
And while there aren't endless proper venues to choose from in Madison, the indie scene manages — with gusto. They play shows at Bowl-a-Vard Lanes (they've actually got a sizable stage), at waterfront restaurants, on tavern patios, in cafes, at pubs and breweries, and anywhere else that's willing to play host.
They'll also travel for shows: Loads of locals are overflowing about an hour's drive west into the Shitty Barn in Spring Green. The stage-free space encourages engagement between fans and musicians — and yes, it's literally a barn.
Best venues for indie artists:
Next up:
Jhoni Jackson is an Atlanta-bred music journalist currently based in San Juan, Puerto Rico, where she juggles owning a venue called Club 77, freelance writing and, of course, going to the beach as often as possible.