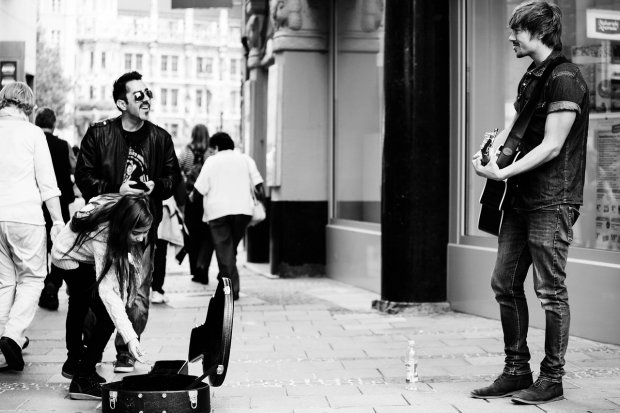 Image via worthwithtomcoleman.com
How do I get gigs? This inquiry into the ever-elusive "gig" has been on the minds of new musicians for a very long time. In a perfect world, we'd all just head to Gigville, walk into the general store, and pick up a handful of gigs to last us the next few months. Unfortunately, I've yet to locate Gigville on the map. (Let me know if you find it, please!)
When looking for gigs, it helps to think less about "how" or "where" and more about "who." Who provides gigs? Who hires musicians? Well, lots of people do! You just have to know who to ask. Below, you'll find some information on four of the largest gig providers and how to go about asking them for work. As long as you're gracious, humble, and polite, you shouldn't have any issues. Good luck!
1. Other musicians
Throughout your career and especially when you're first starting out, other musicians will likely be the source of the bulk of your gigs (the good ones, at least).
When a new band first gets their set together, a common mistake is to start mass-emailing the clubs in your town. Though this kind of fervor is admirable and definitely necessary, I'd actually recommended redirecting it. Instead, spend that time and energy sending messages and connecting with other local bands that you enjoy and get along well with. Clubs often won't want to book you if you don't already have a draw, so getting a band that you're friends with to put you on a bill with them will often be your way in the door. At that point, you can demonstrate to the venue that you can bring folks (as long as you actually bring folks!), and can play a great set to match (as long as you actually play a great set!).
This is especially true if you're trying to find work as a freelance performer. When musicians who have been working for a while receive a gig offer, they need players to play with them. Get on the good side of the working players in your town, and they'll be willing to give you a shot. Be sure to connect with people who play the same instrument as you, too! There will be times when they're too busy to take a gig, or they need to find a sub, and you want to be on their list when they think of players to recommend!
How to approach them
Going to see live music and supporting your local scene is the best way to meet other musicians and bands. Other than that, bars often host local jam sessions or open mics where musicians will hang around. You can also just start looking for folks on Google or Facebook and sending them polite introduction emails.
2. Business owners
Though DJs have been replacing live bands and musicians for a long time, there are still plenty of businesses out there that hire live performers for their events. If you can provide such a service, there's often decent money to be had from these sorts of gigs.
There are all kinds of establishments that benefit from having live music. I've noticed that vineyards, restaurants, art galleries, jewelers, and cafes often still host live musicians to help attract customers and provide a special experience for their patrons. Some of these establishments specifically seek background music (such as light classical or jazz), but I've seen many hire fully amplified dance bands quite frequently, especially for their special events.
Do your research. Head out into your community and camp out in some coffee shops, or walk around the galleries. Look for the ones that promote their live music. Often, they'll talk about it and use it as a selling point for their patrons.
How to approach them
Just ask politely! If there's a local establishment that has live music, and you think your music would be a good fit, go in and ask to speak to the manager/owner. Introduce yourself, and tell him or her about your music (do you have your elevator pitch together?), and if they seem open to the idea of having you, pass them a CD or download card (write a link on it that will take them to your EPK as well). If their live music events are open to the public, go in with a solid plan of promotion and pitch it to them. Oftentimes, businesses want live music to bring in customers, so this promotional element is key.
Keep in mind that just because a business doesn't typically have live music, it doesn't mean its owners and managers aren't open to it! Sometimes, they simply haven't thought about it (and obviously don't realize what they're missing). You can use the same approach as I explained above with these businesses, being extra sure to emphasize how it would benefit them and their customers. When I do this and the manager/owner is on the fence about agreeing, I'll offer to come in and play for an hour for free. After that, if he or she dislikes it, I say that I'll never ask again. However, if the business agrees that the experience was a positive one, I ask to come back at my usual rate. This is a time when playing for free could definitely have a positive outcome!
3. Venue talent buyers
This is where a lot of bands go to get their gigs. As I stated above, you'll often have an easier time and get better gigs by working with other bands rather than club promoters. However, once you play a venue for the first time, you'll often get asked back by the club as long as you have a good attitude, treat the space well, play a great set, and bring a few people. It's getting in the door the first time that's the most difficult.
I won't go too much more in depth here, as there are about a million other articles on Sonicbids about approaching venues for gigs. The key thing to remember is that as long as you make the venue staff's lives easier and have a pleasant experience with them the first time, they'll often ask you back.
How to approach them
Email is usually the preferred method of contact for most venues. However, their inboxes often get flooded, and if they don't know you, it's easy for them to skip your message. The easiest way to get a good club date at first will be through other bands. After that, the club will likely offer you more gigs in the future.
4. Average people
Just because he doesn't own a big business, don't forget about Mr. Whatshisname who lives next door!
Little Sally down the street is all grown up, and about to have her 21st birthday party. Her parents want to hire a live band for the celebration, but don't know where to find one. Do they know that you can provide such a service? What about the couple next door that's planning their wedding and needs to find some musicians for the ceremony and reception? Do they know that you can give them exactly what they need?
Don't forget about average folks in your community! When they look to pay for a service, they often feel much more comfortable working with people they know and trust. Be one of those people! Be a decent human being, and be nice to your neighbors. Chat with them occasionally about your music, and be sure to let them tell you about their day job as well. Once one person in your community hires you, you might find that other neighbors pick up on the idea and want to start hiring you, too!
How to approach them
Just be a nice person. Get to know your neighbors and let them get to know you (at least the musical side of you). You can't exactly go door to door asking for gigs, but you can make sure that the community is aware of the services you provide.
Don't underestimate the importance of a great electronic press kit when booking any kind of gig! With Sonicbids' simple "send EPK" feature, you can instantly email everything you need to a potential booker in a professional, seamless package – whether it's a talent buyer or just your neighbor down the street. Click here to learn more, or go ahead and create your EPK now.
Learn more about getting gigs:
Dylan Welsh is a freelance musician and music journalist, based in Seattle, WA. He currently plays in multiple Seattle bands, interns at Mirror Sound Studio, and writes for the Sonicbids blog. Visit his website for more information.