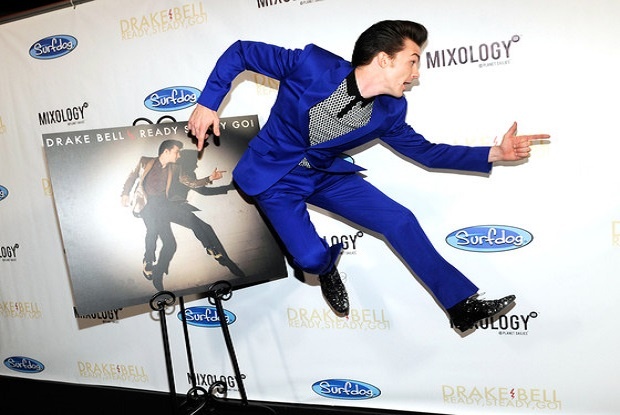 Drake Bell (image via E! Online)
Hosting an album release party is all about creating a network of supporters for your new material. You want to give fans a memorable experience that not only highlights your music, but showcases your style and artistic point of view. Try one of these five unique ideas, and you'll undoubtedly secure more support for your musical endeavors!
1. Suit and tie soirée
What: A themed (e.g., black and white), RSVP-only event with cocktail service and plattered hors d'oeuvres. Have your album wrapped in tied ribbons and handed out to each guest. Optional bonus: have adapted arrangements of songs prepared (mixed and mastered) for attendees to enjoy. Having a surprise arrangement of a secret song not included on the album (or only in the deluxe version) will surely leave guests with grand things to tell their friends. Remember, it's all about the network you surround yourself with and the intimate experience of exclusivity you give your fans.
Where: Quality does count, and you'll want to ensure you choose the best acoustic space and sound system available within your budget. Think contemporary and simple: blank walls, minimalist art pieces, or even a live painter constructing an impressionistic piece based on your record.
Who: Perfect for the classic-minded musician with refined tastes looking to impress VIP guests and potential clients (e.g., publishers, label representatives, etc.). Great for jazz albums, romance ballad collections, and instrumental composition releases.
2. Masquerade house party
What: A costume-based gala enhanced with mystique that will surely create anticipation for your new material. Try a photo booth, or have a best-dressed contest with exclusive early-access album awards to give guests a feeling of inclusiveness.
Where: Sites like Airbnb are perfect for planning your destination within a tight budget. Find something that suits your style, and add subtle elegant touches to mirror the attention to detail you put in your album.
Who: Great for eclectic artists with a cultured sense of style and art who want fans to feel like they are a collective part of their project.
3. Collaborative endeavor
What: It's hard to translate a studio album with a lot of production value into a live band experience if you want your music to be featured. Make your release party an exclusive acoustic set, or bring in accomplished musicians to demo arrangements of your material in more suitable forms for a live audience. This kind of collaborative venture feels more raw and doesn't give too much away for your actual album. If you have time to coordinate the details of an open mic before your original material is performed, it's a great way to make the night showcase the experience of music, and show you're confident but not cocky.
[How to Be a Confident Musician Without Being Cocky]
Where: Contact local venues, lounges, and bars. Ask about booking private rooms, and be prepared to offer a marketing pitch to convince owners how your event will benefit their business.
Who: Ideal for bands and artists that have extensive networks of session musicians and previously contracted talent. Blend styles and highlight your artistic freedom in adapting your material into various forms.
4. Go virtual
What: If you're touring or unable to schedule a physical event, plan a globally accessible digital release party. Use Ustream, Livestream, Periscope, Instagram, or even Snapchat to release snippets of singles, allowing real-time audience requests via Twitter or Facebook, or in-the-moment snapshots of your material. Make it fun — have fans guess the part of your songs (e.g. first chorus, bridge, intro, etc.) or have them vote and match a verse with a song title from your album and post the results in a public poll.
[4 Online Tools to Live-Stream Your Next Show]
Where: The world wide web
Who: Musicians with tight schedules, international travel plans, or spread-out followers across the globe.
5. Movie and popcorn night
What: Movie night viewing party on a lawn with an old-school projector screen, or other unique location that shows your personality. You'll make a mini documentary during the album production process, tracking your struggles and triumphs while giving exclusive behind-the-scenes studio footage. Culminate the video series with a music video premiere featuring a single from the album.
Where: Think outside the box for venues. Picture industrial warehouse turned modern minimalism. Country barn transformed to rustic getaway. Just be sure to demo your material acoustically before reserving the space — it's all about how the sound resonates in the room or outdoor space.
Who: Artists who have resources, organizational skills, and time to plan ahead. It's a lot of work, but if you're able to pull it off, the polished results will no doubt bring a well-deserved sense of accomplishment.
If you have your own take on the traditional album release event, let us know in the comments below! Remember to utilize social media, live press events, fan meet-and-greets, and engaging event apps to get attendees involved. The more likes, shares photos, advance order confirmations, and status updates you receive, the more free marketing you get!
Related:
Caleb Hsu is an independent vocal producer and freelance recording engineer based in Los Angeles. As a classically trained pianist and composer, he enjoys writing music technology features that combine his psychology background with current industry trends.