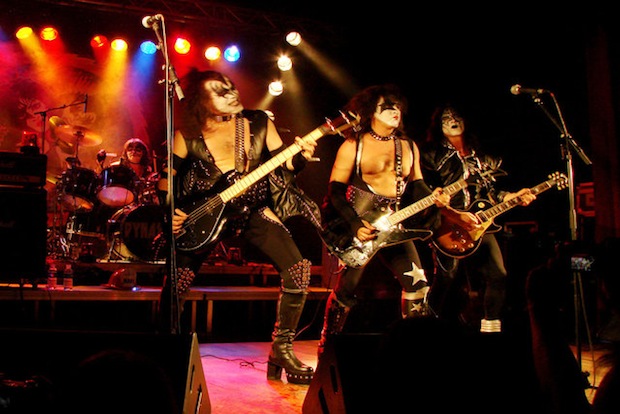 KISS tribute band (via Communities Digital News)
Guest post by Lukas Camenzind. Lukas is the founder of Posteram, a digital marketing agency for musicians and bands. Dedicated to helping artists reach and engage the audience they deserve, he shares practical marketing strategies on the Posteram blog.
Have you ever played a show to an empty room? If so – and most musicians probably have at some point in their career – you know it's a crushing experience. With all the work you put into your music, it's tough to feel like no one cares. But on the other hand, if you've ever performed a sold-out gig in front of a screaming crowd, you also know how satisfying the live experience can be.
So how can you make your next show a success? If your name alone won't draw a crowd, one of the best ways to bring people out is to create your own themed event. The goal is to pick a theme that you know will appeal to the audience you want to reach – even if they don't know you yet.
Here are five creative ways to do just that:
1. Play a tribute show
By playing a tribute show, you can use a popular artist's name to reach your target audience. It's a smart way to reach and connect with lots of potential new fans. Check out Curtiss A's Hank Williams Tribute Show as an example.
2. Play a benefit concert
Is there a charity or cause that you really care about? Giving people the opportunity to support a good cause can drastically increase your draw. Not only are you making a statement, but you're also building a community of people who share your values. Take a look at Bobby Z's Heart Benefit for inspiration.
3. Play a holiday-themed event
How about getting people in the spirit with a holiday-themed event for Halloween, Christmas, Independence Day, etc.? Putting on a holiday show is a lot more interesting than "Hey, we're playing at Joe's pub tonight."
4. Make your audience part of the show
Fans crave memorable experiences. If you can think of a fun and creative way to make the audience part of your performance, they'll love you for it. See how Ali Spagnola turned her show into a drinking game, or check out the Gossip Orchestra.
5. Host a clinic or workshop
What about not just entertaining your audience, but giving them the opportunity to learn something new? Sometimes it's easier to get people out with educational content than doing something "just for fun." Here's an example from jazz drummer Eric Gravatt.
From fashion shows to house concerts to simply picking an unconventional venue, there are countless ways to turn your next show into an event with just a little creativity. You could even invite a comedian, a slam poet, a magician or dancers to be part of the lineup – whatever makes sense to attract your ideal fans. But the main takeaway is: Don't just play a show, create an experience people will remember.