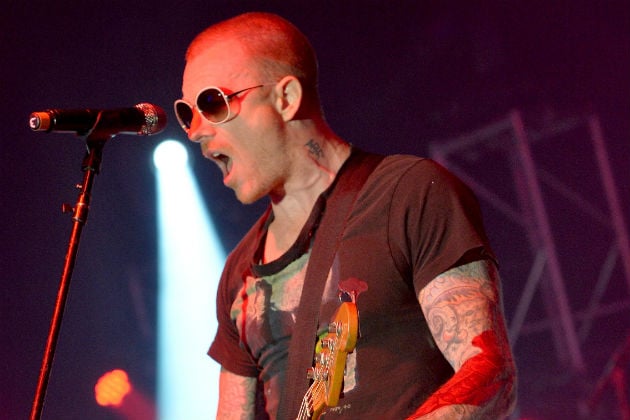 Max Collins funded his first solo album through PledgeMusic. (Image via wcyy.com)
You're an artist, you need money, and you want to attempt to generate those funds via an engaging crowdfunding campaign. That's all well and good, but as soon as you've figured that out, you have to stop thinking like a band and start thinking like a fan.
Crowdfunding has become one of the most popular ways for independent artists to generate the money they need to create albums and tour, but far too many artists offer backer rewards that are overly simplistic. This makes their campaigns look less like a true fundraiser and more like an attempt to do the least amount of work possible. A perfect example of this is using downloads of music that's already been released as rewards. Anyone can buy your album online, and being that the first word in "fan funding" is "fan," most everyone you're targeting with your campaign already has your whole catalog – so what makes you think they're going to want something they've probably already bought themselves?
To put it another way, imagine your favorite band was launching a crowdfunding campaign. What would you want from them? With that in mind, an artist's best bet is to offer incentives that are original and/or unavailable anywhere else. Here are five examples that have worked for artists in the past to achieve the results they wanted.
1. Autographed items
Physical product will always be relevant because you can't autograph an MP3 or a digital stream. CDs, vinyl (if you pressed it), posters, setlists from shows, old backstage passes, or – if you want to go the extra mile – special prints made up specifically for the fundraiser are all fantastic rewards that, with the addition of band members' autographs, become collectors' items fans want to have. Check out Sonic Boom Six's recent PledgeMusic campaign as evidence of how well this can work.
2. Skype interviews
Max Collins of Eve 6, who raised 134 percent of his PledgeMusic goal for his 2014 solo album, Honey From the Icebox, told me he absolutely loved doing the "20 Questions" fan interviews via Skype that he offered as a backer reward. This is the type of reward that brings fans closer to the artist, and the artist closer to fans. Plus, since the interviews are conducted via Skype, no one has to leave the house. Heck, no one even has to wear pants!
3. Skype music lessons
If you're an artist, you clearly have a talent, and I've seen a number of artists offer up lessons via Skype as a backer reward. PitchBlak Brass Band did this to help fund their first full-length album. This is an especially cool way to connect with fans and have a real impact on them. My lone caveat in regards to this is not to offer too many lessons, as you don't want to book your entire life.
4. Old equipment
Last year, looping artist Kawehi had a Kickstarter campaign that raised more than 10 times the amount she was asking for, and another that raised nearly that much. One of her most unique backer rewards was her old equipment. When I spoke with her about this, she admitted it's always difficult to part with the gear, but she loves knowing it's going to someone who will use it. If you have a guitar, keyboard, microphone, or sampler you no longer use, why not give it a good home and make some needed cash?
5. Cover song requests
This is another backer reward Kawehi used and I absolutely love. Offering to cover a song by request and posting a video of that cover can lead to some cool musical experimentation. As an added bonus, cover songs can reach an entirely different audience than an artist's already established fanbase, so not only does this backer reward raise money, it can also increase an artist's notoriety.
All five of these fan funding backer reward ideas have proven to be effective, and there are plenty of others out there. Just remember when you launch your campaign to think like a fan, and give your fans what you'd want your favorite band to give you.
What backer rewards worked for your crowdfunding campaign? Let us know in the comments!
Adam Bernard is a music industry veteran who has been working in media since 2000. If you live in the NYC area, you've probably seen him at a show. He prefers his venues intimate, his whiskey on the rocks, and his baseball played without the DH. Follow him at @adamsworldblog.