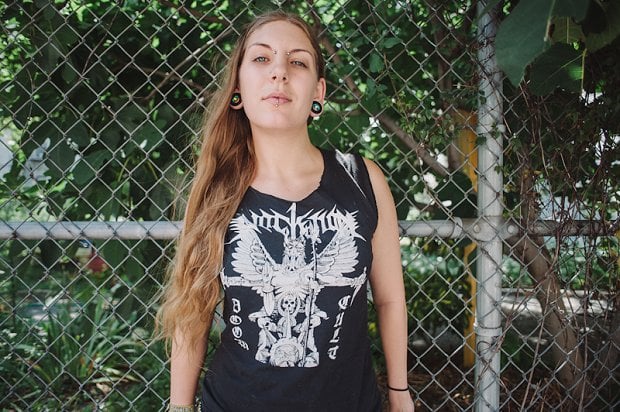 Kim Kelly. (Image via blastbeat.us)
There's a super handy list-making function on Twitter – you all know that, right? You've probably already bunched together your favorite media folks – right? If you haven't or want to build your virtual network, here are five must-follow writers to get you started.
They're all crucial to bringing independent sounds to wider audiences; each of them is so insanely productive you'll be overcome with shame for waking up past 10:00 a.m. Following them on Twitter makes it easier to keep up with all their contributions to myriad publications, and it also helps you get to know their taste a bit better so you can more accurately attempt to garner press.
1. Beverly Bryan of Soundfriend (@DJBBCHECK)
She's perpetually on the hunt for undervalued, obscure sounds from around the world, which makes Beverly Bryan's role at Soundfriend, a new site where music leaders share their current favorites, pretty damn perfect. Despite the presumably time-consuming nature of helping launch that endeavor, she also manages to contribute to outlets like Under the Radar and MTV Iggy.
2. Tasha of SheBloggin (@shebloggin)
We previously praised SheBloggin for its stellar coverage of independent hip-hop artists in our niche blogs series, and founder Tasha also keeps a steady beat on Twitter. The recent design revamp and addition of a new writer (coincidentally announced on Twitter) suggests the site's only going to grow bigger from here.
3. Grace Ambrose of Maximum Rocknroll (@graceambrose)
As the iconic punk zine's content coordinator, Grace Ambrose regularly adds her picks to their longstanding top 10 list series. Her tweets are often directly related to MRR, but she also shares more Ambrose-approved music, plus all kinds of commentary (read: witty snark) on the overall landscape of the underground hardcore and punk scenes. She's on Tumblr, too.
4. Kim Kelly of Noisey (@grimkim)
Kim Kelly's role as weekend editor at Vice-powered music site Noisey is a hefty one, but she also miraculously squeezes in work for Spin, Rolling Stone, and other publications. Her jams of choice are almost strictly metal, but there's certainly diversity under that rubric, and her stories prove it.
5. Meagan Fredette of Rookie (@meaganrosae)
As a contributor to Rookie, Noisey, and the Village Voice, Meagan Fredette's most obviously beloved genre is shoegaze, as evidenced by her reflections on the documentary Beautiful Noise. Still, she's covered plenty of other styles and, on Twitter, doles out some pretty funny pop culture commentary.
Which music writers do you follow on Twitter? Let us know in the comments below!
Jhoni Jackson is an Atlanta-bred music journalist currently based in San Juan, Puerto Rico, where she juggles owning a venue called Club 77, freelance writing and, of course, going to the beach as often as possible.