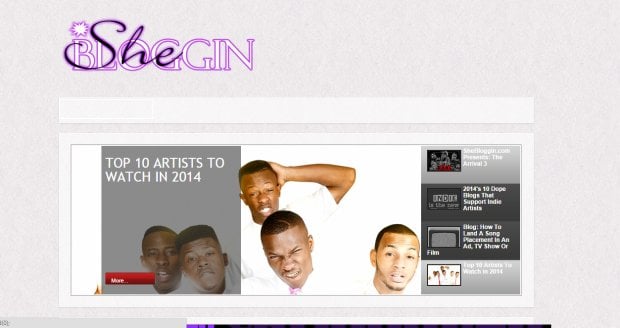 SheBloggin combines underground hip-hop with music industry tips.
The pay-for-posts practice is, unfortunately, spreading beyond the mainstream into the once-diplomatic indie music blogosphere, and a lot of hip-hop sites appear to have succumbed to the lucrative, but regressive, setup. These five hip-hop blogs, however, still thrive on discovering new artists, producers, and DJs, many times through user submissions. Most artists want to see their names alongside the big shots, of course, and that's totally fair. But, you've got to build up to that – and these sites might help you get there.
Why we love it:
Its presence on social media
–
Facebook
in particular
–
is immense, so it's completely fair for it to proclaim itself one of the "most visible" outlets in the genre. Maybe it's the impressively reliable showcasing of truly great under-the-radar acts, or the fact that mixtapes, simple posts, and events are all part of the blog's MO. It even has a Spanish section, which is as rad as it is rare.
How to get featured:
While proper
press kits
are preferred, that doesn't mean the blog doesn't welcome inquiries. Anyone's invited to contribute potential content via email
– j
ust check the
requirements
first.
Why we love it: Okay, first things first: this blog is also a promotion service, as in the kind you pay for. Aside from that, however, it's got a strong case for inclusion in this list for its Indie Wednesdays series. A lot of that content is based on user submissions, which are encouraged – on Wednesdays, of course. Indie Hip Hop has earned itself a strong following, too: more than 14,000 fans on Twitter and almost 9,000 on Facebook.
How to get featured: Guidelines can be found on its contact page.
Why we love it: The factors affecting coverage of fledgling producers, DJs, and artists are of the truest kind here. Content is picked based on talent and hard work with less regard than most for social media numbers. Artists with as few as 500 Facebook fans have been showcased and praised – based on merit, obviously, not their existing fanbase. Unlike a lot of outlets, AG is a place for creatives to grow from the very beginning of their careers.
How to get featured: Guidelines can be found here. Because of the high submission rate, not everyone gets featured, and some don't even get replies – but, the folks behind it do vow to review all emails. Be patient, and keep fine-tuning your craft in the meantime.
Why we love it: Founded in 2008 by Aaron E. Knight as a means for supporting Austin, TX, artists, the crisply styled blog has since expanded to cover enterprising artists from all over North America. Frequently updated and forever championing the underground, this one's a strong contender for top go-to for independent artists.
How to get featured: Some paid options – reviews, featured mixtapes, and more – are offered, but Knight also accepts submissions with no payment necessary. Check the requirements here.
Why we love it: Not only does SheBloggin bring deserving underground artists to light, but it also dishes out industry tips, making this site an invaluable destination for both fans and artists.
How to get featured: Owner Tasha is a bit of a stickler about the rules – and rightfully so. Conforming to the guidelines makes it loads easier for her to look over submissions, and they're not difficult to follow. She's explained the protocol clearly here.
Looking for the best niche blogs in another genre? Check these out:
Jhoni Jackson is an Atlanta-bred music journalist currently based in San Juan, Puerto Rico, where she juggles owning a venue called Club 77, freelance writing and, of course, going to the beach as often as possible.