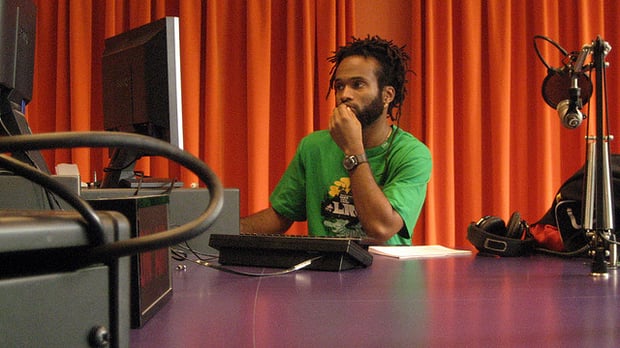 Photo via flickr.com
As an indie radio guy, I'm a little biased towards independent music platforms that accept submissions and demos versus more commercial routes. In my experience, indie, public, and community radio stations are consistently more supportive and beneficial for reaching the right audience for your music than any other media outlet.
For hip-hop artists, the same criteria and methods of promoting your music are true as those in any other genre. What is specific to you is that hip-hop has historically been a music style that celebrates the underdogs who rise to the top, as opposed to genres like rock or pop that tend to celebrate the celebrity image of success. The rags-to-riches story is pervasive in hip-hop, with icons like Biggy, Tupac, Jay-Z, Eminem, Run DMC, and so many more surviving a rough path to find monumental success through music.
Many emerging up-and-comers like to compare their talents to these rap legends, but what helped them rise to the top was their hustle and the ways they sought out getting their music into the hands of people who would support and grow their names. This is a short list of the hip-hop stations and programs I'd recommend, in seeing how they promote indie artists and hearing their programming.
Best for: up-and-coming hip-hop artists with radio-friendly music (clean tracks)
Why we love it: Public radio boasts one of the most loyal, passionate audience bases for young musicians. Zulu Radio is a part of the great lineup on KBCS broadcast in Seattle, a hot spot for the arts community that reaches the right audience for new talent looking to grow their audience and take their music to the next level.
How to submit: You can send CDs to the station's address (listed here under "submissions"), or submit MP3s via email to zuluradio@206zulu.com. Emailed tracks must contain the artist name, song name, album name, and label info (if applicable).
Best for: hip-hop artists and rappers whose music promotes a positive outlook and uplifting themes
Why we love it: Another fantastic public radio station that showcases indie, unsigned, and DIY musicians of all genres, WBAI serves the communities of New York City with great emerging music. AndYouDon'tStop is hosted by Chuck D, a music curator who puts more than just great playlists together. He serves up fresh hip-hop from indie artists to a faithful audience that's seeking great new music that lifts the spirit and leaves a positive imprint.
How to submit: There's a two-song limit to email submissions (andyoudontstopradioshow@gmail.com). Include a brief bio and a description of the music being submitted. CDs can also be mailed to the station, addressed to the program.
Best for: emerging hip-hop and rap artists who cater to a younger demographic and audience base
Why we love it: WNYU is a student-run radio station out of New York University. The on-air staff works to curate new and emerging music features in a variety of styles, broadcast both on the FM radio dial and on web radio to the largest radio market in the US. Student radio stations rarely have the outlet and market reach to be able to powerfully impact the airplay potential for new artists in the ways that WNYU does on a daily basis. They claim to listen to all music that is submitted, which is also uncommon for music platforms that accept submissions.
How to submit: Submissions can be made through both snail mail and email. Instructions and criteria are available on its website.
Best for: both experienced and emerging hip-hop and rap artists in every style of the genre who want to reach a vibrant community of music supporters
Why we love it: Community radio that survives entirely on the support of its audience base for survival is where you find the most dedicated, ardent, and passionate supporters for the music you make. There aren't flippant listeners to this station. Broadcasting both online and on the FM dial to the communities of Boulder and Denver, CO, KGNU's mission is "to stimulate, educate and entertain our audience and to provide a channel for music that has been overlooked, suppressed or under-represented by other media." This is the kind of station that supports the DIY artist path.
How to submit: Follow the instructions on its website.
Best for: urban, hip-hop, and rap artists, as well as producers, beat makers, and slam poets
Why we love it: When it comes to web radio stations, I haven't seen many that are as supportive of the artists they feature through Twitter as K-100 Radio is. They're also very responsive to messages. Many of their shows feature new hip-hop artists, including the Subway and Ill or Kill. Music submissions can include language not permissible on other platforms.
How to submit: Send one high-quality MP3 (i.e., mixed and mastered) to k100radio@gmail.com.
Know of any other great indie hip-hop stations? Share them with us in the comments below!
D Grant Smith is the host and creator of the syndicated and award-winning The Appetizer Radio Show, featuring unsigned and indie music weekly. With over 16 years experience in radio and indie music, Smith also coaches and mentors musicians through focused audience growth. More information at dgrantsmith.com and appetizerradio.com.