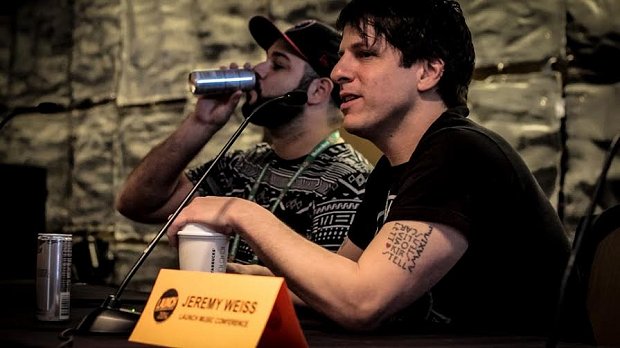 Jeremy Weiss at the LAUNCH Music Conference and Festival. (Image courtesy of the author)
A music conference is an extremely unique opportunity for artists to meet, network with, and fully pitch their music and ambitions to a preassembled group of industry pros. These events primarily cater to newer, undiscovered artists, and the invited speakers typically participate with a spirit of receptiveness and openness to new talent. How you go about ingratiating yourself to them, and they to you and your music, is critical. Here are five quick tips that will steer you in the right direction, before, during, and after attending a conference.
1. Flattery will get you everywhere
I'd like to think that most people are genuine and do not necessarily need to be "stroked," but I'd be lying if I said that knowing who you're talking to and a bit about what he or she does or his or her body of work doesn't give you a slight advantage. Speakers at conferences are there arguably because they're succeeding at their specific disciplines in the music industry. Every conference has a website with pictures and bios from the industry pros who'll be participating, so it merely requires a quick perusal of the section on speakers. When industry professionals are approached by someone who knows who they are, what they've done, what they do, and speaks favorably about their accomplishments, it goes a long way. Heck, in your research, you may find out who you don't wish to speak with as well!
2. Commit to the person to whom you're speaking
There are often going to be many different industry professionals with whom you'd like to speak, and hitting them all can prove difficult based on those you've prioritized. There you are, hittin' it off with your "number three" when "number one" on your list strolls by, all by his lonesome, and you feel it's your big chance to finally have a moment with "the industry's most wanted." You have to be prepared to let him pass in the event that you'd offend present company and squash the perfectly good beginnings of a professional relationship. People pick up on these things. It's not as if the person you're speaking with will be devastated or emotionally damaged, but he or she might take notice, and that could prove to be damaging down the road, should you wish to solicit help or work with him or her in the future. Tact, patience, and courtesy are tantamount.
3. Recognize an (in)opportune moment
"Go for it!" "Take your shot!" These are seemingly trite bits of advice, because they're also good bits of advice. The challenge is to know how and when. The good news is that conferences are designed with you in mind, so most industry people participating are there to be approached, chatted up, and pitched. Still, when you're standing beside someone in the bathroom and she's on the phone with her spouse discussing return flights, or two people are over in a corner having an obviously private, intense discussion, it might not be the best time to sidle up to them to offer demos, a free T-shirt, and your band's life story. As I said, most industry professionals are sincerely there donating their time and expertise with an openness to discovering you, but know when it's just not a good time. Otherwise, you won't have given your spiel a fair chance!
4. Don't be a broken record
You really do want to get it all out there, and you definitely need to market and create awareness of your work at conferences. (This is expected, actually, so preparing your story and backing it up with a demo, business card, flyer, etc., is a good idea!) There's definitely a "tipping point" here, though. Once you've gotten your history, wants, needs, name, and dreams out there several times to an individual, you can relax and hope for the best. Incessantly repeating it or seemingly demanding that someone commits every syllable to memory can be pretty off-putting, honestly. You don't want to cross over from "sincerely driven" to a being regarded as a "punisher." Consider, as well, that a conversation about anything but you might just be the most memorable to the person with whom you are speaking. You might discover a common interest, experience, person, etc., that may prove more memorable than your career achievements and ambitions, and create a stronger connection with the person moving forward. Industry people are most assuredly regular people and often have interests outside of work that they're passionate about!
5. No job is finished 'til the paperwork is done
You wouldn't believe how few people follow up after a conference. I probably speak with several hundred people a day at a conference and receive a single email from a half a dozen of them the week following the event. This doesn't mean that when you write someone the week after the conference you can expect him or her to join your team, put you on a huge show, sign you to a label, or manage your band, but you can assume that he or she took notice of your follow-through, even if that person doesn't respond right away or at all, for that matter. Sometimes, the follow-up requires follow-up still. Even when you get no immediate, tangible result from meeting someone at a conference or from emailing after, chances are your efforts are not lost entirely, and it could prove fruitful down the road or when you least expect it!
Learn more about how to put your best foot forward at conferences:
Jeremy Weiss is the co-creator and executive director of LAUNCH Music Conference and Festival in Lancaster, PA. Weiss has owned and operated CI Records since 1987, with over 200 releases. He is the owner of CI Productions, having produced over 1,300 concerts throughout central Pennsylvania, and owns the Champ, an all-ages venue, in existence since 2004. Through the CI Companies, he manages Carousel Kings, One Year Later, the Road To Milestone, and more. Weiss is a "guru" (instructor) for The Entertainment Institute, an online music industry-related instructional service, founded by Kevin Lyman (Warped Tour creator/owner) and has appeared on panels and spoken at several conferences and colleges throughout the country.