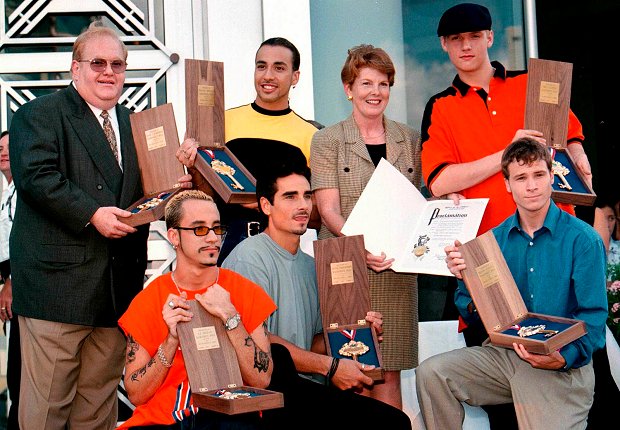 The Backstreet Boys with their former manager Lou Pearlman (far left). (Image via breatheheavy.com
A manager is the strongest, most important, and most necessary lifeline for a band. They're the connective tissue and the umbilical cord between the band and the rest of the music industry. Your manager will help you get a record deal, facilitate the placing of your songs in film and TV, book your flights (and re-book them when you miss 'em), manage your money, deal with all the people on your team as the central hub and nerve center, and basically be your "band parent." I cannot understate the value of a manager. They keep the whole operation running on time and on track.
Some bands will have the same manager their whole career. Others change things up. There are a variety of reasons to break up with your manager or go your separate ways at different points. Even Britney Spears, Lady Gaga, and Kelly Clarkson – all of whom are major stars – have split with their managers at times. There can be stagnancy, growth, or even familiarity issues that cause a split. It's almost never personal.
These are five reasons why breaking up with a manager might be the best option – even though it's hard to do.
1. Your manager stops calling you back
This is both literal and figurative. Communication is key, so if you notice that you don't hear back quickly or you're constantly reaching an assistant, then perhaps it's time to consider new representation. But make sure you have a conversation about the happenings and the priority level first, since you likely have a contract in place with legal stipulations pertaining to both parties. You also have to consider your place in the food chain. If you're a smaller, developing fish in a big pond, know your place and that things take time. Your manager is working with a variety of clients, the cultivated relationships of which can eventually help your career. But if you're with a small operation or a mid-sized firm, well, be sure you understand the chain of command and act accordingly.
2. Things get stagnant or stale
Your manager guides the ship, and the new and fresh ideas should be flowing in, like in which types of films to try to place songs. Also, if the label has lost interest in your band, the manager's job is to spark that fire. If that stuff isn't happening and you feel like you've hit a plateau, or they feel you've done so creatively, it might be time to get an infusion of fresh blood and plasma via a new team.
3. You've simply outgrown one another
This is fairly common. Really, it is. Sometimes a manager and band grow up together, starting out as babies in the industry, and they go on and achieve great things together. But sometimes the growth spurt also leads to outgrowing each other, and the relationship reaches that nebulous but natural end. It's like any relationship, and sometimes, those just run their course. No harm, no foul.
4. Your needs have changed
This is a common scenario that I've seen. A band blows up and their current manager, who's at a startup level or existing on a smaller scale, isn't equipped to handle the band's sudden explosion. A manager with a bigger network of contacts, further resources, and more staff is often needed to handle the band's new needs. I've seen original managers stay on in a consulting capacity, so they're not phased out or screwed over by missing out on compensation (or the big payday) for their role in the band's success after breaking their back to get the band noticed. But sometimes, it's inevitable that a band will need someone else to come in and take over.
5. There's a lack of progress
If you've both done the work but the progress isn't happening, then sometimes it might be best to evaluate what's not working and see if the fit isn't right any longer. Sometimes it's just a simple conflict of personalities, and there's no harm in rectifying that.
While you can't swap out your parents in life, you can swap out the band parent for your career. Just make sure it's for the right reasons.
Amy Sciarretto has 20 years of print and online bylines, from Kerrang to Spin.com to Revolver to Bustle, covering music, beauty, and fashion. After 12 years doing radio and publicity at Roadrunner Records, she now fronts Atom Splitter PR, her own boutique PR firm, which has over 30 clients. She also is active in animal charity and rescue.