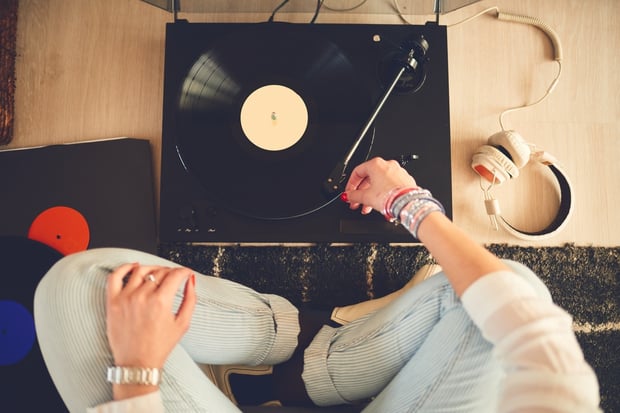 Image via Shutterstock
Any musician should be painfully aware that selling music is becoming something nobody can rely on anymore. People don't feel the need to reach into their wallets for CDs, since almost anything they could want to listen to is easily accessible on streaming platforms.
Musicians need to work harder than ever to sell a single copy, and vinyl is making a comeback. A typical wax record might sell fine, but records with something special, something extra, often sell better, faster, and for higher prices.
If you're looking to have your new album pressed onto vinyl, think about making your new product do more than just play music. Vinyl does a lot these days, so here are a few examples of what you can do and how to charge a premium to your superfans.
1. Holograms
Jack White made headlines a few years ago when he released his album Lazaretto, which was unlike any other vinyl that had come before it. The former White Stripes frontman went out of his way to make this record special in almost every way he could, and it came with a seemingly endless list of never-before-seen (and heard) features for an album, many of which would only impress the vinyl nerd, but some of which everybody could enjoy.
One particularly cool feature was that when Lazaretto played, a hologram appeared on the record itself. Since this invention, a number of other albums have taken advantage of this "new" technology, including a semi-recent Star Wars release. If you've never heard of all the special add-ons that White's album featured, here's a video where the rocker himself explains all the reasons why this is a must-have for any vinyl enthusiast.
Oh, and by the way, all of these extras really did help sell more copies. When it was released in May of 2014, Lazaretto moved 40,000 vinyl records in a single week, which is the greatest number for a single title since Nielsen began tracking sales more accurately with a system called SoundScan in 1991.
2. Blood
It seems like 2014 was a weird year for vinyl, but it certainly helped some bands make some much-needed cash.
In the same year that Jack White introduced holograms to the vinyl world, indie rockers Perfect Pussy decided to make their latest release even more personal than any of their past ones in a way that hadn't been tried before, at least not by a band as popular as the blogosphere's favorite PP.
Lead singer Meredith Graves had a jar of her own blood extracted from her body, and it was mixed into the wax as their album was pressed. Three hundred copies were made with the faintest red streak in them, which made fans feel special and even more connected to the musician. Of course, these limited edition copies sold out in no time, and they likely helped the band forge even stronger relationships with those who rushed to purchase them.
A few years later, the Flaming Lips would do the same, only with even more blood. And you thought sweat and tears were going to be enough when it came to releasing a new album.
3. Smaller vinyl
When the Dead Weather (one of Jack White's side projects) released their single "Blue Blood Blues," some fans were confused, as the song wasn't released on a seven-inch as is typically the case, but something much larger. Why was this? It was because fans who bought the album (which was only released in a limited run) could pop a smaller album out of the larger one, revealing a seven-inch within the 12-inch. Of course, one needs to be very careful when separating the two, but it's fun nonetheless.
Jack White has a trademark on this one (he's called it the triple-decker record), so you might not be able to make it happen for your new album, but it's still good to know that such a feat has been done before!
4. Whiskey
If anyone was going to find a way to make whiskey and music combine in a new way, it had to be a country artist. As part of the re-release of his live recording Caught In The Act for Record Store Day 2013, country superstar Eric Church worked with whiskey powerhouse Jack Daniels to actually include some of the greatly enjoyed alcohol into the one of the vinyl records.
Whiskey was added into the mix during pressing, making them only semi-alcoholic. Don't worry: you didn't need to be 21 to purchase this special edition.
5. Moving liquid
Eric Church may have added whiskey into his vinyl, but it wasn't liquid by the time it made it into the hands of fans. There's no way to do that, right?
Wrong! Jack White (yes, him again) found a way to actually incorporate liquid into his new record. The 12-inch release of the musician's "Sixteen Saltines" single was large enough and thick enough to allow a blue liquid to move freely in the middle as the record played, which was quite the novelty for fans.
Only a small number of these were made (for obvious production reasons), and those who snagged a copy ended up selling them for thousands on eBay. That might not benefit the musician, but it should give you an idea that a collectible like this can sell for quite a hefty price if marketed correctly. Keep that in mind when you're initially bearing the cost of having a special kind of vinyl record made.
6. Scent
Not every vinyl advancement on this list is on a Jack White record, though he did have something to do with almost every single one, even if it wasn't for his own music. The rocker's former wife, model Karen Elson, made a single venture into music while she was married to White. He made sure that her album The Ghost Who Walks, had a special feature that wasn't typical to vinyl.
The visuals surrounding the album were peach, from the cover to Elson's signature pale redhead look, so he replicated her style with the record itself. The album was actually scented, which perpetuated her brand and gave new fans another reason to check out (and more importantly, buy) the record.
Next up:
Hugh McIntyre is a freelance pop music journalist in NYC by way of Boston. He has written for Billboard, The Hollywood Reporter, and MTV, as well as various magazines and blogs around the world. He is also the founder and editor-in-chief of the blog Pop! Bang! Boom! which is dedicated to the genre of pop in all of its glory.