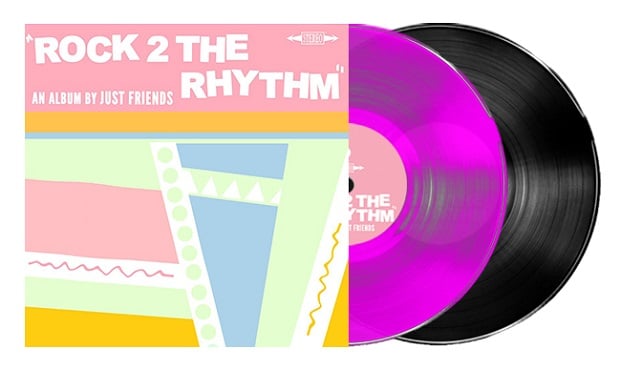 Image via opendoorrecords.org; used with permission
Pressing an album is something that everyone wants to do, but it's hard to do it effectively. Having physical copies of your music is important and rewarding; listeners like having something in their hands, as it represents ownership, and there's really nothing like holding your own record. While digital downloads are probably a better way to get your music to people's ears, physical copies are memorabilia for showgoers. Moreover, if they like your live set, they'll be more likely to buy your record.
That said, there are a lot of ways to get your record into people's hands, not via just their iTunes library.
1. Download cards
Essentially, download cards are cardboard, paper, or plastic cards that have a code on them that allows someone to download a record. CD Baby, Discmakers, and Dropcards are among the most popular options for this. However, if you have a Bandcamp account and a Kinkos or local print store within 25 miles, you may be spending way more money than you have to using big-brand manufacturers.
It's this simple: Bandcamp gives you 200 free download codes upon registering. With these codes, you have the option to distribute them however you want – one of which is by printing them. That is where your local print store or your home printer come in. You can print these download codes, cut them out, and sell them like you would anything else.
Download cards may seem like a silly idea, but it's good for people who don't like buying things with a credit card because you can sell them for cash. It's also good for bands without a Square reader.
[If You're Not Using Dropcards to Sell Your Music, You're Missing Out]
2. Cassette tapes
Cassettes, like vinyl, have made somewhat of a comeback. I suppose this is because they're an affordable way to create a personalized physical product. And of course, they're "vintage" at this point. Personally, I'm enjoying it as it gives me another way to collect and put out music. Here are some cassettes I made for the pop punk band Wicked Bears from Salt Lake City: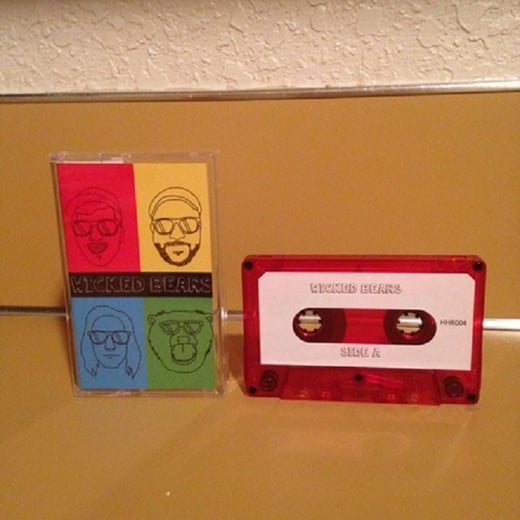 Blurry photo used with permission (because I took it), taken from the Hidden Home Records Web Store.
To make tapes, you'll need to have some sort of machine that records onto cassette tapes. I have something similar to this that works really well for making master tapes because I can listen to it as it records to make sure there are no problems, and the speaker quality is great. However, you don't necessarily need that if you can monitor where the song is as it plays. Just make sure that whatever device you use has a line in for an aux cable.
To make a master tape, just use the aux cable to connect your recording device to the computer (or whatever you're taking the songs from) and simply play the songs while the tape is recording. Make sure you let the record or songs play all the way through before stopping.
As far as duplication goes, I recommend spending a little money on a nifty-thrifty tape duplicator. Things will go a lot faster, and, at least in my case, the tape duplicator I have keeps the quality of the master tape. An old stereo I had with two tape decks and a duplicator made a much worse quality tape.
Also, it should be noted that when duplications are being made, you don't have to play the songs through in real time. Which leads me to my next point: my tapes I ordered from Delta Media for Wicked Bears didn't work on my duplicator, and I've had to make each tape one by one. And there were 50. So make sure you get something of quality to save yourself time.
Once you have your means to record, you'll need:
blank tapes
a duplicator
tape boxes
blank labels
a printer
You should be able to Google templates and make your cards at Kinkos by printing four to an 8.5 x 11 page of medium-thickness paper. If, on the other hand, you want something custom, I always send people to my friend Jonathan Jennings at Ronald Records. He makes some sweet stuff.
3. CDs
There are several kinds of ways to press CDs. While some view it as a defunct format, they still tend to sell at live shows. Check out the different ways to print them below. Personally, I use and recommend Dreamwave Studio in Boise. But I also encourage you to look at your local options should they be known for good quality. Local companies like Dreamwave are what keep small, independent music scenes alive.
Sleeves
Before going through the process of pressing a CD in a sleeve, I want to talk about the Walmart method, because I've had a lot of luck on tour doing this for demos and such.

DIY/Walmart method: I went on a small acoustic tour last October and didn't have my official album completed yet, so I was left burning blank demo CDs to try and sell. To make each one unique, I placed each copy into cardboard sleeves I bought at Walmart and drew something different on each album. These were mostly just random pictures: something from a TV show, a tree and rainbows, cool drawings of my Dad, you know, what you'd expect. I only priced them at $3, and they sold really easily. I recommend it to anyone who only has a demo and is trying to save up money for official art. (There are also ways to make DIY CD cases look more professional. Just search "homemade CD sleeve" on Google images and prepare to be amazed.)

Printed sleeves: This is where you go through a third party. Most companies will give you a pretty good price on CD sleeves with full-color, printed CDs with music already on them. Dreamwave Studio, which I mentioned earlier, will do 100 full-color sleeves for $150 with a full-color CD print and music already burned on.

Jewel-case CDs
The classic jewel case is more than a single sleeve, but still not that much. Cost will fluctuate depending on how (or if) you choose to do liner notes. A printing place like your local Kinkos may make inserts cheaper, but they don't look as professional (unless you're doing a single- or double-page insert). And, to be honest, printing the CDs yourself never seems to look that great. But I digress. These are good options – just know they're more expensive than a single sleeve, and often go best with detailed inserts.
Digipack
If you're not aware of what digipacks are, they're cardstock/paperboard, multi-panel CD cases. Read more here. Digipacks are the most expensive option here as they require the most material (especially if you plan to do two-plus pockets with a full-color insert). In my opinion, you don't really need one unless you're doing a full-length album that you plan on making a big return on. However, everyone thinks differently on this. They look rad, so if you just want to put out the best product you can and don't have financial limits or a budget for yourself, I say go for it.
4. Lathe-cut records
If you haven't heard of lathe records before, they're a more affordable alternative to vinyl made on specialized plastic, but work the same. The plastic used is soft enough to cut directly into, but tough enough to withstand a lot of plays. They come in the same sizes as vinyl: 7", 10", and 12". However, different from vinyl, they have lo-fi qualities and hi-fi qualities.
My label friend Tyler of Pocket Cat! Records, who also runs Audio Geography Studios out of Tallahassee, FL, and specializes in lathe cuts, had this to say: "The lo-fi ones are the ones most people have heard. They're quieter, have some surface noise, and often some stereo recordings don't translate all that well. The hi-fi ones are near the quality of pressed records." After listening to his hi-fi samples, I have to agree with him that they're closer to vinyl quality, and seem to be worth the cost.
5. The almighty vinyl
Everyone wants vinyl. It's vintage, it's more customizable than a simple CD, it appeals to collectors, and honestly, it's pretty trendy right now. CD sales have gone down while vinyl sales have only gone up. The problem is that pressing traditional vinyl isn't cheap: 100 copies of a simple 7" without artwork will put you back about $1,000. Once the plating is made, it can be reused, and the price of making more gets lower. Either way, though, it's still spendy.
If you choose to do vinyl, just understand it may take you a long time to get back even half of what you put into it. I don't have any experience in pressing vinyl because of the prices. However, it seems that Musicol is the cheapest pricing for such things, and I know of other people who trust it.
[Should You Press Vinyl for Your Next Release?]
6. Merchandise
I personally think that it's good to have small merchandise to send out with other orders. I've had bands and labels send me things like bottle openers, stickers, and occasionally T-shirts or tote bags. I recommend getting things like koozies from Amsterdam Printing, and a friend of mine runs Underground Screen Printing in Salt Lake City, which is where I typically go for T-shirts. Other than those, I recommend checking your local options, as they're the foundation on which a music community prospers. Support each other and stay human, friends!
[The Musician's Essential Guide to Merch: What to Get, How Much to Charge, and Where to Buy]
Rob Lanterman is a writer and musician currently living in Boise, ID. He also runs Hidden Home Records, which is the love of his life but also a gigantic money sucker. Hit him up on Twitter @Robolitious if you'd like to send him free beverages, candy, or music.