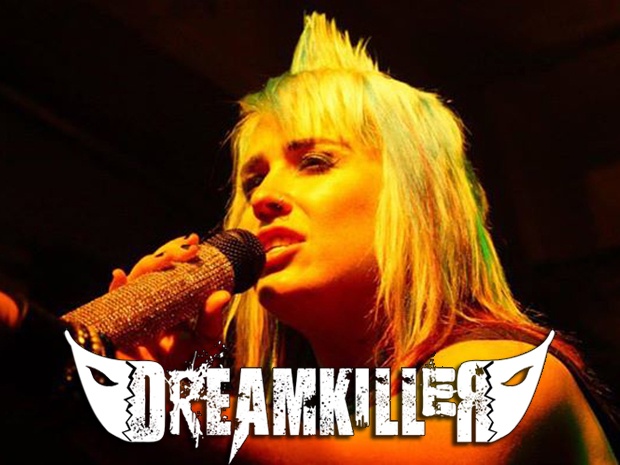 Photo by Terrell Stewart
A journey is defined as passage or progress from one stage to another. A journey is a beautiful reflection of how we grow through life, and as musicians, our lives and careers are one and the same. Christy Johnson, frontwoman and founder of melodic hard rock band Dreamkiller, is a strong testament of someone who isn't afraid to embrace the process and take on a sober attitude in setting long-term goals and doing whatever it takes to accomplish them. For her, hard work does pay off: after a decade of perseverance, Dreamkiller is officially a full-time touring band as of February 2015, and they're now gearing up for their third national tour this August through November.
Dreamkiller has collected many accolades along the way, but as with any journey, there have been countless trials and challenges they've had to overcome. Now, with many notches in her belt, Johnson shares firsthand just what it takes to become a full-time touring act.
You founded this band 10 years ago, and you've not only survived, but you've thrived! What would you say fosters and promotes longevity within a band dynamic?
Longevity in this industry is completely dependent on one's ability to adapt, work well with others, and maintain a determination to achieve set goals, regardless of hardships and obstacles. Those who are successful did not become so overnight. They are thriving because they are the ones who believed in themselves and never gave up. Many people think that it is going to be easy and don't want to work for their dream. There is a lot of sacrifice that comes into play, and many can't cut it. In order to be successful, you have to absolutely love what you are doing – enough to make it your main priority. There is nothing more fulfilling than watching your dreams comes true right before your very eyes, after putting everything you have into making them happen!
It is also very important to be on the same page with your band members. That is a reason that many bands end. Have that discussion with your band members. Make sure to set a timeline with realistic goals on which everyone can agree. It's magical when a band comes together and clicks because they all want the same thing.
[4 Essential Truths About Keeping Your Music Career Alive]
As of this February, you've made the leap to becoming a full-time nationally touring act. What do you think were the most important steps you took over the years to finally get to this point?
There are many checkpoints to cover before jumping into touring full-time. It is very important to gain experience locally, build your fanbase, and network with other bands. We did this by playing as many shows as possible. Write engaging songs with meaningful lyrics. Invest in your band to have quality recordings, music videos, a professional headshot, and EPK (Sonicbids offers a fantastic layout for that!). This will help with booking at venues, as well as gaining fans.
Create your brand, image, and a strong social media presence. Take advantage of this age of information and plaster your band all over the internet to get your name out there. Even more than that, make sure to engage and interact with your fans to ensure a real experience. Be genuine and let them know that their support is everything to you, because the fans are what fuel this industry. Learn as much as you can about the business – this is key! There are tons of books and blogs about music industry.
Another great way to learn is by attending and showcasing at music conferences. Be sure to go to the panels that are led by industry experts. After you have done all of this, start to tour regionally for short periods of time to get a feel of the road. It's a complete change of lifestyle and will be a shock for those who aren't prepared. We have spent the last 10 years seeking out every possible opportunity and feel as though we were thoroughly prepared when we finally took the leap. However, it's always a learning experience and we look forward to mastering this new way of life!
There's no doubt it takes a ton of persistence, drive, and resilience to make it to where you currently are in a musical career. What motivates you to keep pushing through, even when times get tough?
Working in this industry definitely allows you to develop a thick skin. This is interesting because as artists, we are also emotionally driven and occasionally sensitive. There are going to be ups and downs. You will be rejected at some point. Not everyone is going to like your music, the way you look or dress, or how you promote yourself. There is nothing more powerful in the universe than maintaining a positive attitude. We believe that it not only affects those around you, but can actually affect your current and future events and situations. Remaining positive can directly affect your motivation, emotional and physical health, and will attract more positive vibes. All of this is also related to your performance and happiness of the band. That is one of the reasons that we have made it our mission to include positive themes in our music. We hope to spread these thoughts throughout the world and make a difference. Envision your success and you will succeed.
You've been recognized by a plethora of awards, such as the International Music and Entertainment Awards, the Independent Artist Music Awards, and the Los Angeles Music Awards. What do you do to position yourself to stand out?
Branding in any business is important. There is a lot of competition in the music industry. Marketing techniques employed for successful brands can be applied to any product, including a band name or an individual in the music industry. Throwing bracelets to the crowd with our website on them generates interest. Branding promotions can be executed over the internet. Focus on your online presentation. Social media sites are wonderful venues that reach a multitude of fans over a very short time. Paying attention to the fanbase that is created provides usable feedback to stay in tune with the fans and attract new ones. Constantly promoting and remaining in the public eye brings invitations from awards groups that seek artists, and even attracts fans to nominate their favorite bands and performing artists. Keeping the website up-to-date with news and new photos keeps fan interest, and is part of branding. Newsletters go out to fans and various companies on a regular basis to give that personal touch rather than always expecting fans to check in. Networking with other bands is not only fun, but opens the path to making connections and learning about opportunities. Being proactive is the key.
Sonicbids helped you land the Rock Solid Pressure FM Radio Competition, which you mentioned set the band on a direct path to becoming full-time touring musicians – in what ways?
After being selected for the Rock Solid Pressure FM Radio Competition, we were asked to perform at the 10th annual Rock Solid Pressure Industry Showcase at The State Theatre in St. Petersburg, FL. This was a huge, life-changing opportunity for us. We were able to perform live and receive valuable feedback from industry professionals. The connections that we made through this afforded us such opportunities as performing the National Anthem at Monster Jam several times; having our music placed internationally in the Monster Jam live experience; playing the main stage of Rockapalooza in Jackson, MI, next to Candlebox, Mushroomhead, Saliva, Adam Gontier, Taproot, 12 Stones, Smile Empty Soul, Hurt, (Hed) P.E., and Psychostick playing the main stage of Megaton in Toledo, OH, next to Mushroomhead; performing with Zach Myers of Shinedown; and landing a sponsorship with Coldcock Whiskey.
Soon after that, we were working closely with Rock Rage Radio, who has been behind us 100 percent to become a full-time touring band. They have been helping us attain numerous opportunities with priceless exposure, including events like SXSW and KOHL Fest next to Butcher Babies and Upon A Burning Body. We are currently gearing up to hit the road for our third nationwide tour of the year. We are thrilled to have experienced so much since the showcase only three years ago.
What's a typical day like for you on the road?
We usually sleep in the Walmart parking lot in our 15-passenger van with our five band members and one-person crew. Sometimes we are offered a place to stay by the locals in various cities, so we are always very grateful for a couch, shower, and even breakfast! Many times, we will look for a Gold's Gym near the venue so we can work out and shower there before the show. We also love to go on adventures and see the sights. Traveling, seeing new places, and meeting new people is by far one of the greatest perks of touring. If there is time, we may stop somewhere with WiFi to catch up on our online life before heading to the show.
Once at the venue, we are in full-on work mode. Load in, set up, prepare with our various rituals (relaxing, stretching, warming up, having a drink, etc.) and deliver a mind-blowing show before hanging with the fans for the rest of the night. Rinse and repeat! The days seem to pass quickly because we are always having so much fun. It is crazy sometimes to be in our bathing suits on a beach in California one day and three days later in a blizzard in Colorado. There is never a dull moment!
As a touring veteran now, what do you think is the biggest misconception new bands have about going on tour?
The most common misconception with new touring bands is that it is realistic to make money right off the bat. Even if you have built up an incredible fanbase online, locally, or even regionally, they still may not know who you are on the other side of the country. Some musicians expect to get large guarantees when they can't bring a single patron through the door. Just like the venues at home, you have prove yourself and build up a following everywhere you go. It's vital to return consistently to these venues to reinforce the progress you have already made. The payout from venues will increase as you put in the work. Meanwhile, we use any monies from payout to go towards gas, vehicle maintenance, paying for an EPK, new merch, etc. It may not be the glamourous life some initially imagine, but nothing compares to screaming fans and the rush of doing what you love every night!
What's the toughest challenge you've faced touring full-time, and how have you worked through it?
We have had to deal with vehicle issues, and even losing members in the middle of the tour. Touring is definitely not for everyone, but it can be incredibly taxing on the entire band for someone to discover this while on the road. You have to be flexible to meet daily challenges. The best way to work through unforeseen mishaps – like getting stuck in the snow or having a spark plug and coil burn out in the middle of nowhere – is to keep communications open and have a sense of humor. No matter what happens, there is a solution to the problem. Keep that in mind when things seem stressful. Work together instead of against each other. If you truly love what you are doing, it is easy to move past the hardships and know that things will work out, because there is no other path.
What is the biggest piece of advice you would give to musicians on ensuring a successful, lifelong career in this industry?
Always be nice to everyone, no matter if they are a promoter, fan, or runner bringing you a tea. Do not burn bridges. Know yourself as a person and as an artist. Never, ever give up.