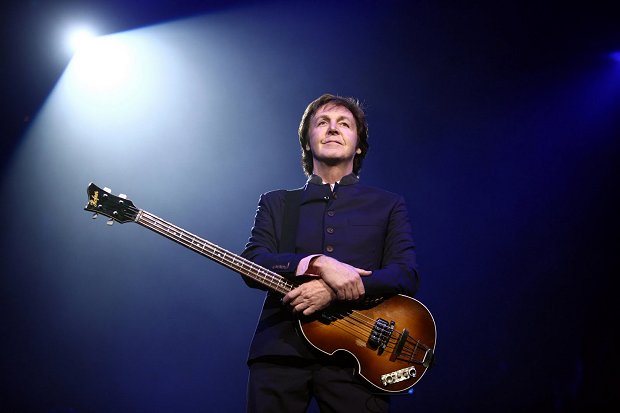 Paul McCartney knows a thing or two about longevity. (Image via pitch.com)
We all have days when the daily grind of life starts to obscure our passion for music or makes a musical career feel out of reach. But whether you're a seasoned performer or just getting started, there are a few essential truths about keeping your musical career alive. In this post, we'll look at ways to stay interesting (and interested), find day jobs that actually help build your musical network, and maintain an active performance schedule so that you're prepared to thrive in your musical career.
1. Allow yourself to grow and evolve as a musician
Many musicians who enjoy long careers reinvent themselves often (just take a look at Madonna's career!). Although successful bands have their set of classic songs, creating new music is essential to keeping fans interested. Perhaps even more importantly, exploring new musical ideas and genres will help you maintain your passion for music. Listen to music from artists and styles different from your own and use these new sources of inspiration to experiment with your own work.
An added benefit of being well-versed in different types of music is that the more knowledgeable you are about music and the work of other artists, the better able you'll be to connect with others in the industry. Keeping your career alive requires continual artistic growth both to maintain your passion for music and to help you connect with music industry professionals and fans.
2. If you want or need a day job, get one that builds your network
There is nothing wrong with taking a day job, but make a conscious decision to find work that will further develop your professional music network. Word of mouth can help you find out about gigs that never get publicly advertised, and personal connections can help you land gigs that you otherwise wouldn't be considered for.
Being near the people involved in music production (lighting, sound, equipment rental, venue management, etc.) is one of the best ways to develop your professional network. These people often have their own strong network of other production professionals and are aware of the gigs for which you are a perfect fit. The personal introductions that your network will provide make you an easy choice for talent managers, because you have already proven yourself worthy to their friends and respected colleagues.
You can also develop your network by weaving yourself into the community you identify with as an artist. For example, if you like to create music about nature, then you might find work in a natural foods store or nature conservation group. Getting a day job in related businesses such as record shops, theaters, or event planning can also help you develop the necessary connections to get gigs and keep your music career alive.
[5 Unlikely Connections Every Musician Should Make]
3. You have to make time to rehearse and perform regularly
One of the hardest things about keeping your music career alive can be finding the spaces and the time to perform. Maintaining an active performance schedule is essential to your career, so although you may have a day job, any recurring performances prove to others that you are still a performer. Your chops, stage presence, and ability to connect with people while performing are skills that need regular practice to stay sharp.
When you have trouble finding the types of gigs you prefer, consider offering your skills to help better your community by performing for religious institutions, block parties, festivals, farmers' markets, schools, weddings, parties, etc. Some gigs may not pay well (or at all) but they give you opportunities to refine your performance skills and evaluate how audiences react to your music and stage presence. Of equal importance, by keeping an active performance schedule, you'll develop important connections and demonstrate your dedication and reliability to talent managers.
4. Be tough on yourself
Your friends and family love you and love your music, but having a career in music means that you need the approval of a tougher audience. Seek out criticism and learn from it. If you have trouble finding a discerning, unbiased audience, then consider asking music professionals for advice or lessons.
Many colleges have music departments with professors who offer lessons on instrumental or vocal technique, and you don't necessarily have to enroll in those colleges to take lessons. Professors often offer lessons in the evenings and weekends and charge by the hour or half hour. If you're tight on cash, ask if the professor would be willing to do group lessons so that you can split the cost with a couple of friends.
Another great way to keep growing artistically is to record yourself during practices and listen deeply, compare your recordings to those of artists you admire, and make lists of things you will work to improve. Taking steps towards greater mastery of your instrument can improve your performances and expand your professional network, ultimately making it easier to keep your music career alive.
Have any truths that you'd add to this list? Share them in the comments below!
Jamie Davis-Ponce is a professional musician and graduate of Northeastern University's Master of Music Industry Leadership program with a concentration in entrepreneurship. She has been a music lecturer at Ithaca College, and is deeply involved in Boston-area arts and music organizations, having worked with ArtsBoston and held internships at Handel & Haydn Society and Boston Symphony Orchestra. Jamie is currently an administrator in the Professional Performance Division at Berklee College of Music. You can view more of her writing on her blog on Music, Business, and Creativity.