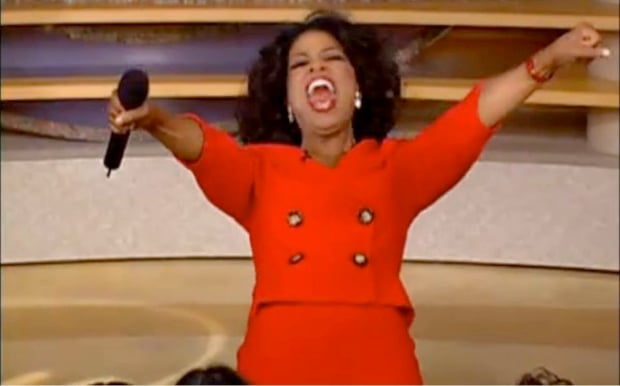 "You get a free album, and you get a free album, and you get a free album!" Unless you're Oprah, you're going to need to capitalize on those freebies. (Image via memegenerator.net)
Everybody loves getting something for free, and indie musicians often use this to their advantage by offering up free releases. There's a right and a wrong way to release your music for free, however, and if you're doing it the wrong way, you could actually be setting yourself up for a very difficult future.
It seems so simple: make an album, give it away. If you stop right there, you'll have some people enjoy your music. That, however, will be the end of it. If, on the other hand, you follow these four easy steps, you can turn that free release into a powerful force for your career.
1. Make it an EP, rather than a full-length album
You may have an album's worth of material you want people to hear. Heck, you may have multiple albums' worth of material you want people to hear, but don't let what you have dictate what you release, especially when you're contemplating a free release. Free is a price point, and unless you're dealing in illegal narcotics, once people have received something for free, it's tough to get them to pay for it. This is why you shouldn't give away a full-length effort.
Giving away a full-length album creates an uphill battle you may never be able to climb out of. If you give away an EP instead, you'll not only be getting your music to people and have something to promote, you'll also be adding value to your full-length effort, because fans will recognize your albums as releases that require a monetary transaction. There will be no, "Hey, the last album was free" if you only give away an EP.
2. Require fans to sign up for your email list
First off, if you don't have an email list and you're relying solely on free social networking sites to stay in touch with your fans, you're slippin'! Email lists are still the best way to stay connected with those who support you. You know your message will be in their inbox, and being that they opted in to your list, you know they're interested in hearing from you.
By requiring a listener to sign up for your email list to download your free EP, you're creating a relationship with that listener. It allows you to thank them for downloading your music (which you should do), and it creates a list of people you that will likely be interested in your eventual full-length release.
In this case, your free EP is less about the present, and more about being a catalyst for future album sales.
[How to Build Your Band's Email List From Scratch]
3. Collect data
If you release your free EP on a service like Bandcamp, you'll have the option of collecting data. Use that option! Major companies collect data based on our purchases, and you should be doing the exact same thing with your free EP. By asking for something as simple as a downloader's zip code, you can better map out your future tours, tours that will be far more successful because you'll know the locations of where your music is being downloaded the most. Today's free EP can easily end up next spring's multi-city tour with large paying crowds in every city.
4. Make a music video
Yes, a video is an investment, and some artists may balk at the idea of putting money into a free release. But it actually makes a lot of sense when you stop thinking about your EP as just a free release and start thinking about what you're using it for. You're not just giving away music, you're creating your email list and discovering where your fanbase lives, giving you the ability to both directly promote your next album, and more effectively plan your future tours.
With that in mind, investing in your free album is really investing in all those other aspects of your career, so the next logical step is to use a tried-and-true method of promotion – the music video. People discover new music on YouTube, and blogs love to post videos of the artists they like, so pick a song, make a video, and make sure the information in the video's description directs people to where they can download the EP. Don't clutter it up with too many social media links. The point of the video is to get people to download the EP so you can add them to your email list and discover where your fans live, not to get people to heart your latest picture on Instagram.
[How to Approach Creating a Music Video on a Small Budget]
If you're going to give away your music, it only make sense to get as much out of it as possible. None of these four steps requires a ton of effort, but they can all reap huge rewards.
Who ever said free can't also be valuable?
Adam Bernard is a music industry veteran who has been working in media since 2000. If you live in the NYC area, you've probably seen him at a show. He prefers his venues intimate, his whiskey on the rocks, and his baseball played without the DH. Follow him at @adamsworldblog.