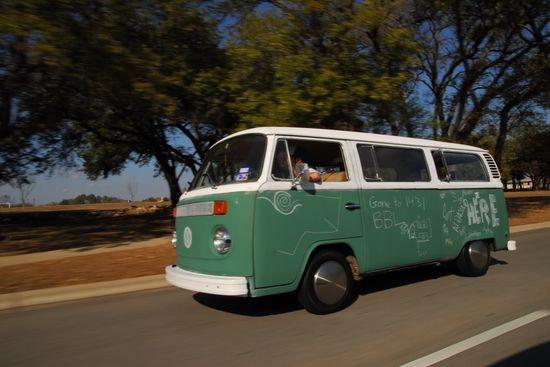 Image via forums.vwvortex.com
Any musician working these days will tell you that if you want to make a living, it's all about playing live. Record sales have been tanking for a decade, and now even digital downloads of big singles aren't what they used to be. Streaming has taken hold of the masses, but payout rates are small and hardly add up... when they can be found at all.
It's easy enough to identify that the main arena in which an artist can make money is the concert arena (or club, or coffeehouse, or wherever will let you play), but that doesn't make booking shows any easier. Deciding where to tour has always involved a lot of guesswork, but now big companies with insane amounts of data are trying to make good use of the numbers and help artists tour smarter. Here are three companies that have plenty to share with acts that can help make for better planned-out treks.
1. Spotify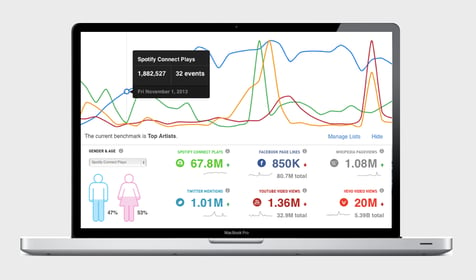 Image via spotifyartists.com
What has quickly become the go-to streaming service for the world (it's apparently about to hit 100 million users) was also one of the first to go out of its way to give something to artists to help them in their goal to make more money... which they certainly weren't doing on the platform itself. Spotify Artists was launched towards the end of 2013, and though it hasn't maintained its status as the only place for artists and bands to go for data, you should still check it out, especially because so many of your fans are using Spotify.
[6 Easy Steps to Streaming Success on Spotify]
The platform has a dashboard that any verified act can view in real-time, displaying some pretty basic but very valuable information. Demographics such as age, location, and gender are all available, which can help with everything from marketing to touring. Whether you love or hate the company, it's important for your music to be where people are listening – and if it's got to be there, you may as well get all the value you can from interactions with your listeners.
2. Pandora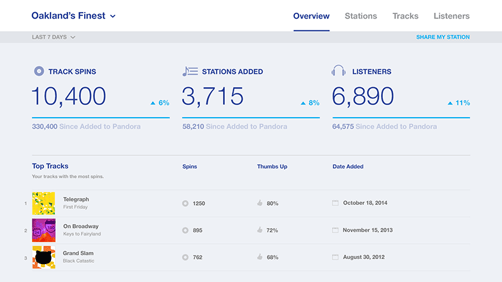 Image via thenextweb.com
Last year, internet radio platform Pandora launched their Artist Marketing Platform, or AMP for short, to both compete with Spotify's offering and to help artists earn a better living and make more informed business decisions. What separates AMP from the Swedish streaming service's Artists page is that the former not only offers the data, but it also has a slew of tools that help analyze said information and turn much of it into easy-to-understand visuals, which can be shared with a business team instantly.
The platform can tell any artist (or manager) how many stations have been created around that act or one of their songs, which is a metric specific to Pandora. AMP also reveals which songs have received the most thumbs up or thumbs down (and how many of each the tracks have gotten), and where people are listening via a heat map. These tools will show acts exactly what regions they should be performing in, and perhaps which songs to play or promote.
3. Bandsintown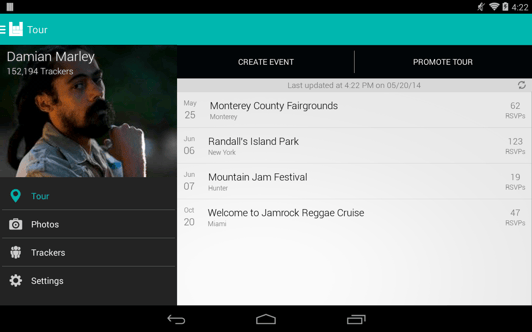 Image via play.google.com
By now, millions of people use Bandsintown to follow their favorite acts and to receive alerts when they're coming to town, hoping to never miss a show. The company is very valuable to artists in and of itself, as it helps sell more tickets and takes care of some of the marketing costs that a label or even the artist him- or herself may have otherwise had to shoulder. Earlier in 2015, the artist-friendly service also launched a data analytics platform that is similar to Spotify's and Pandora's, but the focus is all on selling tickets to shows.
Basically, the service, entitled Bandsintown Manager, shows those people who are tracking you live, where your tour dates are, and where people who have RSVP'd to a show of yours (but may or may not have actually purchased a ticket) reside. Looking at this information can show which cities have been missed, as well as which areas might require more than one performance in different cities (for example, Los Angeles might not end up being one show, but several), and even which fans are saying they'd go but didn't make it.
Next up:
Hugh McIntyre is a freelance pop music journalist in NYC by way of Boston. He has written forBillboard, The Hollywood Reporter, and MTV, as well as various magazines and blogs around the world. He is also the founder and editor-in-chief of the blog Pop! Bang! Boom! which is dedicated to the genre of pop in all of its glory.