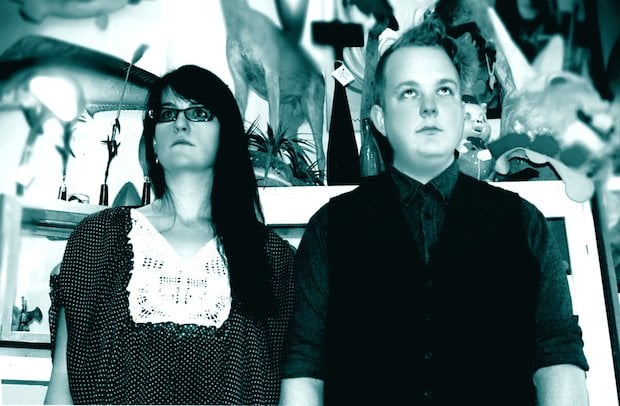 Photo courtesy of North by North
What does Chicago-based blues rock group North by North have in common with the legendary Sunset Strip rockers the Doors? Both bands eschewed bassists in favor of keyboard, guitar, drums, and vocals in order to deliver intelligent and captivating melodies. The exclusion of stringed rhythm in no way limits this group, as demonstrated on their debut album Something Wicked. The band's members, Nate Girard and Kendra Blank, discussed the creative decisions behind their lineup, how they've evolved over the years, and the opportunities they've gotten since joining Sonicbids.
How did you decide to start creating music together?
We had been in previous projects and started playing together as a guitar/drums duo for fun, but when those main projects dissolved, we decided to make this our main project. We realized that the music needed to be fuller, so we added a full-time drummer, and Kendra moved to keys.
Was not having a bassist a creative decision you made early on? How does that impact the band's dynamics?
We decided early on with this project that we wanted to do things differently from the traditional rock 'n' roll power trio of guitar, bass, and drums. We had, at one point, broached the topic of adding a bassist, but not long after we started playing live, we realized that by limiting the number of musicians, it forced us to be more creative with the dynamics of the band.
Over the past four years, how has your sound changed?
Overall, our sound has continued to grow even heavier and fuller. As we've grown as musicians, we're each putting in more energy and playing more intricate parts in order to continue elevating the music. For example, when we first started out, Kendra was playing single notes on one keyboard, and now she has a dual keyboard setup with one acting as the bass and the other with a traditional organ tone to better support the melody. With the addition of Dylan Andrews on the drums, we've incorporated more musical elements outside of the realm of rock; his background is in jazz, so his perspective beyond rock 'n' roll has really helped to create the songs and the sound that you hear on Something Wicked.
Your debut album, Something Wicked was released this past January. What have been the most exciting things surrounding the album's release?
We've had the album reviewed by Newcity Music in Chicago, Under the Gun Review out of California, Selective Memory, and Here Comes the Flood, among other smaller publications, and we've been featured in No Country for New Nashville for a show we played there last year. We've also played extensively in cities outside Chicago, including Milwaukee, Indianapolis, Nashville, New York City, Cleveland, Columbus, Baltimore, and Philadelphia. We were also just named on Indie Rock Cafe's Top DIY Rock Songs and Albums of 2014 list.
Why did you decide to become a Sonicbids artist?
We initially started using Sonicbids for its professional and easy-to-update EPK function, which then allowed us to pitch ourselves for festivals, marketing, and promotion opportunities, licensing, and other gigs. We've found many radio, press, and festival opportunities through the site since joining, and we hope to continue doing so in the coming years.
Through all the gigs you've gotten through Sonicbids, which have been the most memorable and why?
We're currently in talks with a booking agency to book us tours around the US, which is something we plan to do heavily in 2015. We played several short tours in the past year since the release of Something Wicked, but we plan to do even more this year. We have also gotten several independent radio stations to spin our tracks, which we wouldn't have been able to do without Sonicbids.
Do you have any planned releases coming up?
In May 2014, we released two singles digitally which will be featured on our next album and will be released as a two-disc vinyl set like Something Wicked. We're back in the studio this month hoping to wrap up the rest of the tracking by early spring, planning for a late spring release.