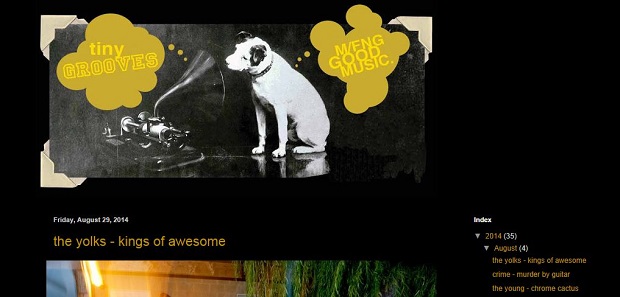 Remember our post about press coverage and the potential reasons you might not be receiving any? One of the possibilities we included was that your band might not be quite ready for attention from bigger outlets. For those artists and groups that fall under that category, help is here! We've compiled several genre-specific publications that gladly push up-and-coming acts – as long as they're into the tunes, of course. Our first installment: rock 'n' roll!
If you're not yet convinced, consider this: Smaller-scale outlets are often incredibly well-curated because the people who run them genuinely love music, and they have little to no constraints on content. As a result, they frequently serve as hunting grounds for the higher-ups, and most welcome submissions, so it's generally easier to get their attention. For all those reasons, these are great places to begin your climb to mainstream magazine cover-story glory.


Best for: Punk, hardcore punk
Why we love it: "Legendary" is a borderline offensive understatement for describing MRR. It's existed in some form since 1977, initially as a radio show and, since the '80s, as a zine. More than 350 issues later, it's become iconic for coverage of all things punk. Not all of their print content is available online, but MRR keeps a pretty steady virtual beat by sharing interviews, top 10 lists, a photo blog, their weekly radio show, and more. All arms of the publication are followed religiously by old-school die-hards and the new generation of punks alike.
How to get featured: True to their DIY spirit, MRR happily accepts submissions – physical releases only, though. Guidelines can be found here.
Best for: Garage, punk, psych, hardcore punk
Why we love it: At first, this might seem like a promotional blog for HoZac Records. While it's true the two are intrinsically linked, VoT is actually its own entity and existed before the Chicago imprint. It's actually more like the reincarnation of a very awesome, now defunct '90s zine, Horizontal Action. Todd Novak and Brett Cross are at the helm of all of this, as well as the label, which arrived shortly after VoT launched. While HoZac and the Chicago scene are obvious focal points, there's still a lot of coverage of outside releases. In light of the founders' history and reach, consider it an honor if you make the cut.
How to get featured: Check the contact info included at the bottom of any page.
Best for: Garage, punk, psych, experimental rock, lo-fi
Why we love it: This frequently updated, totally DIY blog has a keen eye for fresh bands from all over the world, from Australia to the UK to the United States Midwest. Its founder, Zac Camanga, isn't afraid to feature lesser-known acts deserving of a wider audience. In fact, he doubles their chances of exposure: Camanga also contributes a monthly list of overlooked "Garage-Punk Greats" to eMusic's Wondering Sound.
How to get featured: TSD welcomes submissions (guidelines here), especially if your band is playing in Camanga's home base of Philadelphia – it has a whole section dedicated to show previews and reviews.
Best for: Punk, garage, psych, experimental, noise, hardcore
Why we love it: Don't let the no-frills, old-school Blogspot layout fool you: TG has been around since 2009, and it's quite popular. Jonathan Markley is the walking encyclopedia of rock 'n' roll who started it, and even though he works at Permanent Records now and also runs their blog, he hasn't faltered a bit in terms of TG productivity. More concerned about showcasing great tunes than flowery writing, expect to find comparisons to other bands and quick, straightforward descriptions supplemented with streams and videos, rather than lengthy features. Extra plus: Markley makes a point of directing readers to where they can purchase the albums in question.
How to get featured: Check the sidebar for contact info. Submissions are welcomed.
Best for: Punk, garage, and other rock 'n' roll bands with physical 7" records
Why we love it: This one's super niche: one guy (his name's Jason) living in Brooklyn who strictly reviews only 7" records. But the specificity stops there – he takes on rock 'n' roll tunes of all kinds, from experimental to hardcore to borderline jangle-pop, so long as they're independently released and a physical copy is shipped to him.
How to get featured: Send him a package to the address listed on his profile.
Looking for the best niche blogs in another genre? Check these out:
Jhoni Jackson is an Atlanta-bred music journalist currently based in San Juan, Puerto Rico, where she juggles owning a venue called Club 77, freelance writing and, of course, going to the beach as often as possible.