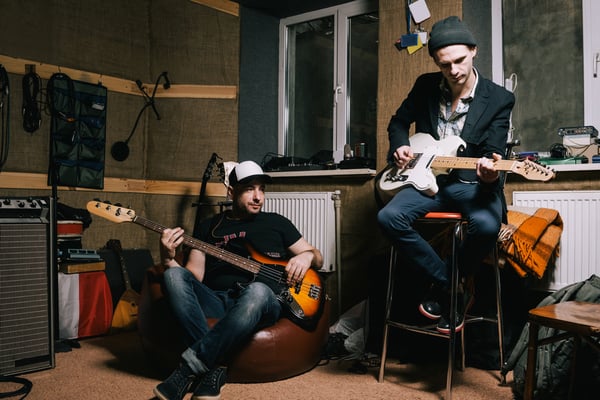 Image via Shutterstock
In 2012, we saw the band fun. go from relatively unknown to suddenly topping the charts, peaking at number one on the Billboard Hot 100, and having their song on nearly every radio station with sales skyrocketing. In 2013, American Authors went from just starting to gain a strong following to massive commercial success.
So what is this seemingly magic overnight success maker I'm talking about? Licensing, of course.
During Superbowl XLVI, fun.'s song "We Are Young" appeared in a later-acclaimed Chevrolet commercial. fun. took off almost instantly. They were played on countless radio stations, featured on an episode of Glee, won a Grammy, recorded with P!nk, and also released a few other singles with even greater success.
As for American Authors, having "Best Day Of My Life" appear on a Hyundai TV ad in the UK led to more placements in more ads, as well as movies, video games, and even the ESPN opening sequence for the 2013 World Series of Poker. It caught on instantly, and even won the Sync Music Award at the SESAC Pop Awards in 2015. In other words, it skyrocketed them to success and set the stage for everything to follow.
So, how did these bands go from underground sensations to Grammy winners? What was their secret?
It would be easy to say simply that it was licensing—and in large part that's true. But there is so much more behind it. The reason fun. and American Authors are such great examples is because while they were still gaining traction in the mass media, they had built a loyal following and reputation through their hard work and strategic networking and interaction with fans and industry. For instance, well before their songs received licensing deals, their singles had already begun making the rounds, and they were invited to play at Sunset Sessions, an annual conference where selected groups are invited to perform in front of label executives and music supervisors. You'd be remiss to pretend those things didn't help.
So why are we harping on about this? Because this could be you! Nothing is stopping you from getting your music licensed and raking in some great royalty money, while also gaining some commercial success. The need for music in film, video games, and commercials is enormous! Think about it:
The music played during a commercial or film scene? Licensing.

The music that plays in the background of a video game or app? Licensing.
Even the music on a radio in a particular movie scene can be very lucrative – that's licensing, too.
The first step is to realize how useful getting your music licensed can be. So, here are some tips to prepare.
1. Join a PRO
If you're not already registered with a performing rights organization (PRO), like ASCAP, BMI, or SESAC, that's the first thing you want to do. Like, right now, go do it!
Beyond assistance in licensing, PROs help ensure artists get paid for any type of "performance." Therefore, they're also the folks to go to when your work gets licensed, as they keep up with the syncing process for you. (Because you don't need another thing to look after, do you?)
Now, the process of finding a PRO is a process within a process, and there are advantages and disadvantages to all of them, but whichever you choose is your partner in keeping up with royalties and licenses once your work starts getting picked up.
If you're not sure which PRO you want to go with, attend one of the meet and greets or seminars that they put on throughout the year. It's a good way to get face time with decision-makers and ask any questions you might have.
2. Decide who you're writing for
I'm not saying you should change your style of writing just to get licensing deals, but if what you're really after is a career where your songs are being played on TV, film, video games, and commercials, you have to at least be aware of the music you're making and how it fits into those categories
A little extra tip — make an instrumental version of your most popular songs. Sometimes, you'll be told your sound is great but the lyrics aren't working. If you have an instrumental version that they can use as is or to throw in a voiceover, that'll really help your chances of your song being chosen.
3. Build those relationships
You really can't escape this one can you? It doesn't matter what you do in this industry, you'll need to build, nurture, and strengthen your relationships. Licensing is no different.
While networking within the music industry is always a smart move, this time we're pivoting a bit to talk about networking within the film industry. So how to you do that? First, get involved with local film festivals and meet directors, editors, and producers. Join professional groups such as the National Association of Recording Industry Professionals (NARIP) and of course, PROs. These groups offer occasional seminars that put you face-to-face with key decision-makers in the film industry. NARIP actually has an annual pitch session that brings artists and supervisors together to review their work.
Other places for great B2B (business-to-business – because don't forget, this is the music business) marketing are LinkedIn, Twitter, and of course, Instagram. These social media channels can allow access to groups and influencers you can reach out to directly.
4. Refresh your marketing
If you want to be treated like a professional, you have to act like one. That means knowing who to reach out to, how to do that, what to include, and what not to do. (For instance, don't attach your song directly to the email — no one likes that!)
Music supervisors, app developers, and producers will always gravitate towards clean, concise, organized pitches and EPKs. Be sure to have a place on your website, or an embed in your EPK that allows music supervisors to strum through your catalog quickly. It may even be smart to set up a microsite or a new EPK just for your work that you want to try and get licensed.
Another huge part of your marketing that's overlooked is the metadata. When you get to the point of sending MP3s out to licensing executives, make sure clear meta tags such as genre, year, publisher, and artist are embedded in your tracks. It makes supervisors' lives a lot easier, as you're helping them stay organized.
5. Consider partnering with a firm
If you just don't have the energy to do it all yourself, or you're looking for someone with a more distinguished set of expertise, it might be smart to simply hire a firm.
A music licensing firm holds the catalog of dozens (or hundreds) of artists, and they pitch your music to supervisors on your behalf. While this surely makes your life easier, the firm will typically get a percentage (depending on the type of deal).
So, much like a PR firm or manager, if you can market your work on your own, by all means do it. It's a great skill to have, and you'll learn a ton. However, if you can afford it, this might be the easier option.
Angela Mastrogiacomo is the founder and CEO of Muddy Paw PR, where her artists have seen placement on Alternative Press, Noisey, Substream, and more, as well as the Co-Founder and Director of Community and Events for Music Launch Co. She loves baked goods, a good book, and hanging with her dog Sawyer. Want more tips? You can get your free 4-part training titled 'Reaching a Wider Audience Without Spending A Dime' here.