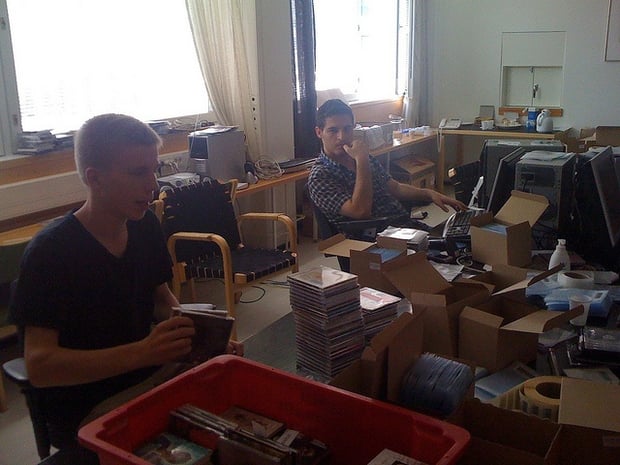 Image by Mace Ojala
While we live in an era where you can promote your music on Facebook, Twitter, Instagram, YouTube, and a thousand other sites, getting real fans to flock to you on their own is a difficult path. For DIY musicians, indie radio promotion makes audience growth and community building around your music easier and more effective.
A successful radio promotion campaign will put your music in front of the right audience to give you a combination of new fans, stronger listening from existing fans, new areas of the country (and the world) where your fanbase will extend, and the potential for increased music sales.
What's involved in an indie radio campaign budget?
There are two things you need to budget for an indie radio campaign: money and time. Your financial costs will depend on whether you choose to do the campaign on your own or seek an outside consultant or promoter.
If you have several albums out, a strong community of fans across the country, and have had success in the past with radio airplay, you could consider hiring a radio promoter to run your campaign for you. Most of the better radio promoters charge between $1,500 and $10,000 for campaigns, plus the postage for mailers.
Postage rates will depend on the location you're shipping to and the weight of the package. Packaging is an additional cost to factor in. Packaging options are aplenty, from small manila envelope mailers to custom-made CD mailers. Prices for each run between $0.25 and $1 each, depending on where you find them. All in all, you should budget at least $800 to mail 300 or more CDs around the country.
You don't have to launch a radio campaign to 300 stations at the start, though. Many DIY musicians choose to take on the job of doing their own radio promotion, at least when they're first starting out, so that they can save on the upfront costs. It's usually better to break down your target stations in increments of 50 so that you have the time and resources to research the stations, make the connections and contacts, and follow their instructions. If you're looking for more of a breakdown on how to reach the right radio stations on a budget, check out my Indie Radio Promotion course.
When executed correctly, this DIY route can be a very effective way to build solid personal relationships with indie radio stations, programs, and music curators because you're in the driver's seat with the communication. In other words, when you do your own radio promotions, you get to grow your black book of contacts and strengthen your network. However, it also means that you'll need more time available to devote to this process. Budgeting for the time involved in doing radio promotion on your own is potentially more important than budgeting for the money involved because you have to pay attention to the details in this process. Blanket email messages as a submission will do you absolutely no good (it's one of the biggest mistakes DIY musicians make). If you can, give yourself several hours each week to contact radio stations and programs individually.
Can't I just digitally submit my tracks to stations to save time and money on mailing out hard copies?
Even though we live in the digital age, there are still plenty of stations and programs (my own included) that prefer a hard-copy CD over a digital submission. The reason is that a hard-copy CD shows us that you're committed to producing a high-quality product and you represent your work well. A mastered CD has a higher quality sound than what most artists submit on their digital platforms (especially in MP3). Most indie radio stations and programs are run by audiophiles who enjoy the crisp sound of fine audio found on discs, and most of us have fairly large disc collections because of it. We also serve audiences who buy hard copies of music (CD and vinyl), so promoting your music while having the disc makes that process even easier. To have the most success with your campaign, take the time to investigate the submission rules for any station you want to reach out to, and plan accordingly.
One final tip: make sure that you include your press kit or one-sheet in your mailer so that the receiving station has your contact info and other pertinent details. Also, don't forget that a personal note to the station can go a long way in making your music stand out from the large pool of submissions that come in daily. Whatever you do, don't ever just mail a CD with nothing else in the package. Doing so makes it so much more difficult for the station to contact you to let you know that your music has been accepted. Sure, they could look you up online, but that makes their job a little more time consuming – and decreases the chances of you getting airplay.
Learn more about getting radio airplay:
D Grant Smith is the host and creator of the syndicated and award-winning The Appetizer Radio Show, featuring unsigned and indie music weekly. With over 16 years experience in radio and indie music, Smith also coaches and mentors musicians through focused audience growth. More information at dgrantsmith.com and appetizerradio.com.