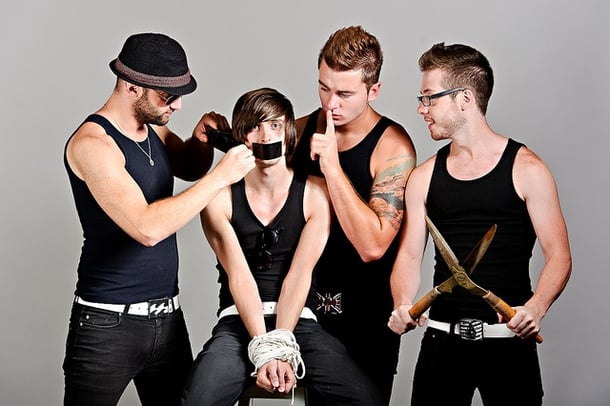 Photo by Sean McGrath (under Creative Commons)
Image is, without a doubt, a key ingredient in building a successful band. Part of that process is getting some seriously kick-ass photos taken and using them to market your music as much as possible. A good photo can generate web traffic, get the attention of an A&R rep, and most importantly, get someone to listen to your music! Here are some methods for how to find a great band photographer.
1. Search the social media pages of other bands in your area
These days, everyone is on social media. It's so easy to follow someone's career moves that way. With tagging so popular, you should have no problem figuring out who the photographer was for that photo session you ogled last night!
2. Contact local photography schools
This was a cool trick I took advantage of while in college. I needed new artist promo pics done, but didn't have the money to pay an established photographer like I wanted to. So, I reached out to the photography schools in my area and offered to lend myself as a talent subject. From that point, you're put onto a list, and that list is available to photography students for their upcoming class projects. I got tons of phone calls for years from different people, and was able to pick and choose which projects worked best for my needs.
Not only was it great experience and networking, but I got hundreds of free pictures out of it! Not all of them were gems, but when you're in a financially tight spot, this is a fantastic resource. I was able to develop my social media pages and website with my favorites, and used this as a stepping stone to figure out my vision for my next project.
3. Scour the interwebs!
You'd be surprised how many photographers, both professional and amateur, are dying to find work behind their camera. In these economically challenging times, all artists experience some struggle, and photographers are no exception. Desperately trying to get out of their monotonous bill-paying day jobs, lots of photographers will post their availability for work on sites like Craigslist, SimplyHired, Indeed, and various blogs, message boards, and groups. You've just got to know where to look and how to search! Also be open to exploring photographers who have done similarly styled work in the live concert setting and the fashion world – a good eye is a good eye!
4. Talk to several photographers until you find the best fit
Unfortunately, photographers aren't a "one size fits all" type of thing. It's very important that you speak to different ones until you find someone you connect with who truly gets your vision. That person's job is to capture the essence of your artistry on camera, and that's a big responsibility. Entrust that to the right person who can help you bring your music to life through a still image. As they say, you will definitely know when you've found "the one" and feel when it's right – so trust your gut and get your best Zoolander pose ready for your close-up!
Next up:
Christine Occhino is the founder and artistic director of The Pop Music Academy and has experience working at Columbia Records/Sony Music Entertainment, in addition to working as a performing artist for over a decade. She has a bachelor's degree in music business & management with a concentration in entrepreneurship and vocal performance from Berklee College of Music, where she was a vocal scholarship recipient and former editor-in-chief of The Berklee Groove. She is also the proud founder and CEO of Hope In Harmony, a 501(c)(3) nonprofit organization that brings music to those in need.