Image via noisepop.com
With an illustrious roster of past players that includes everyone from Jeff Tweedy and Death Cab for Cutie to the Flaming Lips and the Shins, San Francisco's Noise Pop Festival has featured big names and hot up-and-comers for the past 23 years. Next year's celebration of independent music, film, and art will take place in February and March 2015, with events and performances in treasured venues throughout the city. At least five Sonicbids artists will be chosen to perform at Noise Pop, opening up for headlining acts and playing other city-wide events alongside over 150 other musical acts. To get a full-picture perspective on both playing and booking Noise Pop, we asked two parties who are intrinsically linked to the festival for their qualified opinions.
First up, Noise Pop talent buyer Chad Heiman explains what makes the Noise Pop Festival so special, and how to stand out when applying to perform this coming year.
French Cassettes was selected to play Noise Pop in 2013. What made their EPK stand out to you that this year's hopefuls should keep in mind when applying?
What made French Cassettes stand out was that they were a local band that really worked their way up the ringer by playing a ton of local shows – in venues big and small – and supporting larger acts. This year's applicants should make sure the calendar section of their EPK is up-to-date, since local tour history is an important factor to us.
With so many music festivals out there, what makes Noise Pop a special experience for performers?
I think what's really special about Noise Pop is playing in a club in one of the best cities in the world with four-band bills. Each show features a national headliner sharing the stage with a local band who might be playing one of their first-ever shows and two others who might be on their way to headlining next year. It's pretty special to see that happen each night of the festival.
What are you most excited about for Noise Pop 2015?
Noise Pop 2015 is going to be a very special year for us. We're going to be doing a lot more with venues in San Francisco, as well as trying to make a larger impact in the East Bay with shows in Oakland.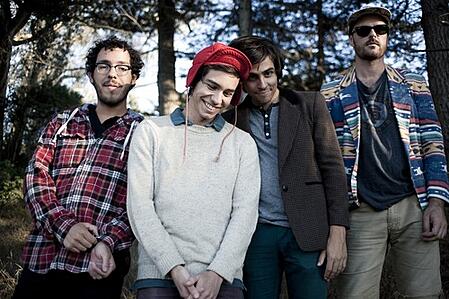 Image via frenchcassettes.net
We also got to hear directly from French Cassettes about their experience playing Noise Pop Festival 2013.
Why did you apply to play Noise Pop?
When we first moved to San Francisco, we immediately started trying to figure out where to play. Everyone who knew the scene here swore by Noise Pop. Basically, if you were looking for a way to toss your name in the hat here, you needed to play it. I was reading an article that mentioned Geographer getting better and better slots at the festival, and I remember thinking to myself, "Well, that's what we need to do then." It was an easy decision, really.
In what ways did the festival benefit your music career?
The folks at Noise Pop are some of the greatest people we've gotten a chance to work with. Seriously. We've become friends at this point, and just keeping that relationship alive has been really great. They never hesitate to keep us in mind for things, and that means a lot to us.
What was the most memorable moment of playing Noise Pop in 2013?
At one point in the gig, we convinced everyone that we were all sons of members of Metallica. Finally, we validated the claim by reciting "For Whom the Bell Tolls," beginning to end, strictly from childhood memory.
What's your number one piece of advice for 2015 hopefuls?
When choosing your EPK profile picture, go for the one where you're all laughing at something. People dig that.



Apply to play Noise Pop Festival by January 3, 2015.