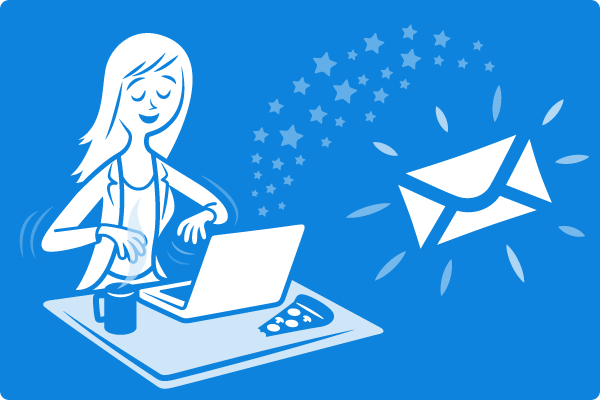 Image via freshbooks.com
A version of this article originally appeared on Sunshine Promotion.
Catch up on the first three parts of this series to learn the truth about what bloggers are actually looking for, a checklist of what to send to maximize your chances of coverage, and when to take each step of your press campaign.
There are many facets of a successful music publicity campaign, but among the most common questions I hear from newer artists are about how they can promote their music independently and get it covered on music blogs. In this post, we'll look at where to find music blogs to email and what your emails should look like for best results.
Find local music bloggers to email
Every major metropolitan area in the world has at least someone writing about arts, music, and culture. Using Google ("music blog [city name]" is a good start), you can usually find a handful of writers who are covering new music developments. If you live in a rural area, find the nearest major city's music writers to reach out to.
I sometimes also like to pick up a copy of the local Sunday paper. There's usually an "Around Town" section or something similar that has information about upcoming local concerts, interviews with artists, and album reviews. Find the writers for these music columns and reach out!
Approach tastemakers
Music blog aggregators like Hype Machine monitor prominent music blogs and compile "Top 10" lists of the most talked about music of the day or week. Most of the blogs found on Hype Machine are considered "tastemaker" blogs and coverage on any one of them can ultimately lead to additional coverage on similar sites.
Search Google
Never doubt the power of an effective Google search. Using search terms related to your music and similar sounding bands, you can find blogs covering music similar to your style. Searching for bloggers reviewing albums that inspired your own work is a good way to get a positive response to the project you're promoting.
Possible search term examples include:
"arcade fire reflektor" review
indie rock music blog
independent hip-hop music blog
Get organized
I firmly believe that a large component of a successful music blog press campaign is organization. If you're not organized, there's a good chance you'll email the same publications twice, forget someone's name, and may not adhere to a blog's submission standards. Every blogger is different, so approaching each one prepared makes his or her job easier and increases your chances of success.
I use an Excel spreadsheet to keep track of my contacts from each blog, magazine, and publication that I pitch. This makes my life easier when I'm able to quickly look up the email address or name of the editor at a local music weekly without having to go back to the magazine's website and dig through the "contact" page to find who I'm looking for. In my Excel spreadsheet, I collect the following information:
Publication/blog name
Blogger/editor's name
Blogger/editor's contact email address
Magazine/blog's physical address
Phone number
Additional submission information
The "additional submission information" category is especially important if you need to know what days or weeks of the year a magazine or radio station is accepting press materials, how your press materials should be formatted, and who to address them to. Every magazine and blog has different requirements, so know exactly how to send stuff in to make it through the "first round" so someone will at least listen to your release.
A quick note on u

nsolicited submissions

Some blogs are so inundated with emails from "official channels" that sending in a package in defiance of the "we don't accept unsolicited submissions" notice posted on a publication's website is a waste of money and time that could be better spent chasing coverage elsewhere. The chances of writers at a press outlet ignoring their own rule about opening unsolicited press packs is zero.
How to craft a solid email
Sending an email to a music blogger and securing coverage has more to do with fulfilling the blogger's needs (we talked about this earlier) than it does with writing the perfect email. Outlining major talking points, providing easy-to-use listening links, and making saying "yes" extremely easy are the biggest takeaways.
My methods of reaching out may be (and probably will be) different than other guys/gals out there doing publicity. If I'm cold calling, or in this case cold emailing, a blogger or editor I've never interacted with personally before, my emails look a little different than if I'm reaching out to a friend who may be able to run a piece about a new record. First impressions count.
Keep it simple
Keep your emails to two or three sentences max. Packing all of the information about your release into a three-page email that the blogger may not even have time to read is wasting even more of his or her time if your music still sucks. The three main components of a successful first email are:
Introduction: Say hello to the blogger personally and let him or her know that you've read the blog and know the kind of content it typically covers.
Information: Tell him or her about your project and what you'd like that person to do if he or she enjoys your music.
Links: Don't forget to include easy-to-use links.
Personalize it
Every email that you send to a music blogger should be personalized. Editors' personal contact information is usually readily available on their blogs, as well as information about who they are, what type of music their blog typically writes about, and what kind of submissions process they usually employ.
Mass-emailing music blogs with the CC or BCC email function is a good way to get ignored. Remember that there's a human being on the other side of the internet who's going to open your emails, and their time is just as valuable as yours. Ignoring basic human courtesy is a fast track to getting your emails deleted before they're even opened.
Sample email #1
Subject: [Blog name] Song Debut – [Band name]?
Hey Greg,




In short, my name is [name] and I represent an indie-pop duo out of New York called The Awesome Tigers (theawesometigers.com). I found [blog] because of a post you made a few weeks back about Ellie Goulding's new album, Halcyon. I was wondering if [blog] would be interested in debuting a new single from The Awesome Tigers' upcoming LP. It's reminiscent of [two other bands the blogger has reviewed].




http://soundcloud.com/theawesometigers/new-song




Thanks for listening, Greg!




Nick




Attached is a press release about the upcoming LP.
This simple email works because it accomplishes a few different things in the course of three sentences:
It tells the blogger you took the time to read the blog, find his or her name, and figure out what kind of music he or she likes.
It tells the blogger exactly what kind of music the band you're pitching makes by relating it to past content he or she has covered.
It includes an extremely easy-to-use listening link.
It directly asks the blogger what course of action you'd like him or her to take after reading your email (in this case, debut a new single from the band).
Sample email #2
We've had a look at a cold email from a band who's probably pretty new and doesn't have any "street credit" to their name. If a band has been around a little while, it's a bit easier to pitch to blogs, since there's a good chance they have had some mentions in previous blogs, have worked with a cool producer, or have something else going for them other than just being "new music."
Hey Greg,




My name is [name] and I represent an indie-pop duo out of New York called The Awesome Tigers (theawesometigers.com). James Murphy (LCD Soundsystem) produced the band's newest LP, Music in My Ears 88, and the band will be opening for LCD Soundsystem on their upcoming reunion tour for a few dates in New York. Would [blog] would be interested in debuting the first single from Music in My Ears 88? The album is due out January 22.




http://soundcloud.com/theawesometigers/new-song




Thanks for listening, Greg!




Nick




Attached is a press release about the upcoming LP.
Just like the first email listed above, the second email accomplishes many of the same goals, but is much more direct in its approach. Either The Awesome Tigers were a well-known band already (even if only regionally), or they had enough clout to work with James Murphy of LCD Soundsystem. This "press fact" could be anything noteworthy, like an NPR interview, a mention in the Huffington Post, etc. Since the artist has some clout, you can leverage it into getting more press coverage for the band.
This series has finished! Now move on to the fifth and final post on why the follow-up is more important than your first email.
You can also check out "Ask a Music Journalist" for some firsthand advice from the other side of the desk.
Nicholas David is the founder of Sunshine Promotion, a boutique music marketing and publicity agency based in Orlando, FL. Its roster has seen coverage in both local and national music publications and song placements on MTV, FOX, and CNN.