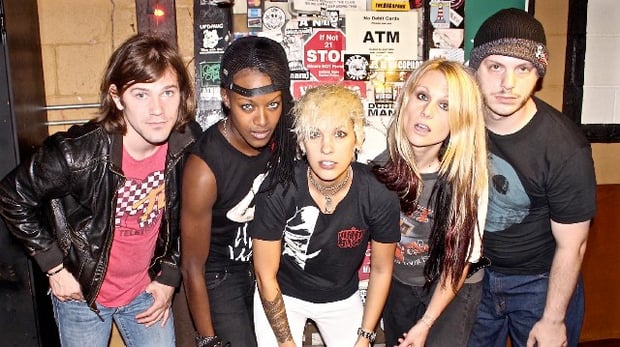 Sick of Sarah knows how important it is to embrace failure. (Image via sickofsarah.com)
I hate to be the one to break it to you, but you're going to fail.
"Art is about taking risks and trying new things," Thomas Becker of Beautiful Bodies explains. "Inevitably, you are going to fail. I cannot tell you how many terrible songs I've written, or how often I've made a fool of myself onstage. If I didn't try these things, though, I never would have come up with my most creative songs or figured out how to perform live with confidence. Successful musicians accept that failure is inevitable, and they learn from their missteps."
Folk singer Royal Holland seconds this, saying, "I always find failure a catalyst for success. It truly spurs me on to understand why I failed, and how I can adjust my thinking to be certain it won't happen again. It's how we gain wisdom and experience. Those are two of the most invaluable things to be sought in this business."
With that in mind, I spoke with Becker, Holland, and six other musicians about overcoming failure and finding success in its wake.
1. Thomas Becker of Beautiful Bodies: Losing a competition sucks, but staying a sloppy band is even worse
"I was fortunate that the first band I played in had a sizable following in our local music scene. A friend asked us to play my high school's battle of the bands, and after continual prodding about it, we reluctantly said yes. We thought battle of the bands were silly. What is worse is that we figured winning would be a piece of cake since we were the only 'established' band in the competition. We quickly realized that we were wrong. The judges called us out on being sloppy, and the crowd was bored to death during our show. We lost.
"Although we did not care about the competition initially, losing was a blow. At first we were pissed, but then we started to examine why we lost. We did well in our music community, but that scene was comprised mostly of friends, and, frankly, we were merely a big fish in a very small pond. We were sloppy together, our songs were not particularly memorable, and we needed to practice our instruments. We realized that we had become comfortable getting by in our own uncritical scene, but to make it outside of that scene, we had to get our act together.
"We began to practice more frequently, and our songs and live show improved dramatically. Six months later, we got our first record deal offered to us. Losing that battle of the bands forced us to reflect on our band, and address our weaknesses. It was disappointing to lose, but continuing as a mediocre band would have been significantly more disappointing."
2. Royal Holland: In order to create great music, you need to take care of yourself first
"I was in the thick of recording my second EP, Volume Two: Flamingo, in early 2015, and struggling with seasonal depression. The kind where you feel as if you've somehow become a fake person, just going through mechanical predetermined movements. Brian Olive (who produced, engineered, and mixed the EP) noticed that I was having a rough time and asked me about it. I told him I really just wanted to give up on the whole thing. I told him the songs weren't any good, and that I couldn't see any point in making them. I had fallen into the trap of comparing myself to others. I was feeling like I was coming up short, feeling as if my art was somehow not valid because I didn't feel valid. My songs seemed so alien and foreign to me. My voice even felt like it was someone else's as I sang in the booth. It's like I was a stranger in the place where I usually feel most at home.
"I nearly scrapped the EP to wait for spring when I felt I could start over, but Brian was very influential and supportive. He told me we should just keep going with it, and see where it ended up. I'm very glad we did, because it turned out to be a very solid release that has led to important career-building relationships for me in the past year, and I'm finishing up my third EP, which we're in the thick of now. If I had scrapped it and waited until spring, the timing of things wouldn't have coordinated in the right way, and I'd likely have been, in a way, starting over again, instead of moving forward.
"It goes to show that you need to take care of yourself as a creative person. Being mentally unhealthy is a kind of failure to yourself, to your art, and to those who might relate to it in a very real way. If you've got the fire for it – and you'll know if it's there – don't give up making music. I tried it for a few years once, and it made me even more miserable."
3. Jessica Forsythe of Sick of Sarah: You can't control what happens, but you can control how you react
"My career has had its fair share of ups and downs, and I have made plenty of mistakes. Every show, every practice, every tour has its failure. Whether it's missed notes, broken sticks, or band drama, I have experienced quite a bit of it. It's been important to embrace the failure and grow from it. Failure is inevitable. How I choose to react and respond to failure is the key to being one step closer to success."
4. EagleWolfSnake: Sometimes one door has to close for another one to open
"When we had our shot in a previous band to 'showcase' for a major label, we did not get picked up. This could be viewed as a failure. This was followed by more showcases and working with management that had us chasing the dream by changing our name, clothes, music, etc., and of course, the band did not last through it. For us, though, it has been serendipitous, because it allowed that project to dissolve and for this new project to emerge that is truer to our indie spirit, and geared way more towards music, and much less towards 'making it.'"
5. Chrissy DePauw of ArtPeace: Every little setback has a purpose
"In 2007, I was being chauffeured into the offices of every major label, and being promised the world. When nothing panned out as planned, I found a producer and began executive producing my album. An investor then fell into my lap. I got to have full creative control of everything!
"When I was leaving those major label meetings I would always feel sick. Sick at the thought of giving up creative control. Scared of being shelved, or dropped. Everyone knows a new artist usually doesn't get to call the shots, and the chance of their album being released is pretty slim. So even though I felt like I failed by not getting signed when I thought [I would], I gained an amazing, fruitful experience that led me where I am today. I sold over 30,000 copies of my acoustic album and toured the college circuit, which is why the most amazing songwriter, Miss Taura Stinson, decided to take a chance on me! We are now in – as others describe it – a sophisticated dream-pop duo! Every little setback has a purpose. As long as you get up and start moving forward again, you will find your way!"
6. herMajesty: Experiencing failure helps you reconnect with what you truly care about
"A few years ago, I was in a band called Shades of Grey. We were offered a deal by a major indie label after our first NYC show. Our manager insisted that we could get a better deal with a major label, and convinced us to pass on the offer. Although, subsequently, we had the opportunity to work with Carlos Alomar (who is David Bowie's ex-bandleader and guitarist), be represented by an established music law firm, and had several major labels pursuing us, we were unable to procure a record deal. The band did not survive this turn of events, and we disbanded. This was a major disappointment that left me reeling and doubting my ability to continue creating music.
"After much soul searching, I was able to define for myself why I chose to write and perform music in the first place, which helped to reconnect me with my muse. This experience gave me an opportunity to delineate success with writing honest, emotional songs that captured my experience, and not define success according to the industry terms of 'making it.'
Challenging situations allowed me to delve deeper into the songwriting process and helped to shape my identity as a musician and performer. I felt liberated and inspired to explore aspects of my world without pressure to do it for any other reason than the fact that it brings me tremendous joy. Judging by the way audiences respond to herMajesty's live shows, I know this is the right approach."
7. Audrey Karrasch: It's okay to laugh at yourself
"I was asked to sing the anthem at a Tampa Bay NFL game. I was really excited. I arrived, and they had a personalized jersey for me.... I was singing with in-ear monitors the stadium supplied because there's about a four-second delay in a stadium that size. Unless you want to sing the longest and slowest National Anthem ever, it's imperative those earbuds work. The soundcheck went smoothly. I was singing comfortably, and even turned around to see how huge my face looked on those screens. I felt confident and prepared.
"The game was about to start, and I was escorted on the field. Cheerleaders were standing in formation, cameras were all up in my face. I walked ten steps out on the 50-yard line, and I hear this painful pop in my ear piece. 'Oh crap,' I think. I can't hear anything. The sound guys are immediately aware of what had happened, and they wanted to hide for me. I guess my ear monitors had exploded.
"The crowd got really quiet. I made a nervous face in the camera and decided to just give it a go. I took my right shoulder and jammed it as close to my ear as possible and shoved my index finger in my left ear. This was not a pleasant sight. As I was singing and trying to stay in time and on pitch with the four-second delay, I could hear people around me saying, 'What is she doing?!' The camera guy was unsuccessful in getting any angle of me that didn't look like I was dodging a group of bees. Somehow I finished the song. I walked off the field knowing it was a disaster.
"The sound people were perplexed. 'How could this happen?' they asked. 'This has never happened before.' I grabbed my mom's arm and smiled at her. Some people would recognize me as I was walking up the stands and I heard some reluctant 'well dones.' My mom and I just broke out in laughter as we ran to the nearest concession stand to devour some pretzels with cheese and act like it never happened.
"Sometimes stuff just happens. I have learned to never have expectations and never get my hopes up, [and instead] enjoy the moments I'm in, and look forward to the times ahead. I figure everyone has a bad day at work, right? It's important to learn how to laugh at it."
8. Sofia B: Nothing permanently knocks you down if you love what you do
"I attended Berklee College of Music on a scholarship and graduated with honors, worked in the music industry in NYC for a year, and still found myself unsigned. I was a good student, yet it wasn't enough! Maybe it was my own doing that I didn't find myself on the doorstep of a label to save me, but, pun intended, I never liked labels anyway. After writing an entire record in NYC (titled In The City), I ran out of visa time and money, and went back to the UK.
"Heartbroken – because every [international] musician dreams of making it in America – I decided to make the most out of it, and not forget my love for music. I went on tour with a good friend of mine, Siv Jakobsen, [who is an] up-and-coming Norwegian songstress, and sort of got to have the UK college experience I never got to have. I met some incredible people, and it really just made me take a step back and realize how even if you play a crowded bar/cafe/restaurant or what have you, getting the chance to sit for an assigned period of time to sing your heart out, literally, is enough for me. If I get paid, well, that just makes it all the more worth it!
"I suppose what I've learned from failure is that the only way to stop feeling like one is to pour love into everything you do, because nothing bad can come from love."
As all of these artists have pointed out, failure can reap numerous rewards. A failure can teach you a better way to go about something. A failure can put you on a path that turns out to be better for you. A failure can even save you from a situation you'll later realize you didn't want to be in. The only way a failure can have a finality to it is if you allow it to. We often think of failure as an inherently negative concept, but only you can make failure a negative thing.
Aaliyah once sang, "If at first you don't succeed, dust yourself off and try again." While maneuvering through your career as an artist, be prepared to dust yourself off a lot. Just know that each time you do, your career is going to be better for it.
Next up:
Adam Bernard is a music industry veteran who has been working in media since 2000. If you live in the NYC area, you've probably seen him at a show. He prefers his venues intimate, his whiskey on the rocks, and his baseball played without the DH. Follow him at @adamsworldblog.