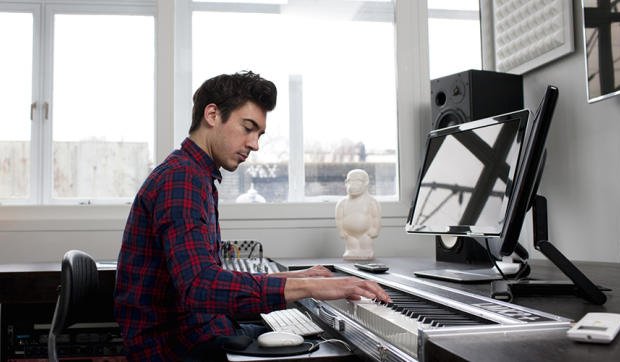 Image via complex.com
Four years ago, I created my first EP with the help of music professionals who learned the ropes from famous producers and had years of experience recording major label artists. Despite their top-notch credentials, they offered affordable rates for professional recording sessions. With a little research and ingenuity, you, too, can record a high-quality EP without spending a fortune – and these five steps will help you do it!
1. Make a rough demo at home before you hit the studio
Time is money when you're recording an EP. Utilize your time wisely by recording a rough demo at home first. You don't need a sophisticated recording device – a PC, headset, and a simple recording application are all you need. Choose a free recording program, such as Audacity, that's easy to use and allows you to record each instrument and vocal track independently. Record all of your song ideas (from vocal ad-libs to guitar licks) from start to finish. If you don't play an instrument, add a basic click track, hum any ideas you may have for a basic melody, then record your verses and chorus. This will allow you to speed up the writing and editing process, instead of wasting time at a studio.
2. Skip the big name studios and locate undercover pros
It's tempting to book studio time at a fancy, well-known recording studio, but you can get the sound you want for less by being resourceful. Ask around and hit the internet to find a smaller studio with a professionally trained staff that's worked with major label recording artists. Check out their bios and sound samples, and consider working with pros that have experience in other genres (i.e. if you sing pop, think about working with someone with experience recording alternative artists). They may bring a more diverse skill set to your recording sessions. Schedule a meet and greet to discuss your project, view the facility, and determine if your personalities click. A well-produced EP that's marketed sufficiently can help you gain exposure, no matter where it was recorded.
3. Identify the services included before you book studio time
Once you've narrowed down your options for recording studios, identify where you can get the most for your money. When you have a small budget for your EP, it's critical to clarify which services are included in your rate up front. Ask these questions:
Do the recording costs include a sound engineer, a producer, or both?
Do session musicians charge separately?
Will you receive a rough mix of your songs upon completion or just a final mix?
Does the studio offer mastering services?
If you expect a radio-ready version of your EP, you need to choose a studio that can deliver it. Sometimes outsourcing some tasks, such as mastering, is a more affordable option. Otherwise, find a studio that offers everything you need.
4. Use free beats and tracks, or negotiate multi-track purchases
Visit a music-sharing site, like SoundCloud or SoundClick, to locate music by songwriters and producers that match your sound. They may be willing to let you use their tracks for free or for a nominal fee. Collaborating to release an industry-standard product can be a win-win situation. Negotiate the use of stems or isolated elements of the song (i.e. snare drum, high hat, etc.), so you can have the song mixed professionally. Select songs created on a digital audio workstation rather than a music production center to allow for seamless file transfers and reduce mixing costs. Utilize a basic collaboration agreement that outlines the expectations of each party to avoid future legal complications. If you can pay their rate and like multiple tracks, negotiate a multi-track purchase agreement that includes a discount.
5. Hire a sound engineer who can pull double-duty
One of the best ways to save money while recording an EP is to hire a sound engineer who can also act as a producer. Sound engineers and producers have separate but overlapping roles. You may not have the resources to pay for both, but the good news is that you don't necessarily have to. If you select a sound engineer who's only technical and cannot provide creative direction when you need it, you'll have to hire a producer or settle for an EP you're unhappy with. Often, they only need to make small modifications to a song to change the overall tone or make it sound more unique. You just need a sound engineer with a good ear for music to help you bring your song ideas into fruition.
Don't let the cost of creating your EP discourage you from making your dream a reality. Making smart, money-saving decisions up front can help you create an EP you can be proud of – at a price you can afford.
Shanon Lee is a professional writer and independent recording artist. Her bylines include The Huffington Post, MariaShriver.com, xoJane.com, and many other digital publications. While recording her second EP, Shanon also provides consultation to aspiring singers and music recording studio owners that wish to expand their business.