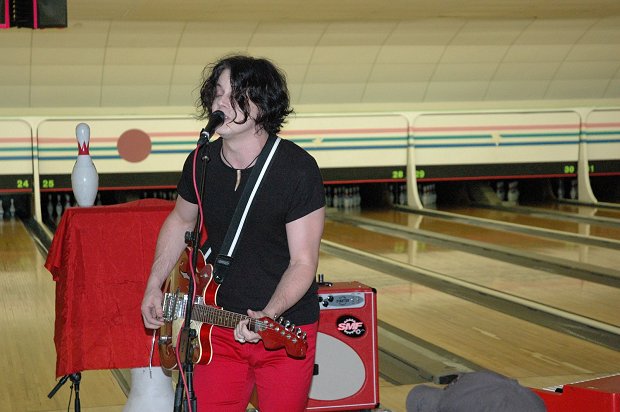 Do as the White Stripes do: play a bowling alley. (Image via saskatoonsounds.blogspot.com)
This article originally appeared on Performer Magazine.
More effort should go into booking your band than simply calling the local club and begging the guy who answers the phone to give your band a gig. The first step any artist or band should take in deciding where to book a gig is to do research on the area and make an honest appraisal of what kind of venue to book based on your band's style, genre of music, and fanbase. The benefit of choosing a nontraditional space comes from this research and your ability to network for your band.
nontraditional spaces can come in many forms – parks, museums, house parties, abandoned buildings, warehouses, parking lots, bowling alleys, and more. Be entrepreneurial, and don't just rely on local clubs to provide you with a stage for your music.
Consider legal restrictions and marketing
Be careful to consider legal consequences when performing without permits in public spaces, including performing without proper liquor licenses if fans are drinking in your nontraditional setting. You may be implicated as the de facto venue operator if the police break up your gig. With that in mind, it may also be in your best interest to keep marketing and promotion a little more inconspicuous for these types of shows. Postering all over town for your quasi-legal performance could raise a few eyebrows – plus, you're more creative than that.
As much as 90 percent of the time, booking any venue from the local church to the VFW hall simply means finding the person responsible for booking and jumping through whatever hoops he or she has in place. Locations like abandoned buildings or sidewalk concerts will not be legal options without determining who owns the space. As mentioned above, even hosting your own event in a parking lot requires a process of obtaining permissions from building and lot owners and obtaining city permits with liquor licenses and vendor restrictions. A house party is a great way to build a fanbase when you're starting out, and just requires permission from the homeowner, but keeping homeowners' association regulations in mind is a surefire way to avoid having the cops called.
[3 Steps to a Successful House Concert]
Doing it yourself means taking the time to research and understanding the importance of marketing. As the promoter for Copper Coin Coffee in Woodstock, GA, Sandy Serge, says, "Research the venue to ensure that your musical style applies. Most coffee shops will not pay you a guarantee, so the best way to make revenue is through tips and CD sales. Do not count on the venue to promote your show for you. With a good crowd, you will be asked by the venue for a return show. Encourage your family and friends/fans by offering them something for free if they attend the show. Once you arrive at the venue, mingle, especially with people you don't know, to make new fans. Use the intimacy of a coffeehouse gig to network with potential fans and bring them back for your next show. For new fans, give them something tangible to take with them – maybe a sticker or a postcard with your website URL or Facebook URL – so they know to watch for you when you return to the venue. Personal fan interaction is still the best way to generate interest in your show and music."
Research the right locations
When deciding on more creative routes, again, research is your friend. Find a place that suits your style or offers something special that fans might appreciate. As Casey Yarbrough says, "When Ian Deaton asked my band, Order of the Owl, to play a bowling alley with our friends Let the Night Roar and his band God's Balls, I immediately liked the concept of combining metal, bowling, cheap beers, and crappy snack bar food. The night was filled with loud music and scads of metal fans mixed in with the traditional league bowlers. Everything gelled perfectly. It was an all-around great night."
Other nontraditional options include art galleries, such as Matilda's in Alpharetta, GA, where guests are encouraged to bring their own drinks and food. This aids the bands because while their fans need to pay a $15 entry fee, they quickly realize the savings on food and drink, which leads to more money for the band. This environmentally-friendly establishment composts and recycles the bottles and cans left at every show, which adds a homegrown feeling that patrons can take pride in as well. Promoter Chuck Sitero says, "The nontraditional thing about Matilda's is that you can bring your drinks, your dogs, and we're outdoors. We're not in it for a profit; we don't sell alcohol here, which is where traditional venues make their money. At Matilda's, we split the door with the band 50/50, so the value lies in the guest's ability to spend more money on the band and a fun night."
Work your relationships
When your band discovers a gem like a local art gallery or bowling alley willing to accommodate your performance, the next steps involve creating a working relationship built on persistent networking and open-mindedness. Sitero says, "As a musician, I hated people who wanted me to bring in people and promote a show, but as a promoter, I don't have the time to visit everyone's website. It's difficult to get people excited about a band they've never heard of, so I book bands who can bring guests to the show. There are simply too many bands to deal with close-minded jerks. I have to like your music and your personality to want to work with you."
A nontraditional location exists for your band, and playing a show at a unique establishment goes a long way in building a name for yourself and making a more creative connection with potential fans. So do your homework, meet some new promoters, and get your band the gig it deserves instead of playing the same stale club.
More tips on fan engagement:
Ellen Eldridge is a regular contributor to the Atlanta Music Guide, Performer Magazine, and is the founder and editor-in-chief of Target Audience Magazine.