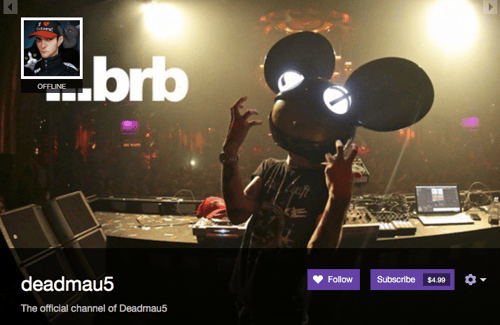 Screencap by the author via twitch.tv
If you're at all familiar with the gaming world, you've heard of Twitch. Literally millions of gamers are streaming on Twitch at various levels of professionalism every single day. In fact, for many gamers, the subscribers, donations, and sponsorships turn into a full-time job.
Streaming isn't anything new for musicians. Sites like Concert Window and Stageit have allowed musicians to reach fans from all over the world by streaming performances and concerts. But that's about where streaming stops for most musicians.
Other creatives, like artists, are using Twitch and similar streaming tools to take their fans behind the scenes – to give them a peek into the process that goes into the creation of their art. Not only is this a great way to engage your fans and give them that interesting content they crave, but it's also yet another form of revenue you can monetize.
When you think about the "products" you have to offer your fans, many musicians only think of the end game. Countless hours go into the albums you create, but fans only really get the see the final cut. I'm not saying all that work behind the scenes was wasted; I'm just saying it wasn't used to its full potential. Fans want to see what goes on during your band rehearsals or what it's like to be in the studio, and many of them would even pay for it.
How to use Twitch as a musician
Let's start by going through a few basics to get you set up on Twitch. All you really need is a webcam and some kind of mic to get started. You should definitely focus most of your efforts on getting good sound quality at first. Most musicians will list themselves as "creative" on Twitch to differentiate themselves from the gamers.
First, you'll have to decide what you're going to stream. Get creative here, but try to think about what your fans would be interested in seeing. You could even put out a quick poll on Twitter or Facebook and find out firsthand. Some ideas are:
band rehearsals
practice sessions
behind the scenes in the studio
jams and improv sessions with other artists
live Q&As
mixing and scratching practice if you're a DJ or producer
Don't think of streaming as another thing you have to do; think of it as making the most of things you're already doing.
Keep in mind that chatting and engaging with your viewers is a huge part of Twitch, so don't forget to talk back and get them involved! Try taking song requests from your viewers during rehearsals or getting them to vote on the guitar take they like best. You could also play a short dedicated song to anyone who gives you a donation.
Another tip for making the most of streaming is to get yourself on a regular schedule. Pick a day or two every single week that you'll turn on the stream so your fans know when to be there.
Once you're live, share your Twitch channel on social media so your fans can come over and join you. For sure, you'll get some people who just stumble upon you through Twitch search, but you already have a built-in audience, so take advantage of that!
How to make money on Twitch
At first, Twitch will primarily be an engagement platform for you, but it can definitely turn into a viable revenue stream. The easiest way to get paid for your streams is through donations. Viewers can choose to give you a one-off donation if they like what you're doing. Streamtip is a great tool to use to streamline the process of accepting tips on a stream.
Another approach is to link your website and online store under each stream. You can write up some text to appear under each stream. Many streamers include links to their social channels, website, store, and a little blurb about them. Try to keep the links relevant. If you're streaming from the studio, include a link to where fans can pre-order the album.
Lastly, you can make money from subscribers and ads. There are, however, a lot of hoops to jump through to unlock these features. In short, you need to become a Twitch partner, which you have to apply for. Generally, you need to have at least 500 regular viewers and stream at least three times a week, but acceptance is decided on a case-by-case basis.
Case study: Deadmau5
Deadmau5 is one artist who has really embraced the live-streaming culture. He has 145K followers and his streams will usually get a few thousand viewers. He uses the platform to share his process as he's working on music. For him, the live environment helps him get a feel for what's resonating with his audience. Apart from just music, Deadmau5 will also just hang out with his fans and stream video games and will sometimes do Q&As that can last for hours.
One of the most powerful things about Twitch is that the viewers feel like they're just hanging out with you. It's not a "streamed concert," it's not rehearsed, it's just you doing what you do every day – joking around, talking about what you did yesterday, and even messing up the bassline. And when you let your fans in on that, it becomes a really powerful connector. You're no longer an untouchable artist on a pedestal; you're the person they just hang out with online every week.
I hope you can see that opportunities like streaming that aren't exactly the "norm" can turn into incredible drivers of engagement and even revenue. The New Artist Model is all about thinking outside the box to unlock new opportunities in music. If you want to learn more, you can download my most popular ebook, Hack the Music Business, for free here.
Next up:
Dave Kusek is the founder of the New Artist Model, an online music business school for independent musicians, performers, recording artists, producers, managers, and songwriters. He is also the founder of Berklee Online, co-author of The Future of Music, and a member of the team who brought midi to the market.