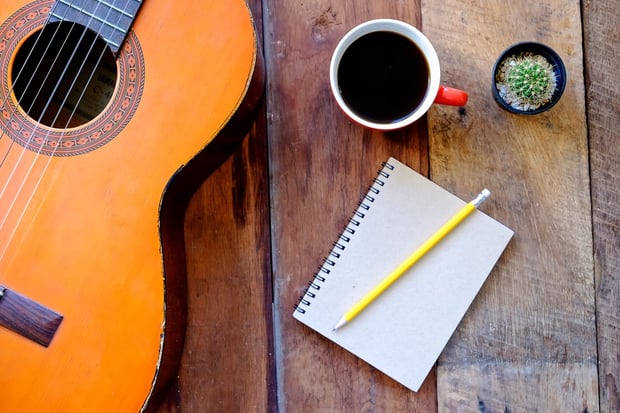 Image via Shutterstock
Making it as a full-time artist or musician is difficult, but earning a living behind the scenes might be even tougher. People don't often know who you are, and thus, it can be hard to become sought after and make real money. Sure, some people are able to make it work, but they're part of a small group, and it's not easy to become a member of the club.
Ido Zmishlany is a professional songwriter and producer with a handful of big tracks to his credit, including hits with the likes of Shawn Mendes, American Authors, Imagine Dragons, and most recently, NEEDTOBREATHE. I spoke with Zmishlany just a few days ago about what it takes to "make it" as a songwriter, and he shared his personal experiences along with some advice for up-and-comers.
1. Keep at it
In our conversation, Zmishlany called this "the biggest thing that I've learned between the people that can get there and the people that don't." He added that while it might sound a bit cliche, it really is necessary for anybody to make it, and while that may be a bit disappointing (sorry if you were looking for a magical suggestion that would make you a pro overnight), it should also make sense to those who have been doing this for a long time but who haven't hit it big just yet.
Keeping at what you love can be exhausting, but anybody who has a successful career has had to persevere, and you can too. Zmishlany wasn't shy about his humble beginnings as a songwriter, nor about how long it took him to get where he is today.
"I think, like most people, I picked up a guitar, and probably the first thing I ever did was write a song. My first inclination wasn't to learn someone else's song, but to write my own. Then, inevitably, I had a band when I was in high school. What do you do when you have a band? You write some songs for the band. That was really the starting point for me, and then eventually, after a number of years and lots of work, I started doing it more professionally as a songwriter for a producer."
2. Be your own publisher
This is a big one, and while it's a little complicated to figure out, it's crucial if you want to make as much money as you can off your own creations. Zmishlany told me that while he's been writing for years, "I didn't sign a publishing deal until I had a song that was number one on iTunes." Owning your own publishing company ensures that you can make even more from all of your songs when they are played or licensed. It might not be much more, but every little bit counts.
[2 Things You Must Do to Start Making Music Publishing Income From Your Songs]
3. Be your own manager
Zmishlany confided that while he might be a big-shot songwriter now, he only signed his first manager a few weeks ago. He's had hit after hit, but he put off working with a manager for a long time, because he was so used to doing everything himself. Whether you're an artist, a songwriter, a producer, or pretty much anybody else in the industry, you're going to have to start out on your own and become very good at many different jobs before you get where you're trying to go.
"As you can imagine, I did a lot of legwork at the beginning because I had to. There was no one else that believed that I could do it," Zmishlany shared with me on our call, noting that this was just how he ran his business (which was just himself) for years.
Being your own manager also means creating a schedule and forcing yourself to work. Just because you don't have to be in an office at 9:00 a.m. doesn't mean you shouldn't still be up and at it when everybody else is. Zmishlany shared a few details about what his daily routine looks like, and it's not what many would expect from someone in the music industry.
"I wake up somewhere between 7:00 and 9:00 a.m. I will, like most people, get up, send some emails, answer some emails. I'll get back to people on different records or chat with A&R people and connect with my publisher or my manager. The next thing is probably a game plan on whatever records I have in front of me. As a producer, I've always got a number of different records that I have to finish at any given moment. Then I'll just work the song, spend most of the day in the studio making the song sound right. Sometimes I'm working until 1:00 or 2:00 in the morning, and then back at it again."
If it sounds like a lot of work, that's because it is.
4. Be your own champion
This fourth tip has a lot in common with the first piece of advice, as they both require you to have a good amount of confidence. Zmishlany pointed out that there will be a lot of rejection, saying that, "You have to anticipate that it's just going to be a lot of nos. You have to believe and know that you're capable. Then you just commit and do it."
That sounds simple enough, but keeping the songs coming when nobody seems to care is incredibly difficult, and if no one else is there alongside you, make sure you're your own champion. Push your work online, promote it to the best of your abilities, and do everything you can to get your work in front of the people who can take you to the next level. Nobody is going to champion your work until you do for a long time.
5. Never believe you're done learning
You may think that you're the best out there, but the truth is, you're probably not, and that's okay! You should never think you're the be-all and end-all, but rather that what you're doing is great and that there is still much to learn. "Every day I'm trying to learn from somebody, or trying to get better, or pushing myself to do better, or looking at a song that I have and saying, 'How can I improve it?'" says Zmishlany.
And for those looking to make it to the top of the charts, Zmishlany suggested that you listen as much as you write. "I implore you to look at the records that are at the top 10 of Billboard or Spotify and ask yourself, 'Are my records sounding as competitive? Are my lyrics as good? Are my melodies as good and are the vocals as good?' Or better, because if you want your record to be a number-one record, it's got to be better than all those records."
Get more songwriting tips:
Hugh McIntyre is a freelance pop music journalist in NYC by way of Boston. He has written for Billboard, The Hollywood Reporter, and MTV, as well as various magazines and blogs around the world. He is also the founder and editor-in-chief of the blog Pop! Bang! Boom! which is dedicated to the genre of pop in all of its glory.