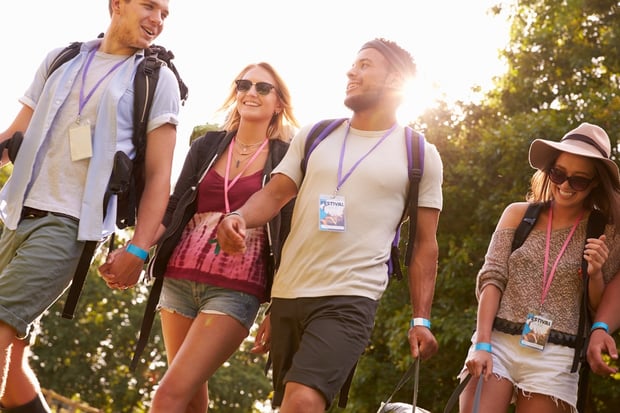 Those lanyards are like gold to your superfans. (Image via Shutterstock)
Let's talk about superfans. Most artists have that small segment of fans who are crazy about them and their music, but they don't give their superfans the opportunity to support them on the level they want.
Let me explain. Think of your all-time favorite artist – the one that you always catch when they're touring through town and always buy their albums. Chances are you're probably willing to spend a lot of money on that artist. But – and here's the real problem – for most artists, fans are only given the chance to spend $10 on an album or maybe $40 on some merch. This is fine for the casual fans, but true superfans would totally spend more on their favorite artists – if they're given the chance.
In a sense, you're essentially capping off your own earning potential by only allowing your fans to spend $10–$40. You can't blame your fans for not spending enough money on your music if you're not giving them the opportunity.
Now, I know it's easy to feel like higher end products are more difficult and costly to make, so today I'm going to go through a few easy and relatively inexpensive things that will be really valuable to your superfans.
1. Access
The first category of "products" we'll cover revolves around access to you as an artist. Beyond just music, superfans really want personal access to you. That's why a lot of huge musicians and bands do things like meet-and-greets before their shows. You can certainly do meet-and-greets, too, but let's talk about a few more creative ideas.
You don't need to meet your fans in person to give them access to you as an artist. Google Hangouts presents a really easy (and free) way to chat with your superfans. Maybe you could set up a recurring monthly Hangout where fans pay a monthly fee to join you and the band online for an hour. Google Hangouts will allow up to 25 people to be on a video call, so if you want to talk to your fans face to face, limit the number of seats available. (Limited spots will also make it feel more like an exclusive club.)
After they pay, add them to a special email list and send them the link to the Hangout every month. Try to keep it around the same time so your fans can easily schedule around it. Use this hangout for Q&As, exclusive updates, sneak previews of new music to come, and even short performances.
If you want to get a little more personal, another option is to do private meetups before or after gigs at a local bar or restaurant. This kind of builds off the meet-and-greet idea, but it provides a much more intimate environment and a lot more time.
The key is to not turn this into a big event – limit it to five or 10 people so it feels like an exclusive and intimate gathering. Just like meet-and-greet packages, when you list your tickets, offer just a few meetup bundles that include a ticket and the meetup. The price you charge for this kind of meetup will depend on how much your tickets go for and how big you are as an artist.
2. Limited and exclusive merch
The easiest and most cost-effective option is to offer access to unreleased songs and recordings. With every album or project, there are always some songs that just don't make the cut, and as a creative, you're probably always jamming on your songs, improvising, and messing with new arrangements. This is stuff you're already creating, so instead of just keeping it to yourself, offer it to your superfans.
Depending on how much unreleased content you have, you could do this on a monthly, recurring basis where fans pay a certain amount every month to get these recordings sent to them, or you could release an "album" of unreleased music whenever you have enough ready.
Another easy idea is to offer limited-edition alternate merch designs or colorways (this works for album covers, too). It's pretty easy for an artist to just switch up the colors of a design, so you could probably get it done for a lower price. Then, just order a very limited run and promote it as a limited-edition colorway with a higher price tag.
If you want to really make it exclusive, actually tell your fans that you only ordered 50 or 100. Your fans will totally dig showing up to a gig in a shirt that only a few other people have. If you have a little more to spend, you could go further and create a completely new limited-edition design.
[5 Band Merch Items That Were So Crazy, They Actually Worked]
3. Involvement
Okay, now we're getting into the really high-end stuff. For this, I want you to think about ways you can get your superfans actually involved in your music.
One option is to give one fan the chance to join you in the studio while you're recording your new album for a really premium price. Obviously, you have a job to do in the studio, so you don't want to invite a whole horde of fans to distract you and get in the way, but opening it up to one really dedicated person could work. The key is to put a really high price on this experience so you're only letting your biggest and most dedicated fans in.
This idea can work for pretty much anything – let a fan or two in on a leg of a tour or the filming of a music video. As with anything, try out some ideas to see what your fans like best, and go from there.
If you want to learn more about growing and monetizing the superfan relationship, check out the New Artist Model online course. In the course, we really focus on developing your fanbase and monetizing your audience to turn your music into a career, and we have memberships as low as $29.
Dave Kusek is the founder of the New Artist Model, an online music business school for independent musicians, performers, recording artists, producers, managers, and songwriters. He is also the founder of Berklee Online, co-author of The Future of Music, and a member of the team who brought midi to the market.