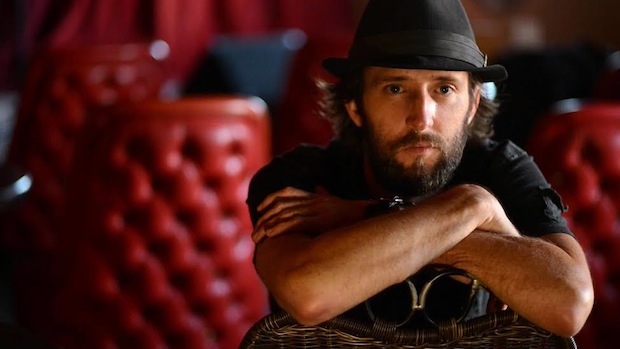 Joel Eckels
Los Angeles-based talent buyer and musician Joel Eckels has been staying extremely busy since his move to the West Coast in 2000. In addition to his career as an artist, he currently handles the booking at the Room 5 Lounge, a club that has become immensely popular due to its intimate environment and excellent sound quality. I had the pleasure of speaking with Joel about his position at Room 5 and the many aspects that make it a hot spot for LA artists who are looking for a community to be involved with.
Tell us a little bit about yourself. How did you get started in the industry? Where did you go from there?
I've been a professional musician for over 20 years. I started out playing around the East Coast through the '90s out of college, and ended up moving to LA in August of 2000. Figuring out how to approach LA was a challenge, as it is for every musician. After searching around for the music and musicians that were inspiring to me, I found myself connecting with a great community of talented people that supported each other and collaborated together. After a while of promoting our asses off to get people out for our 45-minute set among 3-5 other bands of any different genre on a single night, I found that it would be better for me to talk the clubs into letting me book entire nights. I found I could fill the bill with the best artists I knew that could promote the night together and make it an event. My thought was that we were all fighting the same fight to get people out to shows, and we all support each other, so why not put everyone on the same night that we can all talk up together and make it the place to be? The nights would be packed with people and great music, and everybody benefited. That was basically how I started as a promoter in LA.
How did you get involved with Room 5?
I started going to Room 5 before it was Room 5. It was a restaurant called Farfalla and they had this rundown little upstairs room where you could go see jazz and R&B acts. Eventually, Farfalla changed ownership and I found myself there to see a show featuring Jamie Cullum with Gabriel Mann and Jay Nash opening. My drummer, Adam Marcello, was playing that night and invited us. He introduced me to Jay Nash and Jay Souza, who started booking the room from that point on. It was eventually named Room 5 along with the downstairs restaurant, Amalfi.
I was looking for extra work and a way to get more involved, so I began filling in as a sound engineer from time to time. I also started a monthly residency with my old band, Paper Sun, where I'd put together the whole night of music and bring in a lot of good talent. Since I understood the importance of quality sound, had a knack for bringing artists together, and promoted artist community, Jay felt like I would be the perfect person to take over the curator position. Once Jay became too busy with his own music career, he offered me the position.
What is the Room 5 community like? What sort of relationship does the venue have with artists and other venues?
The Room 5 community is like a family. It's a place where artists feel at home. Because of the size of the room, I have a lot of submissions from artists who are new to LA and looking to break into the music scene. Because of the growing reputation and awareness of Room 5, I'm getting some of the best up-and-coming talent filtering through my inbox. When I find an artist I really like, I will do what I can to help them find the right opportunities to establish themselves and introduce them to the community.
Since the Room 5 community crosses over with the Hotel Cafe community, we have been working together for years as allies rather than competing against each other. I always felt like Room 5 is a sister venue to the Hotel Cafe since its expansion in 2005. Room 5 is less than half the size and is a perfect stepping stone venue. Hotel Cafe has gained a lot of national notoriety and people always come to LA wanting to play there. However, a lot of times artists haven't established themselves enough to play there and don't meet the draw requirements needed, so Room 5 can be a perfect starting point. If I feel like an artist I like is building their draw enough to move on to the Hotel Cafe, I'll usher them in myself. At the same time, we have established artists that play both rooms for different kinds of shows. Although Hotel Cafe is an intimate space in its own way, it doesn't have the close intimacy that Room 5 has to offer. Each room has its own character and can work together to develop and nurture artists.
You've got a great Monday night series for emerging LA artists. How did that get started?
Jay Nash established the Monday Songwriters in the Round nights, which became a staple night of music in LA for years and continues on with our Monday Monday Artist Showcase that we have now. The songwriter rounds are a format that originated in Nashville at the Bluebird Cafe – they're a great way to see a variety of talented songwriters on a stage together sharing songs and collaborating in an off-the-cuff format. Room 5 was the perfect size room and atmosphere to host something like that, and it proved to be very popular. The only reason I changed the format a year and a half ago was to try something new and fresh, and let people miss the rounds a little.
The videos on the venue's website sound really great. Is sound quality a high priority at Room 5?
Sound quality might be the single most important part of a great live show and the live music experience altogether. We make sure the sound is always a top priority because it can make or break the audience's experience. Often times, people don't know why they didn't like a show or why they don't enjoy live music, and it's usually because it sounds bad. Everyone loves the sound at Room 5 because we have engineers who understand what the artist and the audience need for it to be a great show. As a result, we get incredibly inspired and compelling performances. It's pretty awesome.
What's the best way for an artist to approach you? What should they avoid?
I work strictly through email for a few reasons. I don't have time to talk to that many people on the phone with everything I do. More importantly, I need to keep track of every conversation in order to stay organized and on top of things. Send me an email with a link to your music or a performance video (preferred) along with your current draw in LA and the time frame you are looking to book. I don't need a life story or a bio really. I don't have time to read long emails. Just be nice and patient. Be persistent, but not annoying. Give me a week or two to get to new submissions. Sometimes I get backed up. From there, keep checking back from time to time if you haven't heard anything. Keep in mind that I get buried in work and my inbox fills up quickly. Plus, I do a lot of other things as well, including being an artist myself, so I only have so much time in my day.
When you're looking at an artist's website, what do you like to see? What turns you off?
With your website, make sure your music is right in front of my face when I go to the homepage. There's no bigger pet peeve than having to search an artist's website for the music. I mean, what are you trying to sell or promote, anyway? It's amazing what I see sometimes.
Don't think your website is only for fans. Make the click tabs the place for fan-related content like the bio, blog, old albums, or video archive. The homepage should be only content that is meant to draw in new potential fans – a good photo that matches the style of the music, a music player of some sort with the best tunes in queue, any featured videos, and show dates. Separate the content that is meant for people who want to dig deeper and get to know you.
Is there any other advice you'd like to pass along to aspiring artists? Maybe some advice that's specific to Los Angeles?
Keep it fun and always about the music first. Don't get caught up in trends too much. Someone told me that every original artist fills a niche that falls between two artists that influenced them. Find that for yourself. If your biggest influences are Michael Jackson and The Black Keys, what does it sound like to be in between both? That's interesting and could be pretty unique if no one else has done it already. It's all about finding a way to express yourself in a way that is yours and no one else's.
Another thing I think is very valuable is to trace the influences of your influences. Pick one of your favorite artists and learn about the artists who influenced them. Then, learn about the artists who influenced them, and so on. What you'll find is amazing and will probably blow your mind.