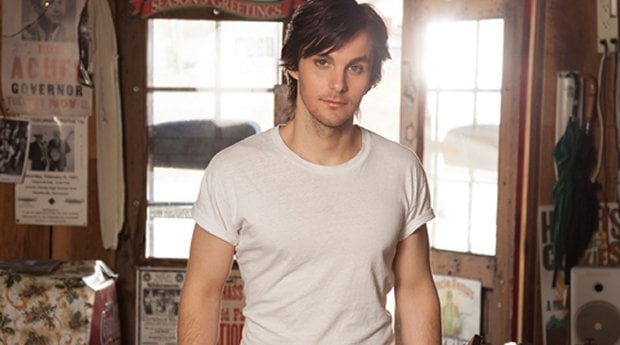 You could win a mentoring session with Warner Music Nashville recording artist Charlie Worsham. (Image via Charlie Worsham)

For 47 years, the Nashville Songwriters Association International has been dedicated to protecting the rights of aspiring and professional songwriters. This year marks the 15th annual NSAI Song Contest, presented by CMT. With a grand prize including a one-year, single-song contract with Little Louder Music, two tickets to the 2015 CMT Awards, and a mentoring session with former NSAI winner and recording artist Charlie Worsham (currently signed to Warner Music Nashville), Sonicbids artists are welcome to enter whether they're members of the NSAI or not. Shannon Gursky, NSAI's director of marketing and events, gave us some insight on this year's competition and advice for artists interested in applying.
What kind of songwriters can enter the contest?
NSAI may be based in Nashville, but we serve writers in all genres – which means the contest is open to all genres. In fact, many of our recent grand prize-winning songs have been in genres outside of country, including pop, contemporary Christian, rock, and singer/songwriter. All songs are judged based upon the same 10-point scale, regardless of genre.
With so many songwriting contests out there, why should songwriters submit to this one? What makes it unique?
Connections
and the opportunity to develop long-lasting relationships with industry professionals are what set our song contest apart from all others. Past winners understand this contest is a powerful vehicle to get discovered and have found success in multiple areas of the music business, including signing a record deal, an artist development deal, and securing
music publishing
deals. For example, Warner Music Nashville recording artist Charlie Worsham won our contest in 2006 and is this year's grand prize mentor.
What's the judges' process for reviewing applications? What are they looking for
–

or not looking for

–

in submissions?

A judging committee comprised of music industry professionals and noted songwriters will judge submissions based on melody, composition, originality, and lyrics. Submit your song in a manner that represents you and the song in the best way possible given your means. A simple guitar/vocal or piano/vocal demo is more than enough in most cases. Do not, however, confuse this with a bad quality recording. You'll want to avoid sending in songs with ambient noise in the background (phone ringing, dog barking, TV, etc.), or significantly lacking vocal quality, tempo and pitch issues, etc. These things can distract the listener immensely and take away from your song as a whole.

Melody, for example, is a significant part of the judging process. If you submit a song featuring a very off-pitch singer that does not sing the correct melody, the judges have to evaluate the song based upon what was submitted. Only you can decide if you should be the person to play or sing on your submission.
There are a lot of great prizes up for grabs this year. Which one do you personally think is a stand-out prize, and what makes it so valuable for aspiring songwriters?
We can't pick just one! Our prizes focus heavily on industry access, which we think is a stand-out prize package. Industry prizes include a mentoring session with Charlie Worsham, a single-song contract with Little Louder Music, publishing meetings, an A&R meeting, a chance to perform at both
the Tin Pan South Songwriters Festival
and the Bluebird Cafe, and much more. A complete list of prizes can be found
on CMT's website
.
What advice do you have for Sonicbids artists considering entering the contest?
Less is more. Wordiness does not work. If it takes too many words to convey the idea or emotion or explain what you mean, you are headed in the wrong direction. Having an original idea, or even writing something that's already been written but from a different angle, is key.
Apply to the NSAI Song Contest by October 31, 2014.