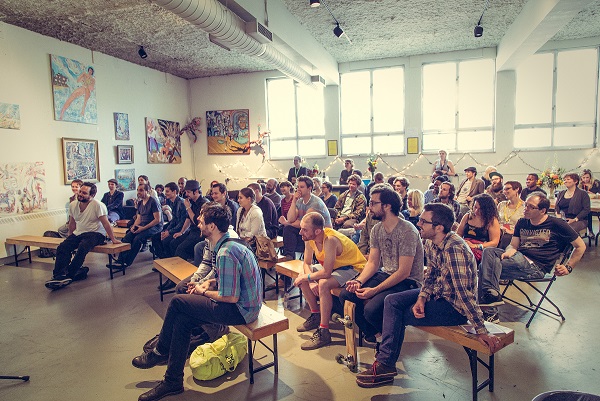 POP Montreal's POP Symposium. (Image via popmontreal.com)
Conferences can be a great part of any industry, as they provide unique opportunities for everything from networking to education to all the free drinks you can (or can't) handle. With the privilege of attending big-name events like POP Montreal or SXSW, however, comes plenty of responsibility. If you're going to sit in on sessions and listen to what industry leaders have to say, you're going to have to know what to do and how to behave. Here are the (previously) unwritten rules to make sure you don't faux pas through your next conference.
1. Show up early
This sounds simple, but anyone who's been at a hectic conference with way too much going on knows that it's truly easier said than done. Just as you finish chatting with somebody after one meeting, you find you're already late for the next. Most conferences leave time between panels for people to get there on time or network, so do your best to use that time appropriately. Coming in late to a session – especially a smaller one – can be a lot like trying to sneak into class. People will notice, and if you were hoping to make some important contacts at that event, it might hurt your chances.
2. Try to stay in your session
Just as you should do your best to be on time or early (at least not late) to any session you're going to, you should also stay where you are until the end. Leaving before something is over can be just as awkward as arriving after it's begun, if not more so. If you have to either come late or leave early, show up after something has already started. While not ideal, people can understand that, whereas leaving as somebody is speaking can be taken as a sign of boredom.
3. Don't overextend yourself with meetings
Conferences are a great way to meet up with people in your industry that you don't get to see very often, as they typically bring many people from across the country (if not the world) together in one place. If you're smart, you'll do everything you can in terms of networking and meeting with as many colleagues and contacts as you can. This may cause a bit of a scheduling craze, but it can be worth it if you make meaningful connections with these people.
While setting up plenty of breakfasts, lunches, drinks, and coffees is a good idea, don't overextend yourself. If you know you're going to be out late at night (as is the case with most music-related conferences), don't schedule anything too early, or at least don't do so every day. You want to cram a lot into only a few days, but at the same time, you want to be productive and coherent while you're in all these meetings, don't you? Also, while it may be a shame that you missed your chance to see someone while in town, it could be much worse to cancel on them last minute because you're too hungover or you put too much on your schedule for one day.
4. Be brief and to the point with your questions
Most panels and speaker sessions leave time at the end for a Q&A, which can be very valuable for those in attendance. Typically only a few minutes are reserved for this part of the event, so if you're going to ask a question, make sure it's one that really deserves to be asked. Nobody likes the person raising a point that was already made or someone who drones on and on. That's reserved for the actual speaker.
5. Never make a pitch during a session
This is similar to the last tidbit, but from my personal experience, it deserves its own point. In fact, it might be worthy of an entire article, but we'll see about that.
No matter how much you want to share your brilliant idea or make the world aware of that startup you've poured your heart and soul into, do not – I repeat, do not – pitch anything in a session with a panel or a speaker. It's unbelievably rude, and it's almost a certainty that you'll come out of the situation much worse off than you were before.
A recent example: at a panel I attended during this year's SXSW, a man stood up to ask a question to a very well-known musician who had been speaking. The audience member asked if the performer was aware of any social media platforms that filled a specific gap in the market. The musician answered that he didn't use anything like that, and he wasn't aware of anything like what was being described. The question-asker then used that as an opportunity to pitch his startup, which did just what he was spelling out. A mixture of laughter and groans erupted from the rest of the crowd, and the musician on the panel could not have silenced him fast enough. It left a terrible taste in everyone's mouth and wasted valuable time with the speaker that others could have used better.
6. No food
This one is simple. Don't bring food into a session, unless it's a luncheon or something similar. Just don't do it. It's distracting, louder than you think, and you can wait.
Ready to put these pointers into action? Apply to POP Montreal by May 17 to attend thought-provoking sessions with industry leaders – plus, 40 Sonicbids artists will get paid to perform!
Here are a few more tips for your next music conference:
Hugh McIntyre is a freelance pop music journalist in NYC by way of Boston. He has written for Billboard, The Hollywood Reporter, and MTV, as well as various magazines and blogs around the world. He is also the founder and editor-in-chief of the blog Pop! Bang! Boom! which is dedicated to the genre of pop in all of its glory.