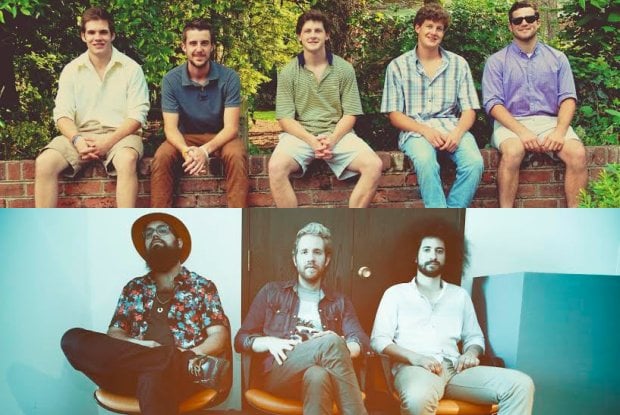 Congrats to our winners: Boy Named Banjo (top) and Wild Adriatic (bottom)! (Images courtesy of the artists)
Over the past few weeks, 64 Sonicbids artists have duked it out in the Bonnaroo Battle of the Bracket, a competition to decide which talented bands will appear at this year's festival in Manchester, TN. The fans have spoken, and it's our pleasure to officially congratulate our two amazing winners: Tennessee's own Americana apostles Boy Named Banjo and New York rock and soul trio Wild Adriatic!
How were they chosen, you might ask? After submitting via Sonicbids, each of the 64 contenders was reviewed by a panel of industry curators including Jonnie Davis (Senior VP/A&R at Round Hill Music), American Authors, Rick Barker (former manager for Taylor Swift and founder of Music Industry Blueprint), Steve Rennie (longtime manager of Incubus and founder of Renman Music & Business), Grammy Award-winning producer Prince Charles Alexander, Amy Sciarretto of Atom Splitter PR, Steven Smith of Going Off Track and Fan Connection, Janelle Rogers of Green Light Go Publicity, Dave Kusek of the New Artist Model, and more. Then, they went head-to-head in the fan bracket voting round, whittling down the competition until only two remained.
Besides getting to play at one of the best and biggest festivals of the year, our two winning bands will also receive $1,000 in compensation from Sonicbids and Bonnaroo, along with being included in a variety of promotional materials (including full bios on the Bonnaroo site) and press opportunities. They'll also have the enviable chance to sell merch on-site at the festival. All of this sweetens an already sugary sweet deal to get their music heard by the thousands of attendees that flock to Tennessee every year.
As you can imagine, our winners are totally stoked. "It's a dream come true for us to have the opportunity to play Bonnaroo this year," says Wild Adriatic. "We're blown away by the outpouring of support from our friends and fans all over the world, and we are more than ready to bring the rock 'n' roll dance party to the farm this year!"
"We could not be more excited to be playing at Bonnaroo!" agrees Boy Named Banjo. "Everybody in Boy Named Banjo has been to the festival at least once, so we understand what an honor it is to perform on the farm alongside some of our biggest influences and some of the greatest bands in the world. It's absolutely a dream come true for us, and we are so thankful for Sonicbids, our amazing friends, family, and fans for giving us the opportunity of a lifetime. We won't let you down!"
If you missed your chance to get in on the competition, don't be bummed! You still have the opportunity to get paid $1,000 to perform at Bonnaroo if you apply to the general listing by April 17! All proceeds from the $10 submission fee will be donated to the Bonnaroo Works Fund, supporting regional and national organizations on a mission to improve local arts, education, and environmental sustainability programs in different communities.