Once upon a time, it was pretty uncommon to preview tracks before committing your cash to the whole shebang. Particularly in the heyday of CDs, your best bet was a store's listening station, and it was typically limited to whatever discs were already loaded, and it always seemed to be occupied anyway. Preexisting knowledge of an artist was usually reliable but, without that, you were kind of shopping blindly – save for the album artwork.
For people who remember browsing aimlessly hoping to discover a new favorite group, this happened often: The coolness of a cover would either lure you in or discourage you from buying. If a foreign-to-you group presented itself with a compelling enough photo or a super-rad design or anything else that caught your eye, it was likely sufficient bait to get you to the register.
These days, of course, we have the luxury of listening before buying. Sometimes, in fact, we don't even pay – artists often offer singles and even full albums free of charge. All that considered, why should anyone bother with album artwork?
Because your album cover is still a direct representation of your band, that's why! Covers are still used on most every internet listening medium, from iTunes to Bandcamp to SoundCloud to Spotify. Plus, a lot of labels and distributors use album covers as links to purchase or learn more on their websites or press blasts. Alluring art is still an attention getter, and failing to consider it – or, even worse, not bothering to include a cover at all – is like a giving someone an unwrapped birthday present. It's glaringly incomplete, and some might even consider it a little lazy.
Here are six different examples of great cover art with tips for making yours just as effective.

Are We There – Sharon Van Etten

Why it works: Heart-wrenching wistfulness is a much-used motif in Sharon Van Etten's material, and the artwork for her latest LP channels that, but with an added dose of catharsis. Who hasn't bent their head out of a car window hoping the fresh air will relieve you, at least briefly, of emotional hopelessness? Nostalgia is a seductive tactic, especially if it recalls moments of despair you've long since overcome.
How to it make your own: Opt for black-and-white, and capture a simple image that applies to a wide audience. Be careful not to be too cheesy; shots of hand-holding or dead roses are a bit trite. Instead, consider seemingly insignificant moments in your own life – your rain-drenched clothes after a poorly timed jaunt in the city, for instance. What you think is personal minutiae can make for a surprisingly impactful flashback for someone else.
S/T - Sultan Bathery


Why it works: This trippy artwork is mystical, wondrously pretty, and incredibly detailed. It's one of those images that demands close inspection; it's captivating. Plus, it's a spot-on reflection of the Italian trio's chaotic-yet-melodic brand of garage-psych. Both are instantly mesmerizing.
How to make it your own: Intricacy is the goal here – it doesn't have to be a mind-melting style like this one. It be accomplished in any medium and in any style, but maintaining a sense of order amid the complexity is paramount, because messiness is unappealing. Get meticulous with the details, and you'll find yourself in the right realm.
Quack – Duck Sauce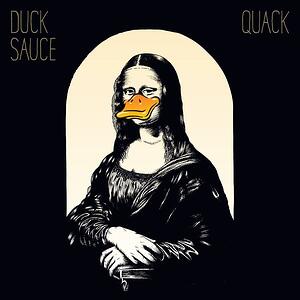 Why it works: This humorous riff on the Mona Lisa is rooted in the New York-based DJ duo's stage name, and accurately depicts the lighthearted fun that fuels their electronic club-ready tunes. It's more about being clever than it is about being jokey – it's not a pie-in-the-face, but rather a fitting, chuckle-provoking twist on the familiar.
How to make it your own: You don't have to choose a famous work of art for your comedic approach. Wit in any form can work, be it a play on your band's name, a famous album cover, an idiom, or a societal norm. Whatever route you choose, shoot for smart, but don't take yourself too seriously.

EXI - Love Inks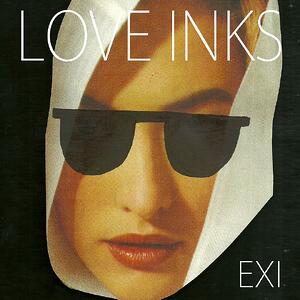 Why it works: This Austin group makes nonchalantly hip minimalist pop, and there's a blasé cool to drawing Wayfarer-type shades in black marker on a model's face cut from a magazine. They manage to avoid being pretentious, though, while still seeming like the kind of group who'd play alongside an uber-chic act like the XX. (They totally are.)
How to make it your own: A carbon copy isn't a great idea, but mixed media in general can be. There are endless ways to juxtapose: hand-drawn art added to a photograph, acrylic paint over a digitally designed printout, or a page from a book doodled upon with pen, for example. If your band exudes the same stylish effervescence, you'll want to keep things uncomplicated to ensure that quality comes through.

Third Time to Harm - OBN IIIs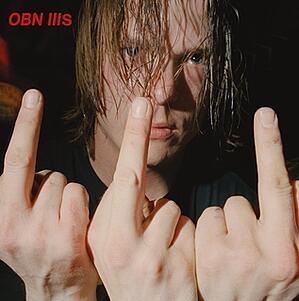 Why it works: The sweaty dude gracing the cover of this Austin garage-punk band's third outing is the frontman himself, Orville Neeley. Undoubtedly taken during or after a raucous live show, the triple bird adds extra oomph to Neeley's hostile glare. File this under F-you for its shock value – a trick we all know consistently garners attention.
How to make it your own: Portray something lewd, crude, or vulgar, but don't go overboard. Full moon on a dark night? Sure. Vomit? Maybe. A corpse? Too far!

Stay Gold - First Aid Kit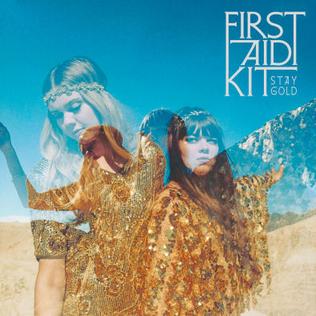 Why it works: The tried-and-true band shot doesn't have to be as humdrum as it sounds. Both girls of Swedish-based First Aid Kit are the focal point of their third full-length cover, but the image is by no means boring. The layering of varied levels of faded is lovely, as are their shimmery gold get-ups and the picturesque blue sky and (what looks like) a desert background. They're both very much visible, but the presentation this alt-folk duo picked is just the right amount of artful.
How to make it your own: The key to an interesting take on the traditional cover is not unlike the tips we've offered for press photos. With album artwork, however, you've got a little more room for creativity. Try different photography techniques, be it manipulating focus or lighting or an effect like time-lapse, which might be what First Aid Kit used. You can even test out the possibility of a handmade portrait, whether abstract or figurative.
What's your favorite album cover of all time? Let us know in the comments below!
Jhoni Jackson is an Atlanta-bred music journalist currently based in San Juan, Puerto Rico, where she juggles owning a venue called Club 77, freelance writing and, of course, going to the beach as often as possible.