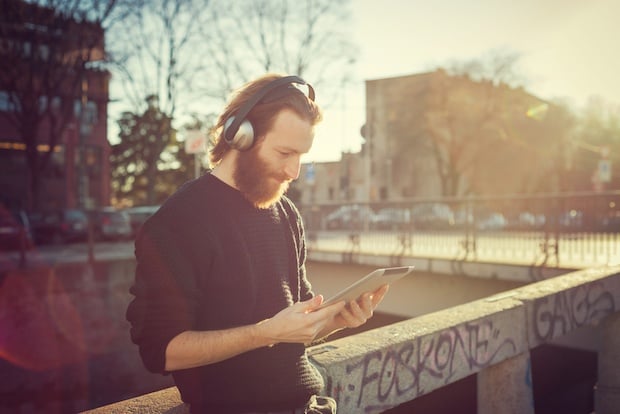 Image via Shutterstock
The internet has forever changed the landscape of the music industry. This is common knowledge to artists who've utilized effective digital technologies such as file sharing and digital marketing via an endless number of social media channels. While all of this may seem like painfully obvious information, the fact remains that many musicians still struggle with choosing the right online platforms to upload, share, and promote their music.
The neverending list of offerings can be overwhelming, but it is essential to have a clear-cut understanding of how to tackle these three questions:
Which communities are the most popular amongst your target audience?
Why are they powerful (i.e., what are their capabilities)?
What are the appropriate circumstances for you to put them into action?
With these inquiries in mind, I've created a list of the top 10 digital music platforms that artists need to know like the back of their hands (or instruments, for that matter). If you become a master at navigating all of the below selections, the likelihood of your music reaching a substantial audience skyrockets and, more importantly, so does your chances of developing a dedicated fanbase.
Founded in 2007, SoundCloud remains as one of the world's top audio distribution platforms and attracts over 175 million monthly unique visitors. From a free-streaming perspective, SoundCloud has been a longstanding giant, and that won't change anytime soon. Heralded for its sociability/shareability features, a wide majority of both established major artists and rising talent turn to SoundCloud to upload their music.
The "news feed" style of the homepage, repost/favorite/playlist options, and followers/group communities play a huge part in expanding the reach of SoundCloud's massive library. So while there are plenty of folks who take advantage of the system in attempts of growing a large (but mostly imaginary) following, SoundCloud is a go-to option in giving fans the opportunity to stream your latest single for free.
[8 Simple Steps to Maximize Your SoundCloud Exposure]
Not too far behind SoundCloud, Audiomack is on the rise as a fan-friendly streaming platform. Unlike its counterpart, which has a central focus on play counts when evaluating engagement, Audiomack allows artists to measure the reach of their music with its variety of trend-based rankings. The exact number of plays per day/week/month are readily available, and the "what's trending" homepage makes it easy for music consumers to know what songs and albums are worthy of their valuable time. Between the less stringent copyright policies and easy-to-digest analytics, Audiomack is a well-positioned platform and a wise choice for independent artists who want full visibility into the marketing efforts of their new album.
Anybody who has listened to music this century is aware of the monster that is iTunes. If you're a member of the select group of consumers who truly believe in financially supporting the work of their favorite artists, iTunes is your music mecca. The platform continues to evolve with Apple constantly innovating as a technological giant (see Apple Music), and although streaming is the current king of music intake, music libraries of longtime iTunes users are still seeing plenty of action.
If you're an independent musician who wants to provide fans with the option of buying their music, uploading to iTunes is still the primary method of doing so. Don't expect to strike gold, but the brand name recognition alone is enough to win some fans over.
Over the past several years, Spotify has worked its way into becoming an extremely powerful digital music service and is a king in the music streaming business. The massive library of music from major artists has made Spotify an attractive option, and while free users are burdened with frequent advertisements, premium users enjoy ad-free as well as offline/mobile app listening.
Despite the number of nice features offered by Spotify, I don't believe the platform is currently a necessity for independent musicians. Sure, you may look official by having your well-received album uploaded, but from a streaming point of view, you're better going off with SoundCloud or Audiomack as an up-and-comer. By doing so, you ultimately provide fans with easier access to your music and save yourself a few headaches at the same time.
[6 Easy Steps to Streaming Success on Spotify]
If you're a rising artist, you should be putting quality time and effort into the creation of professionally crafted music videos. And when it comes time to share your visuals with the world, you upload them on YouTube. The video-sharing home of the internet has made a huge difference for indie artists who sometimes rise to national acclaim not necessarily on the strength of a song, but on the visuals which breathe new life into the record. Between its ease of use and insightful measurement tools, YouTube is a primary platform that garners undivided attention from the more professionally minded segment of rising artists.
[25 Ways to Optimize Your YouTube Channel]
Bandcamp is perhaps the most interesting selection from this list of music platforms. The website is certainly geared toward independent musicians, but it tends to attract more of a niche following of both artists and fans. As a platform that promotes free streaming as well as financial support of the artist, Bandcamp has an all-in-one capability which can prove to be useful for musicians who want to put all of their eggs in one basket. There are plenty of successful artists who have effectively promoted their material on Bandcamp, but be wary, because if your music doesn't resonate with a particular demographic, it can get lost in the mix.
[How to Make Your Bandcamp Page as Effective as Possible]
We've already established that YouTube is the major player in the world of music videos. Vimeo, however, is a runner-up and has its own specialties for artists who shoot a variety of visual content. When musicians take a more diversified route with videos, such as documentaries and behind-the-scenes footage, it's not a bad idea to experiment with Vimeo due to its well-versed creative community. By no means is it smart to transfer all of your videos from your YouTube account to Vimeo, but don't be afraid to try it out as you continue to grow your fanbase.
[How Vimeo's Copyright Match System Affects Your Music]
While still young in its existence, Tidal has been making headlines in the world of music streaming over the past several months. The platform prides itself on offering high-quality audio/video for its users, and with a large group of superstar artists co-signing the services, many fans are jumping on the wave. While many in the industry feel that Tidal is merely a self-centered attempt for major label artists to receive better profit margins on their streams, indie artists should still follow every move from Tidal as it continues to grow (especially Tidal Rising and Tidal Discovery). Don't make Tidal your top priority right now, but give the platform some time before deciding whether to test the waters with the service.
Even though Google Play receives less attention, it's not wise to ignore the music service of one of the world's most powerful companies. If you want your entire fanbase to have the ability to financially support your music, it's important to ensure that you have a presence on Google Play. There are plenty of Android mobile phone users who rely on Google Play as opposed to iTunes, so if you want all your tracks covered, don't leave them out of the mix.
10. Personal website
Despite all of these qualified music platforms, all serious musicians need a personal website that prominently displays their latest and greatest music. You'll most likely be using one of the aforementioned selections to upload your tracks, but having your music on each of these nine platforms and not on your own website is a recipe for disaster. As a rising artist, it's smart to have your music centralized in a few prominent places as opposed to throwing a dozen different links at fans and press. And out of all these options, maintaining a sharp, up-to-date website is perhaps the most vital. When you start to draw bigger and more influential figures to your catalog, rest assured that your website will be one of their first visits.
[6 Crucial Website Tips for Freelance Musicians]
Eric Bernsen is a marketing/public relations professional and music journalist who specializes in the genre of hip-hop. You can find more of his work at HITPmusic.com (where he is an editor/writer) as well as HipHop-N-More.com, where he contributes album reviews. Follow Eric on Twitter @ebernsen.