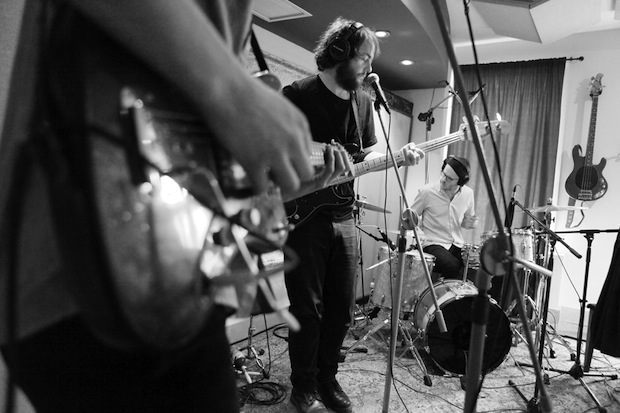 Image via thecuttingroom.com
As every musician knows, behind the glamour of shiny new EPs, concerts, and music videos is a whole lot of practice. It should go without saying that practice is the foundation of your success as a musician; poor quality or infrequent sessions leads to unpolished sounds and unfinished songs. Choosing the right place to practice is one of the first considerations you have to make as a rehearsing band, and not all rehearsal spaces are made equal – especially on a budget, when every dollar counts.
If you're in New York City stressing out about where to get the most valuable practice session, fret no more, because we've got you covered with the top five rehearsal spaces in NYC for bands on a budget. Check it out below.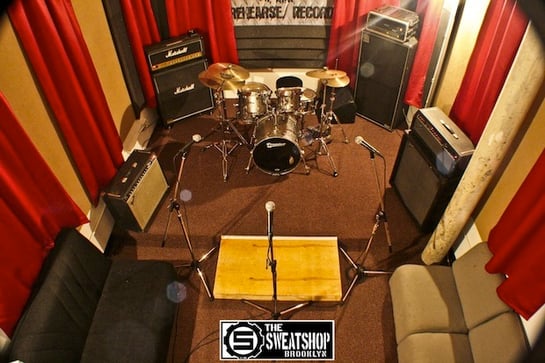 Image via yelp.com
Location: 260 Meserole St., Brooklyn, NY 11206
Rates: $15-30/hr, depending on room size
Why it's awesome: The Sweatshop, alternatively deemed "Brooklyn's original underground music studio," is without a doubt Brooklyn's best rehearsal space for bands on a budget. According to NYC studio drummer Greg Szaro, it has the entire package: helpful staff, various room sizes, solid equipment, and a proper PA system with mics.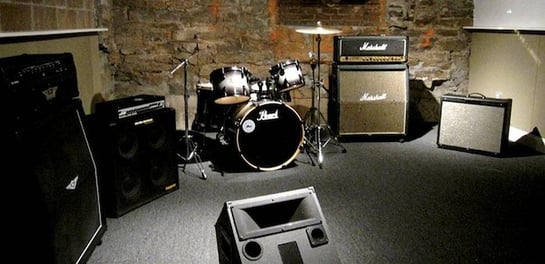 Image via rivingtonmusic.com
Location: 188 Stanton St., New York, NY 10002
Rates: $20-30/hr, depending on room size
Why it's awesome: With three floors of rehearsal spaces, "it's near impossible to have the place booked solid," Szaro tells us. If you're lacking in equipment, you can rent a guitar, bass, keyboard, or kick pedal for only $10 a session. Most notably, Rivington has a $50 deal for three-hour sessions, which is practically a steal.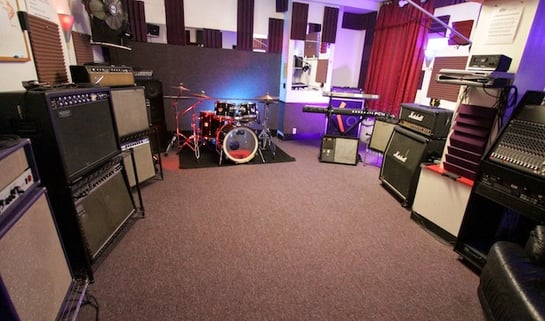 Image via plus.google.com
Location: 251 W 30th St., 3rd Floor, New York, NY 10001
Rates: $16-35, depending on studio and time (weekdays after 6:00 p.m. and weekends are more expensive)
Why it's awesome: Music Makers NY provides professional quality equipment in its studios, and they "run a tight ship," Szaro says, making sure every band gets their exact allotted time (no more and no less). Music Makers is also great for long sessions because for every two booked hours, you get a third hour free. Located smack dab in Midtown, its location is also nothing to scoff at.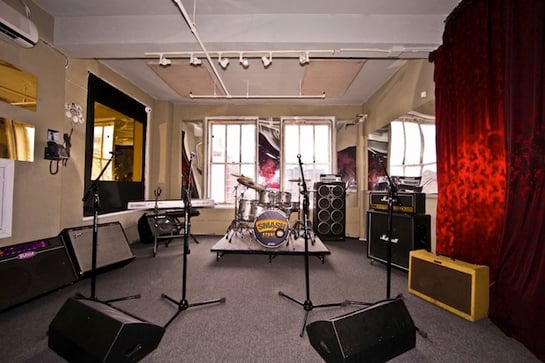 Image via smashstudios.com
Location: 307 West 36th St., 18th Floor, New York, NY 10018
Rates: Starts at $25 – contact the studio for exact pricing for your rehearsal session
Why it's awesome: Professionalism is at its core. Having served huge names like Lou Reed and Kanye West, Smash knows how to treat its guests right with rooms stocked with all the amps, mics, plugins, and more that you might need. They also have a video production department, for those of you looking to create high-quality rehearsal videos.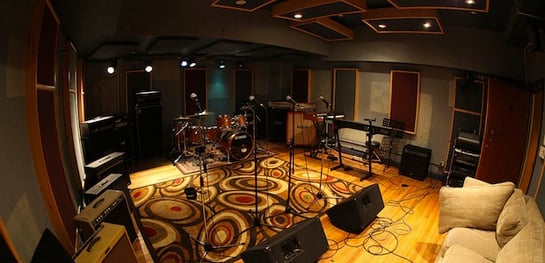 Image via rehearsals.nyc
Location: 38-01 23rd Avenue, Astoria, NY 11105
Rates: $10-35, depending on room size
Why it's awesome: Astoria Soundworks features some of the cheapest rehearsal spaces for smaller groups (one to three people). The studio also provides rentals for many instruments and other equipment you might need, though always take note of deposit prices. The staff is also extremely helpful when it comes to using and setting up equiment you may not be entirely familiar with.
These spaces go to show that you don't need to break the bank or sacrifice quality when it comes to finding places to rehearse in the city. Find the one that works best for you and your band, and practice on.
Now that you've got your rehearsal space, get practicing:
Katarina Underwood is an editorial intern at Sonicbids.