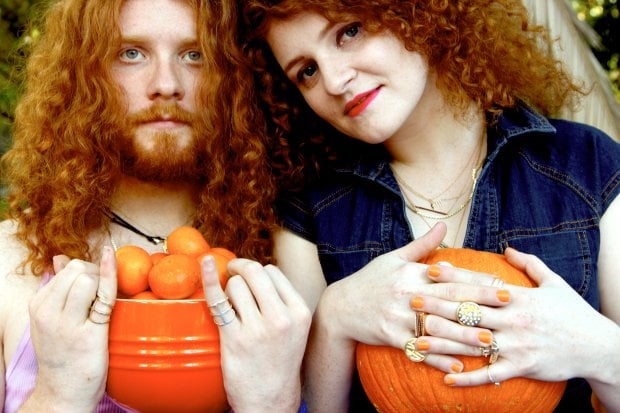 Francis and Alex White of White Mystery. (Image via whitemysteryband.com)
No two full-time musicians' schedules are identical. Depending on the projects they're involved in, the to-do lists will vary greatly. There are few better examples of an exceptional hustle, however, than that of Alex White, one-half of the heady garage-rock duo White Mystery. She and her brother Francis have been kickin' under that moniker for more than five years now, and in that time have put out four LPs, toured relentlessly around both North America and Europe, played huge festival gigs, been featured in promotional campaigns for Levi's and Converse and, just recently, even made a nutty, psychedelic rock 'n' roll film based on recent travels. And they've accomplished all of that in a completely DIY fashion.
"My life, physically, is like coffee, emails, working out, playing, sleeping. And some eating. But mostly coffee," Alex says.
We spoke with Alex to get an idea of a typical workday, but she couldn't give us just one. Below are loose accounts of her two schedules: one during a tour, the other during the off months, and each with some extra bits that are actually crucial to how she operates. New bands especially, I think, will find her efforts inspiring, and the actual nuts and bolts of it all quite illuminating. It won't work for everybody, of course, but it's certainly worked for White Mystery.
A typical day when not touring
7:30 a.m.: On a day like today, I wake up at like 7:30 in the morning. I get up, I make coffee – like six cups of coffee – and I sit down at my computer and open my inbox. I see what's in there while the coffee's brewing, make my bed, pour myself a cup, and sit down and start looking at my emails. I get almost 100 every day. I start answering them in order of easiest to answer to hardest, which may not be the best strategy, but that's how we do it because I kind of like to get those easy ones out.
11:00 a.m.: Today I went and worked out for an hour; I lifted weights, and I ran.
1:00 p.m.: I came home, and my three interns came over. They come at 1:00 p.m. every Monday, three Columbia College students. We learn a different discipline every week and apply it. I do so many things that I always have a project related to what we're talking about. Today with the group we focused on booking, and they have the option to call in or come in person.
2:30 p.m.: Around [this time] we have lunch, they work on something for me until, like, 3:00 p.m., and then I get back to my emails and see what's come up.
3:00 p.m. until late night: I take my dog for a walk, and then I work until, like, two in the morning answering the rest of the difficult emails, like contracts and stuff like that. Today it's 7:30 p.m. and we ordered a deep-dish, Chicago-style pizza.
What are those 100 or so emails about, actually?
It's a lot of organizing and planning, and the particulars shift based on the project at hand. Lately, a lot of Alex's work has been focused on making the band's movie, That Was Awesome, come to life.
"[What] took up a lot of my time was developing the film," she says. "Working with an editor and his questions and the filmmakers, who each have their own part, and then booking the premiere party for it. You're trying to cover a lot of ground by communicating with people."
Additionally, Alex points out something especially important about the way she fields emails: "I'm really thorough. There's a lot of people out there who get 100 emails, and they only answer maybe 10. But when there's a young band who emails me about how to play in Chicago or someone with a blog that wants to do an interview, I'm happy to do that stuff, even though it can muck up the [day] a little bit. The example that's really important to me is that more than 10 years ago, someone had emailed me about playing their parents' basement in New Jersey. It was my old band, Miss Alex White and the Red Orchestra, and we didn't tour that much so it wasn't [really a possibility], but I was like, 'Hey, thanks for the opportunity, but we're not on the road presently.' And that person ended up being [guitarist and vocalist] Marissa Paternoster of Screaming Females. [That was] the young teenager who emailed me at that time. And to this day she remembers that I replied to her."
The White siblings are famously positive and friendly, and in the independent music realm, that can truly pay off. She adds, "'Cause, you know, in a couple years that person...you might be opening for them."
So when do they practice, you ask?
"It's hard to practice, [because] even when we are home, we're usually playing twice a week, so a lot of times we just perform live and do a lot of our writing in that two-month period when we're home where we have access to our practice space and stuff like that. Usually when we're home, it's unplugged electric guitar and working on lyrics, then we kind of brings those songs to our live shows and kinda test them out live. Kind of organically that way," she says.
Tour schedule (about 10 months out of the year)
11:30 a.m. to noon: I open my laptop in a hotel, probably, and try to find coffee. Usually I don't have that luxury, and I find those little hotel coffee makers to be really disgusting. I never use those. Then I take a shower, wake Francis up at noon, and request a late check-out for 1:00 p.m., like, 'Hey, we're not ready yet.' (She says in a voice that implies they never intended to check out on time.)
1:00 p.m.: We'll usually stop at Starbucks or something and hit the road. We're usually driving for three to six hours a day; we try to cap it at six and not do more than one of those weeks [a month], and we typically arrive at the venue around 7:00 p.m.
7:00 p.m. until 3:00 a.m.: Even though a lot of places want us to load in early, it just didn't make sense to be at a bar for, like, seven hours when you're only performing for 45 minutes, so we kind of take our time. We'll arrive at the venue, and sometimes that's our first meal of the day at 7:00 p.m., because we're fueled by coffee and snacks. We set up our merch when we walk in the door, then basically play pinball until the doors open at 9:00 p.m., and man the merch table until the show, which is usually around 11:00 p.m. or midnight. And then we play, then we party until three in the morning.
Take note, however, that there are some details missing in that general overview.
Alex adds, "You have to stop, you have to refuel your car, you have to check your oil, you have to make sure all your equipment is covered with a blanket so it looks like nothing's in there. Sometimes you have to pick up stuff that you need for your normal life even though you're on the road, like toothpaste or get some batteries. You have to still maintain appearances and chores, like I try to clean the car while we're on the road, and we definitely have to do laundry while we're on the road. So that time while I'm waking up I'm doing laundry at a friend's house...you're toeing the line between normal life and chore stuff."
You may also like:
Jhoni Jackson is an Atlanta-bred music journalist currently based in San Juan, Puerto Rico, where she juggles owning a venue called Club 77, freelance writing and, of course, going to the beach as often as possible.