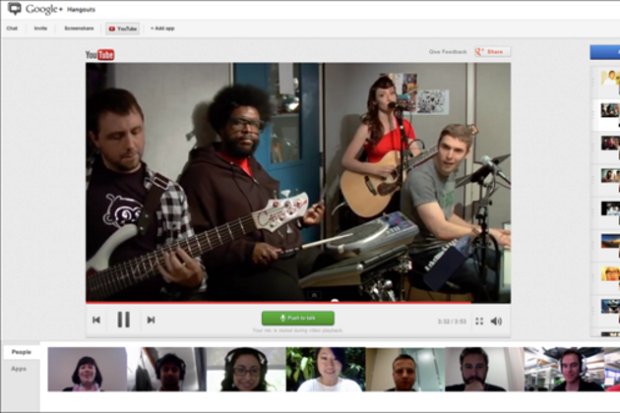 Image via pixel-push.com
A version of this article originally appeared on The Jazz Spotlight.
When it comes to online promotion, there's a social media platform that's often ignored by musicians: Google+. While its potential has been recognized and utilized by many entrepreneurs around the world, for many artists, the network is still unexplored territory. While it's true that it may be trailing behind Twitter and Facebook in popularity and usage, Google+ offers incredible opportunities for music marketing through Hangouts on Air.
What makes Hangouts on Air so cool is the fact that they can be easily broadcast live on YouTube and artists' websites. For musicians, this is a powerful – and free – tool for music marketing and promotion. Here are five creative ways to use Hangouts to promote your music and increase engagement with your fans:
1. Streaming gigs
How nice would it be to stream your next concert live? Guess what – you can do that with Hangouts. All you need is a computer, an internet connection, and a microphone. Obviously, the faster your web connection and the higher quality your mic, the better the video.
You can set up your gig as an event on Google+ and invite your followers to watch the stream. There's also the option to invite extended circles, which are your fans' own circles. This means that you can even reach people who are not part of your circles on Google+. They'll be able to enjoy your show, which, in addition to YouTube, can also be embedded and streamed on your site.
2. Masterclasses, online workshops, and webinars
Why not expand the audience of your upcoming workshop or masterclass by broadcasting the event on Hangouts? It's a great way to reach more people, share your talks and resources, and even drive traffic to your website. Streaming masterclasses with Hangouts can also help you get more email subscribers, as you can easily direct them to your newsletter.
And if you're into hosting webinars, Hangouts on Air can be an alternative to GoToWebinar, Ustream, etc. If you'd like to learn more about using Hangouts on Air for webinars, I recommend Mary Jaksch's article, "The Ultimate Guide to Using Hangouts on Air for Webinars."
3. Private lessons
Do you enjoy teaching? If so, are you giving private lessons online? While it's true that nothing beats face-to-face interaction, you can still provide plenty of value by teaching online. Some teachers use Skype, but if you're preparing a class and want it to be accessible to a group of students, you could easily do that with Hangouts on Air.
4. Q&A with fans
Put yourself in your fans' shoes for a second. How much you think they would love to have the chance to personally ask you a question? By having a series of Q&As with your fans – once a month, for example – you'll definitely increase engagement. They'll probably do some great word-of-mouth promotion for you, as talking to their favorite musician is something they're likely to share with others.
5. Behind-the-scenes looks
Like Q&As, giving loyal fans special, behind-the-scenes looks will increase engagement. Why not set up a computer and webcam and stream your rehearsal of a new song, or show fans what's happening backstage before your gig?
How do you use Hangouts on Air? Let us know in the comments!
Yannick Ilunga writes about music business at The Jazz Spotlight and talks about jazz and the music industry with artists, best-selling authors, and experts on The Jazz Spotlight Podcast.