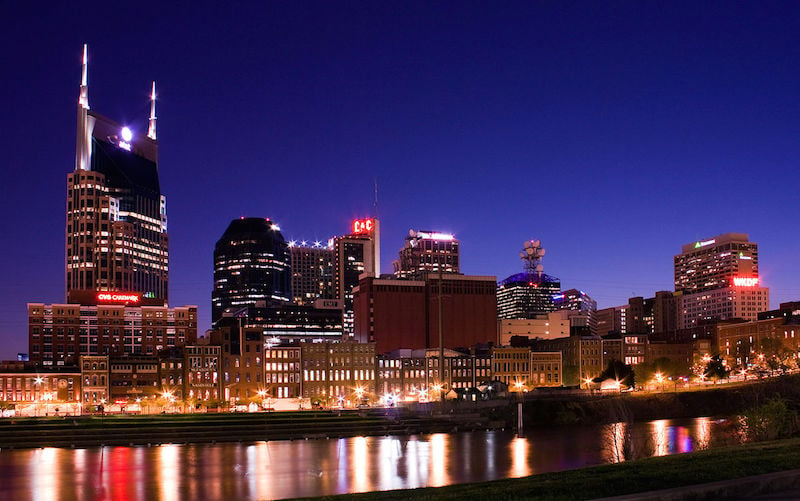 Image via Wikimedia Commons
Hundreds, if not thousands, of aspiring artists and songwriters flood the city of Nashville each year with dreams of hitting it big. Although Nashville can be a pretty friendly place (Southerners are just so darn nice and approachable!), it's easy to get overwhelmed and not know what's next. Here are a few career-oriented tips to help you hit the ground running.
Introduce yourself
No, I'm not suggesting walking into a publisher's office or record label cold – you won't get past security. But there are plenty of people in town who are often more than happy to talk to you. These will be your performing rights organizations (ASCAP, BMI, and SESAC) and songwriter organizations (such as NSAI and the Global Songwriters Connection). Most have offices right in Nashville, so it's easy to pop in and say hello.
Don't expect a sit-down meeting with anyone important, but there should be people there to answer your questions. I remember walking into the NSAI lobby and picking their brains when I first moved. Here's a good format to use: "Hi, I'm ____. I'm brand new to town and I'm looking to get hooked into the songwriting community. Can you point me in the right direction?"
Go to shows
On any given night, there are hundreds of writers' rounds. Artists and songwriters of all levels mingle on the stage and in the crowd – in fact, it's fairly likely that the majority of the crowd is made up of writers there to see their friends. I'm not always the most sociable person, but I've found it easy to strike up conversations in Nashville. Just knowing that someone has at least some of the same interests as you goes a long way in breaking the ice.
If you're completely at a loss, find one or two writers whose songs you liked and walk up to them afterwards. Introduce yourself and say you're new to town and looking to connect with people. If it's a major-hit writer, they're probably not going to be too interested in writing with you, but most will let you pick their brains a little. When I first came to town, some very nice people who were further along than me were kind enough to buy me a sandwich and show me the lay of the land.
[What No One Tells You About Booking Gigs in Nashville]
Get to know the town
This may be a no-brainer, but there's nothing worse than losing your bearings in a new place or giving someone a blank look when they mention a location. Spend some time getting to know your new city – and don't be afraid to do "touristy" things while you're still new. You'll be way too cool to do them after living here for six months.
Taking in things like art museums, checking out the Ryman, the Country Music Hall of Fame, or just admiring the local color will get you in tune with your new city really quickly. Before you know it, you'll be able to recommend great barbecue joints and points of interest to people newer than you!
Volunteer
This is a great way to give back to the community and meet others at the same time. You can volunteer anywhere that piques your interest, but one that does a lot of great work is Musicians On Call. You can volunteer your talents as a musician to bring music to people in elderly care facilities, hospitals, etc. and brighten up their day. Look for things like this that dovetail with all your interests and put you in the group you want to be connected with.
Be realistic about job hunting
Just a couple of quick pointers here:
You're not going to walk into an industry job or get discovered in your first week in town – unless you've got connections, that is.
I would also recommend staying within about 15-20 minutes of town. Granted, this can be a lot more expensive, but it also provides many more opportunities for last -minute planning and just convenient exploring without a drive.
You may have some ideas of your own you want to try, and that's great! This is just a tool to help get you started. Remember to relax, have fun, and enjoy your time in Music City!
Click here for more tips on the Nashville music scene, or search for Nashville venues currently looking to book bands!
Daniel Reifsnyder is a Nashville-based, Grammy-nominated songwriter, having started his musical journey at the age of three. In addition to being an accomplished commercial actor, his voice can be heard on The Magic School Bus theme song and in Home Alone 2. Throughout his career, he has had the honor of working with the likes of Michael Jackson and Little Richard among many others. He is a regular contributor to several music-related blogs, including his own.