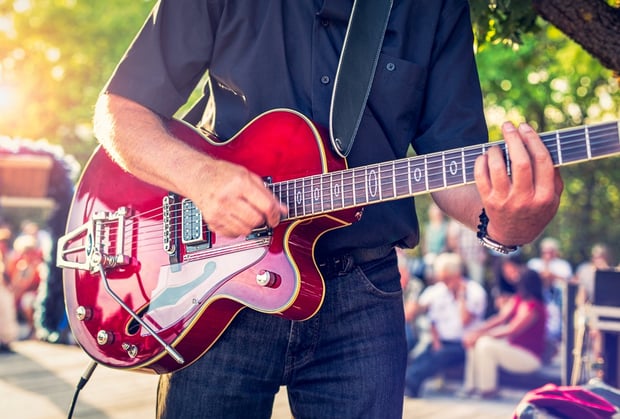 Image via Shutterstock
Performing in front of a live audience is a tried-and-true method for building a fanbase. If you're a baby band or super green to a local music scene, your best bet is to just play anywhere and everywhere, as often as possible, and ideally shows that will have a built-in audience that don't rely so heavily on your promotion (i.e., coffee shops, breweries, private events, etc.). But once you're at the point in your career where you can actually get people (ideally 35+) through a venue door, it's time to book proper shows and treat them like a business opportunity.
If a killer performance is put on but no one is there to hear it, does the artist actually make a sound? For this piece, we'll dive into ways to effectively promote your local shows so that people can experience your radness. Gia Hughes, production manager of famed Los Angeles venue the Hotel Cafe, offers her insight and experience on the job for this. Our disclaimer, however, is that some tactics work better for certain genres, demographics, cities, and venues; you should always experiment and see what works well for you and your audience.
1. Be strategic with scheduling
Unless the venue has explicitly said you don't need to promote your show, you'll have a better shot at getting folks in the door if you're smart about how often you play. Hughes suggests – generally – once a month for growing bands (maybe twice), and quarterly for more established acts (unless you're doing a residency). Provided you're remaining relevant in the public eye, she notes that more people typically come out the less you play. You know, absence makes the heart grow fonder.
2. Make it an event
You might find scheduling to be easier if you treat each show as an event, such as an album/single/video release, a tour kickoff or homecoming, a night for debuting new music, birthday party, major charity fundraiser, etc. In a major city like Los Angeles, for instance, where there's a ton of great things to do, Hughes says, "You need to give people a reason to see you." (Plus, it'll make tips #4–8 below feel more natural.)
[5 Creative Ways to Turn Your Next Show Into a Memorable Event]
3. Post it everywhere
This is an easy but essential one, and a move that often gets overlooked. Get the show information on your website, Bandsintown, JamBase, ArtistData, your Sonicbids EPK calendar, etc. Put the correct show time and a link to tickets, if available in advance. "Make it easy for people," says Hughes.
4. Step up your social media game
Venues notice when you wait until the day of your show to tweet about it or send out an email. You have to give people time to be informed and make plans. "You want to be doing consistent, regular posts, but also avoid becoming spam," says Hughes. Clearly, there's a fine line here. But there's no such thing as too much lead time when it comes to social media (including your email list), particularly if tickets can be purchased in advance. Best-case scenario is that you sell out your show well before the date and need to book a second one.
Also, get creative! Clips of tunes, Periscopes of band rehearsals, interactive setlist building with fans, etc. all make for fun, easily digestible promo.
5. Intelligently distribute your mugshot
Please, please, please hire professionals to take at least one great promo photo and make a killer tour poster! (If you leave room for the venue and date to be written in, you can print a large quantity and use them for other shows.) Giving a few copies of your tour poster to the venue is a no-brainer. If you have the budget, Hughes also recommends posting at local record stores, coffee shops, and communities that make sense for your brand. Just make sure to get their permission before posting.
[Musicians: 5 Tips for a Better Photo Shoot]
6. Be your own publicist (or hire one)
Four to six weeks out from your show, give local press the heads up. Send them the details (date, door and show time, venue and address, ticket link, ages, etc.), a brief pitch on what makes this show an event (see #2), a link to your latest music, and social links in your signature. Follow up a few weeks later with an invitation to attend and maybe even offer some ticket giveaways for their readers, listeners, or viewers.
[5 Creative Ways to Build Buzz for Your Show]
7. Add a personal touch
If you want someone at your show, go the extra mile and send a personal email, text message, or even a private Facebook or Twitter message. Then, if they show up, make it a point to acknowledge and thank them. The overall goal is to build yourself a community of true supporters – that's far more important than the number of Facebook likes you have.
8. Put in some face time
If possible, go to the venue you'll be playing to see some shows of other artists with like-minded fans. It'll help you to establish yourself within that particular community. "Don't solicit," Hughes stresses, "but don't be afraid to mention to people you're playing there soon. Organic human interaction is key."
9. Remember your email list
A little merchandise is good, too. Think ahead for the next show. You always want to give your fans the opportunity to connect with you after you play and take home a piece of you. An email a few days later thanking them for coming out with a free song download is a kind gesture. And don't forget to email them about the next show with a good amount of lead time.
10. Respect the house you're in
Turns out some of you still think lighting the cymbals on fire during your set is a good idea (yes, that's a true Hotel Cafe story). For the (hopefully) majority who know that that's an instant black-list move, Hughes says, "Just be cool. Respect the venue and their rules. Don't burn bridges. If the show goes well, chances are good you'll be invited back."
[7 Ways to Never Get Invited Back to a Venue]
Laura Goldfarb is the owner (aka Big Kahuna) of music public relations firm Red Boot PR in Los Angeles and NYC, which encourages a family-like vibe for its diverse roster. For almost 10 years she's also been the host, writer and producer for BreakThru Radio's "Jam Session," reporting to the Relix/Jambands Radio Chart. She recently started writing a column on the #FlyingSolo concert experience for Relix magazine. Follow Red Boot PR on Twitter at @redbootpr.