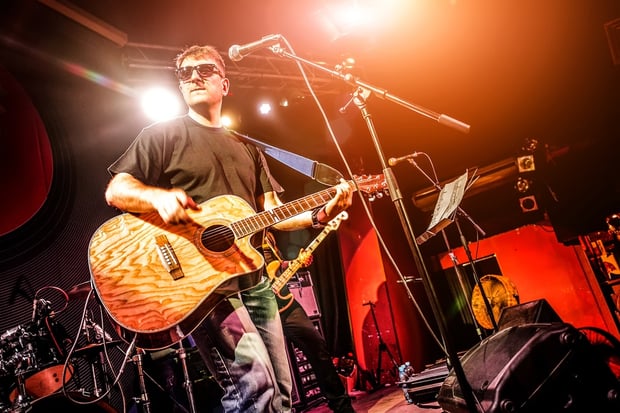 Image via Shutterstock
Networking is something all musicians should be doing. This doesn't mean that you have to be great at it; it just means that it's something you should do. If you're a guitarist and you're looking for work, the quickest way to find more gigs is to meet more people. Here are 14 networking tricks you can put to immediate use.
1. Bring your guitar everywhere
The guitar has a universal appeal. There are a lot of people who play, like to play, or admire those who can. If you bring your guitar with you everywhere you go, you'll have an easier time connecting with and meeting more people. Plus, you never know when someone might ask you to play at their wedding, join their band, or ask you to teach them.
2. Go to open mics
Don't forget to perform – you'll have an easier time connecting with those who are sharing the stage with you. A lot of musicians – sometimes very talented ones – show up at open mics. This is a good place to meet other musicians, though not always a good place to meet other types of industry influencers.
[How to Leave an Open Mic With New Fans]
3. Host jam sessions
If you have a jam space in your own home, or if you have a friend who does, then consider hosting regular jam sessions and send out some invitations. Of course, you don't have to make this a standing engagement unless you find that it helps you meet a lot of new people. You may end up meeting everyone there is to know in a short amount of time.
4. Scan the classifieds
It probably shouldn't come as any surprise that there are other musicians out there looking for band members to help out with their projects. You can use sites like Sonicbids, BandMix, or even Craigslist to keep an eye on the opportunities that are available.
5. Reach out to bloggers and podcasters
Industry bloggers and podcasters tend to be fairly well connected with other industry people. Rather than going after all of the most popular ones, target the people who are still in the process of making a name for themselves, and ask for their advice. Building these relationships should get you reviews, interviews, guest spots on podcasts, and other opportunities to get your name out there.
6. Go to guitar clinics and workshops
Of course, keep in mind that you're only going to meet guitarists at clinics and workshops. This can still be beneficial, as you might find some people you really connect with. You may have the opportunity to meet local or out-of-town experts as well. In the long run, you never know what relationships will prove most valuable, and the more friends you have, the better off you'll be.
7. Go to clinics and workshops for other instruments
Looking to meet a drummer? Check out a local clinic or workshop specifically for drummers. Want to connect with other musicians or producers? Sign up for a recording and studio engineering course or workshop. There are a lot of different events you can go to, and unless you live in a particularly small town, you can probably find them right in your locality.
8. Attend local concerts
Typically, there are a lot of different industry people you can meet at concerts: venue owners, sound engineers, other musicians, and sometimes even bloggers or other media people. Although you might have to find a good excuse to meet these people, concerts can offer great opportunities for networking.
9. Carry business cards with you
I don't recommend handing out business cards indiscriminately to everyone you meet. However, you do need to get into the consciousness of others one way or another, and carrying cards can make you look more professional, too (if you remember to conduct yourself professionally).
If you're looking to book more session gigs, business cards can really come in handy, as you can specifically hand them to people who might require your help on a future recording project.
[The Simple Guide to Musician Business Cards]
10. Go to trade shows and conferences
Attending industry trade shows probably won't cost you much, while conferences might require travel and admission. Regardless, this is where a lot of industry people gather, so they tend to be great places to meet people that work in a variety of different capacities.
[Search upcoming music conferences on Sonicbids]
11. Join relevant groups on social media
It's best not to rely entirely on social media for your networking efforts, but it certainly can be leveraged to meet more people. There are a lot of special interest groups on social networks, and these tend to be some of the best places to connect with others, share resources, and find new opportunities.
12. Build connections at local music stores
If you're a music instructor, you already know the value of connecting with people at music stores. Oftentimes, they'll refer you to others, giving you new opportunities to pursue. From musicians and music teachers to enthusiasts and influencers, a lot of different people work at music stores. Getting on their good side could lead to new connections, discounts, gigs, and other perks.
13. Explore your other interests
If you're interested in things other than guitar, odds are there are also other people in the music industry who have hobbies and interests outside of music, too. It's always good to keep your focus, but sometimes it's important to network with people who work in other fields as well.
14. Always follow up
It doesn't matter how many people you meet unless you actually take the time to follow up with them. Make sure to get in touch with anyone you exchanged contact information with, and make sure you actually have something to say. If you don't have a reason for contacting, the relationship will never go to the next level! Think about how you can add value to others.
[Are You Following Up Properly With Your Music Business Contacts?]
Although you might be hesitant at first, networking is a learnable skill, and something you can get better at with some practice. Get into the habit of chatting with people everywhere you go. Not every conversation will lead to something more, but you'll make others feel better about themselves, and they'll remember you, which is always a plus as a musician.
If you want more guides like this, check out Music Industry How To. Have any other networking tips to add? If so, please let us know in the comments. Let's share the knowledge.
David Andrew Wiebe is a contributor at Music Industry How To, which has advice on choosing the right guitar lessons, how to write guitar solos, and everything in between.