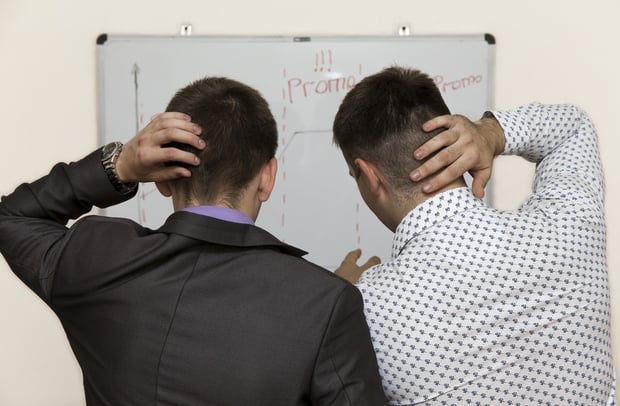 Image via Shutterstock
The internet has allowed artists to reach millions of fans and grow their careers with a click of a button. While, for some, the web has been a boon for music promotion, many musicians make pivotal online marketing mistakes that prevent them from breaking out and building a successful career. Here are four of the most common mistakes to avoid.
1. Not having a website
There's no excuse for not having a website in 2016. Your website should be your central hub to connect with your fans online. It's your 24/7 marketing tool. Your fans should be able to learn more about you, listen to your music, see where you're performing, sign up for your newsletter, and buy from you on your website.
Develop a website that represents your brand. If you're unable to hire a professional designer right away, use one of these budget-friendly tools (no coding skills required!) to get an official website up and running in no time.
2. Not monetizing your website
Not only is your website your primary online marketing tool, but it's also a tool to convert fans and monetize your music. Use your website to sell your music, merchandise, and loyalty programs to your fans. Offer a free single for download on your website to capture email addresses and send personal sales offers to your new fans.
3. Using social media exclusively as a sales tool
Constantly posting "listen to my new single" or "watch my new video" on social media will cause people to tune you out. Your primary goal on social media should be to raise awareness, engage your followers, and convert them into fans.
Use your social media channels to start building relationships with your followers, and then drive them to your website. Engage your social media followers by posting interesting content that's related to your brand. Show behind-the-scenes shots and your personal interests along with "salesy" posts like "listen to my music."
[How to Perfect Your Band's Social Media Strategy: The 70-20-10 Rule]
4. Not having an email newsletter
Many musicians still underestimate the power of email marketing and rely too heavily on social media to stay connected with their fans. What would you do if your favorite social media site shuts down? (Remember Myspace?) Social media is constantly changing, and you have to remember that you don't own any information on your social media followers.
Your email list is your best tool to consistently communicate with your fans, build loyalty, and monetize your music. If you don't have a newsletter, start building your list by collecting email addresses at your shows and adding a signup box on your website. Send your newsletter out on a consistent basis, whether it's weekly, biweekly, monthly, or quarterly. Share personal notes, music updates, and exclusive offers in your newsletter.
[How to Build Your Band's Email List From Scratch]
Lauren Gill is the founder and chief power specialist at Power Publicity, a marketing, branding, and public relations firm that empowers entertainment, nonprofit, and lifestyle brands. She has executed several successful marketing and PR campaigns for major and indie recording artists. You can follow her on Twitter @IamLaurenGill and @_powerpublicity.