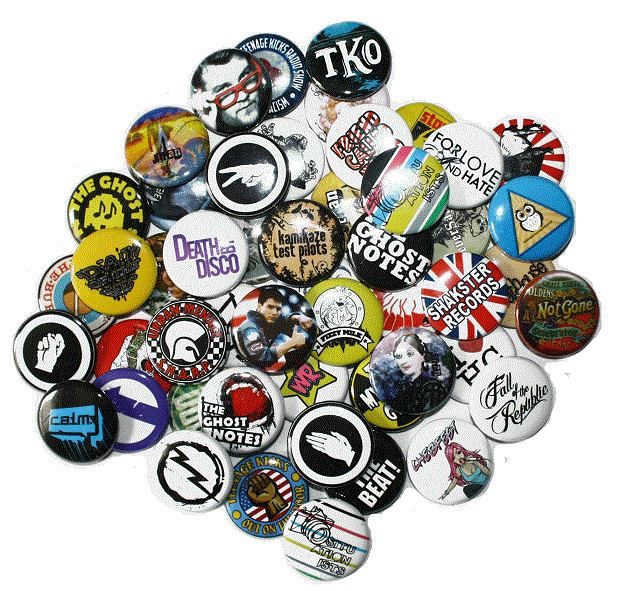 Image via badgesandstickers.co.uk
Designing band merchandise and promotional materials is a creative exercise second only to writing songs. But what if ambition exceeds band funds? Here are a few simple ways to cut corners financially without watering down the final product too much. Each method will keep more money in the band's coffer, or at least redistribute funds into the local DIY community.
1. DIY your band T-shirts
Shirts are a great way for bands to make a little extra cash from fans interested in hitting the merch table after the show. This is especially true for newer bands without a table full of CDs or records. But for new bands without a slew of physical releases, the band fund may be too low to invest in a huge, custom order of professionally printed T-shirts. That's why stenciled or screen-printed shirts, made by hand with thrift store shirts, are an ideal option. As covered in an earlier article, Philadelphia punks Mannequin Pussy screen print their band logo onto pre-owned shirts, creating one-of-a-kind merchandise for an extremely low price. Something unique is sold to interested supporters, who become walking billboards for your band.
[Tutorial: How to Screen Print Your Own DIY Band T-Shirts]
2. Have a local, crafty friend create pins for you
An even cheaper merchandise item, sometimes given away or tossed in with T-shirt or album purchases, is one-inch pins. These tiny badges find their way onto bike messenger bags or denim jackets, two other types of free advertising spaces for bands. Many artists order these pins online, paying a sum plus shipping. But in cities where DIY music and craft scenes overlap, why not approach a local pin-maker? That way, smaller orders are possible and shipping costs are out the window. Plus, a band's budget for making pins stays within its extended creative community.
3. Take advantage of digital promo
While there's still room for physical flyers, promo copies of physical records, and other printing and mailing options, digital promotion tools should be considered. Among the tools available are electronic press kits, like those provided by Sonicbids, as well as simple online promotion of shows and releases through social media. Even for bands sticking with traditional means of promotion, adding a digital element can double or triple productivity without investing too many extra hours.
[Create your electronic press kit with Sonicbids]
4. Buy in bulk
Though you might be tempted to stick with a smaller, cheaper merch order, realistically, you're going to have to restock at some point, whether it's a week, a month, or a year from now. Buying in bulk not only saves you money because, typically, the more you buy, the lower the cost-per-unit is, but it also keeps your merch at a healthy level in case of an unexpected sales rush. If you're wondering what the price difference is, at popular custom button retailer Pure Buttons, a small order of 50 one-inch round buttons costs about $0.24 per button, but buying 1,000 in bulk brings the cost down to $0.19 per button. Sure, your order may be more expensive, but consider how much you'll make if you sell your buttons for a dollar a piece. (Bonus: because your buttons are completely custom, you can still tap your local artists' market for a design!)
Learn more about merch:
Bobby Moore is a freelance writer and historian with an MA in public history (University of West Georgia, 2011). He's got a Dead Milkmen tattoo on his chest, and his three-year-old calico is named after the band Tacocat, so he's pretty shameless about his music fandom.