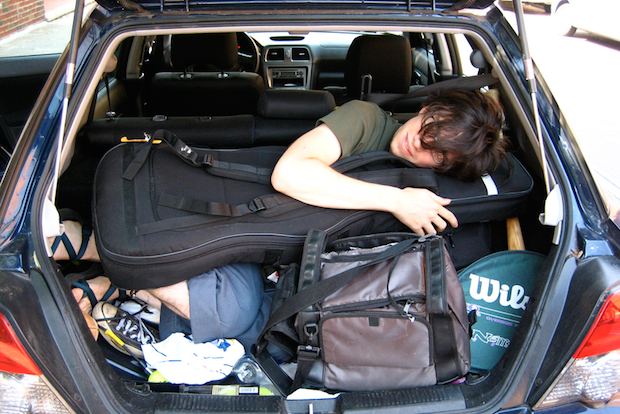 Photo by Dibson Hoffweiler
It's a pretty well-known fact that touring is incredibly expensive. Even if your entire band sleeps in the van every night and survives on a diet of nuts and Top Ramen (not recommended), the cost of gas alone can be completely debilitating. And that's only if everything goes smoothly – there are always emergencies that can come up, such as van breakdowns, gear malfunctions, or medical emergencies. All of these problems will require money to solve.
However, touring is necessary for almost every artist or band that wants to grow their audience outside of their hometown (thus resulting in more album and merch sales). If your tour goes well, you'll be able to offset the costs through ticket and merch sales at your shows and hopefully have made more money than you spent by the time you get home. The reality of the situation, though, is that most bands end up losing money on tour the first few times they hit the road, and even established acts sometimes have trouble staying in the green.
If you're a newer band that wants to get on the road, you'll need to fundraise a lot beforehand and try to find some creative ways to keep the money coming in. Here are four of the best solutions that my groups and my fellow musician friends have tried.
1. Supplement your tour with alternative performances
If your band has talented players in it, you can find additional performance opportunities that will bring in more income.
Touring as an original band is tough. Even if you're playing at home where you have a decent following, you may only make $100 to $200 at the end of the night (or even less). Unless you've been touring for a while, you'll likely have even less of a paycheck at the end of the night, simply because your payout is generally proportional to how many people you can bring to the gig.
Freelance musicians commonly supplement their income by playing in bar/casino cover bands or background music acts. These bands are often given a guaranteed rate that's much higher than the typical original band would make on a given night, plus many will still allow you to sell merch. The only downside is that you typically have to play three or four hours, and that you obviously have to play covers.
Why not combine the best of both worlds? If your band has its original set down super tight and has the chance to practice often enough, consider learning a few hours of classic rock, Top 40s, or jazz standards. When you roll through major markets with good music scenes, you perform your typical set of original material, but when you're playing in some small town in the middle of nowhere, you can book a bar or restaurant gig that can really bolster your tour funds. If your original music sits somewhere close to the covers you know stylistically, you can still sneak in your original tunes with the covers. And again, many places will allow you to sell merch, so you can still attract fans that generally like and will follow your original music even when playing cover sets.
[5 Easy Ways to Spice Up Your Cover Songs]
It might be a little soul sucking, and it won't be something that's in the interests of every band (that's why you're in an original project, after all). However, the bands I've been in that have taken this approach have been able to successfully hit the road and come home with cash in pocket upon returning home.
2. Look for additional opportunities to sell your merch
By selling merch, I mean everywhere, not just at your concerts.
If you're getting into town fairly early, try to work out a deal at a college campus, coffee shop, or local mall where you can set your merch up for a few hours. Offer them a certain percentage on the money you make, or maybe even offer to play a short acoustic set for free. You'll want to, of course, offer some sale incentive to anybody walking by who hasn't heard your music; perhaps they get a free CD when they buy a shirt or sticker, or even a free ticket to that night's concert. If you get creative with it, you might be able to bring in some extra merch sales to help you with food and gas.
The key is to already have a pretty good idea of who your target audience is, and to try to get into a business that your typical fans would inhabit. People sitting in a small tea cafe probably aren't going to be interested in your hard-rock album, but the folks at the alternative coffee shop or bar next door might.
If your band is into busking, maybe set up some of your merch next to your tip jar. Just like with selling merch in businesses, location is everything. You might be able to rack up a few sales this way as well.
Additionally, you can try to really push your online merch sales when on the road. Try putting all your items on sale or offering special coupons to people on your mailing list. Alternatively, you can try a promotion such as discounting people's concert tickets if they buy a shirt online and come to the show wearing it.
[4 Creative Ways to Sell More Merch]
3. Pick up a freelance job that you can do remotely
If your band is on the road, it's likely that everybody either quit their day job or is lucky enough to have a job that they can leave for extended periods of time and come back to when they get home. These days, the internet is such a powerful tool that lots of work can be done online, even from the road.
If any people in your band are skilled freelancers in any field, they might be able to do some of their work while on the road. Since they'll be making their own money, this might allow them to cover their own food or even chip in for gas, thus making things a little easier on the tour budget. Tasks such as graphic design, blogging, writing, certain marketing gigs, and many more can all be done from any location as long as you have your computer with you. For example, I always take my laptop with me when I go out of town for regional gigs, and will use the excessive amounts of road downtime to write some of these Sonicbids articles.
This won't be for everybody – lots of folks like treating tour almost like a vacation, and try to enjoy their downtime as much as possible. If you're like me, however, and get restless in the van or sitting in the hotel, picking up some remote work can help out your band, as well as your band's budget.
4. Aim to play one gig per day
When you're driving through the middle of the country, you start running into lots of tiny towns that don't have music scenes. Naturally, if you don't already have a nearby following, it's difficult to bring people out to these shows. As a result, many bands choose to skip these towns and sometimes drive longer hours or take a few days to get to the next major market along the road.
Unless you're playing pretty large gigs that pay you enough to make it from one bigger town to the next (including food and lodging), you're going to hemorrhage money if you take this approach. You're going to be paying lots of money for gas, food, and likely a place to stay every day on the road, regardless of whether or not you play. Every day that you aren't playing is a day of expenses that you'll have to make up at the next gig. Again, if your band plays large enough shows to cover said expenses, then you can get away with limiting your gigs to markets where you have a following. However, if you're like most bands that are still fairly new to the touring game, you should really try to have a gig every single night. Even if it's a small gig that only pays you $20 or $30, that still offsets some of the expenses that you rack up from traveling.
[5 Steps to Fill Up Your Calendar With Gigs Every Week of 2015]
Dylan Welsh is a freelance musician and music journalist, based in Seattle, WA. He currently plays in multiple Seattle bands, interns at Mirror Sound Studio, and writes for the Sonicbids blog. Visit his website for more information.