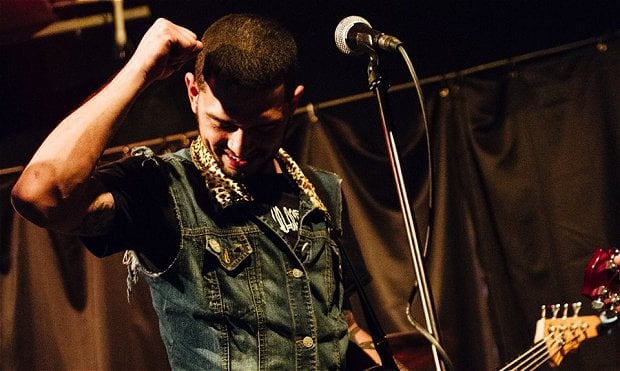 Luis "Bz" Ocasio, bassist of Puerto Rican skate-punk outfit Diente Perro, at Club 77 in San Juan. (Photo by Elías C. Quintana Matias)
There are standards for written inquiries that bands and artists email to venue talent buyers, and they serve to streamline the process. Including all the right information up front cuts down the organizational back-and-forth which, in some cases, can go for days or weeks and reach upwards of 50 replies. And we're all busy, right? You'd think inadequately written inquiries would be a rarity but, unfortunately, they're sent on a regular basis.
It's been almost a year now since a few friends and I opened Club 77 in San Juan, PR. We book a lot of our own shows and also work with bands and promoters looking to handle it all themselves. The latter, naturally, is where we get those what-the-heck requests. I consider them time bandits because the process of discerning what they're actually trying to book unnecessarily robs hours from us both.
I can't speak for all venue owners or booking agents, but below you'll find my top five eye-twitch-inducing booking inquiry mistakes. Bands, artists, promoters, and anyone looking to reserve a date at any venue: please avoid these easily avoidable (and very annoying) mistakes!
1. The ambiguous email
This is the one I'm most perplexed by. "Do you have any dates next month I want to book my band." Yes, it's often a run-on sentence. And no, these people don't say when, who they are, what the lineup might be, or anything else. No information, no questions – pretty much nothing.
As I've written before, the bare necessities of a booking inquiry are:
Information about your band: Music is a minimum, but sending an EPK is even better.
Event details: Who else will play? How much do you hope to charge?
Suggested dates: Have a few in mind in case the one you want is already reserved.
2. Arguing about price
If you're looking to charge $10 at the door and the venue owner says that's too much, please heed his or her advice. Make your case, by all means, but don't forget that the owners or designated booking agents know the venue better than anyone. And don't get snippy about it.
3. Promoting without confirming the date
Avert wasting time and money on promo you can't use by first being absolutely, 100 percent sure that your date is reserved. Sometimes scheduling gets stalled – maybe the venue owner is busy, and your inquiry's now buried in the second page of his or her inbox. Take the time to double-check that your show's been approved before creating a Facebook event, designing flyers, or beginning any other aspect of promotion.
4. Failing to follow through
If a venue owner or booking agent has to follow up about the flyers or lineup details you promised to send weeks ago, they're not going to be happy. Keep a band calendar – the easily shareable one Google offers is pretty perfect – and stay on task with booking from start to finish.
5. The Facebook message
This doesn't apply to every venue, but we discourage interested parties from sending Facebook messages to the Club 77 page. They're hard to keep up with, as we're also receiving other questions there about who's performing, age requirements, and what time the kitchen closes. Our email account is for booking and business, and our "about" section on Facebook plainly directs inquiries there. Still, we get Facebook messages about booking every single day. Ooph.
Get more expert advice on booking gigs:
Want to email your electronic press kit in a professional, seamless package to any industry contact? With the click of a button, you can now follow up with your contacts, manage your own tour or press outreach, and gauge interest in your EPK through Sonicbids. Learn more.
Jhoni Jackson is an Atlanta-bred music journalist currently based in San Juan, Puerto Rico, where she juggles owning a venue called Club 77, freelance writing and, of course, going to the beach as often as possible.