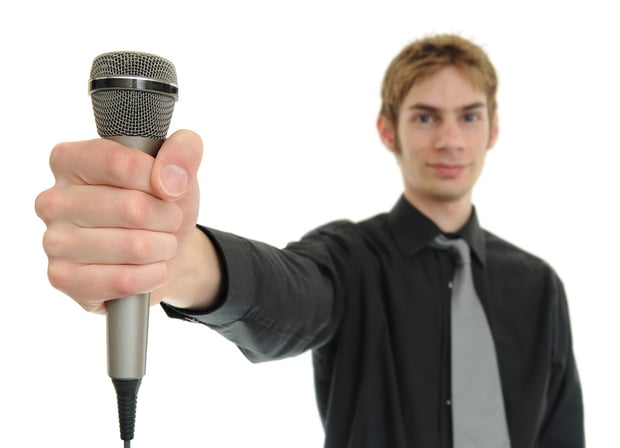 Image via shutterstock.com
If you're running your own music PR campaign, you're bound to have some questions before getting started. It can be both overwhelming and confusing to figure out where to start and what exactly needs to be done. To help shed some light on the process, here are answers to five of the most common questions I get from bands.
1. What exactly does a music PR campaign involve?
First, you need to have something to promote. Most commonly, that means a tour, single, EP, album, or video release. The key is that it's fresh and new for the media outlets you're about to contact.
There are two main parts to the campaign: 1) setting up, and 2) contacting the media you want to cover your band. Although you may be ready to hit the ground running and contact everyone you want to cover you, there are a few things you need to have in place first.
In the setup stage, you'll need to have a strong bio, press photos, cover art, and of course, finished music before you can do anything. You'll need to set your album or EP release date a minimum of three months in the future to meet media deadlines and build awareness in advance of the release. You should also plan when to release any singles and videos during the campaign. In addition, you'll need to compile a targeted press list catering to the outlets covering your genre, and write a press release to announce the release.
Once you have all the setup completed, you can start reaching out to media on your list to see if they're interested in covering your band. Be prepared to do that for the next three to four months.
2. How much money do I need to budget for a campaign?
If you're running a DIY campaign, your total costs should come in around zero unless you're hiring a photographer for publicity photos ($100–$1,000) or bio writer ($100–$600). Although the lack of financial cost for working your own PR can seem tempting for an independent band, you'll be paying in other ways. You have to invest a lot of time building your press list and continually contacting media who won't respond immediately. You'll be frustrated when you're not seeing results and not getting through to someone you want to cover your band. You may even face challenges getting in contact with a specific person because the contact information is private.
If you want to hire a publicist because the hassle and work seem likes more than you want to deal with, then you should expect to budget anywhere from $1,000 to $3,000 for a smaller, effective campaign. Keep in mind, however, that you get what you pay for in PR. Although it can seem tempting to simply pay the lowest rate quoted, rather than looking at the dollar amount, look at who clicks with your philosophy and what you hope to achieve. Has the publicist secured coverage at your goal outlets? Does he or she seem sincere and excited about your music? Take a look at these five questions to ask before hiring a music publicist on what you should look for in a publicist for your band.
3. How do I figure out who to contact at a certain media outlet?
You're going to have to invest a lot of time getting to know the blogs, radio stations, and local papers you want to cover you. Start by going through the sites and seeing what they cover and where you think you could be a good fit. Then take a look at who's writing those articles to determine who should you contact for that particular opportunity. If the author isn't mentioned, start by looking at the "about us" or "contact" sections to see if they give guidelines on who to contact and how.
4. Why haven't they responded?
There are usually a few reasons for this. First, publicity is a painstakingly slow process which rarely sees immediate results. If you're an unknown or emerging artist, you should know that, in the beginning, it takes time for media to get to know you when they haven't heard of you before. In some cases, you may have to follow up two or three times before you finally get a response. Members of the media also receives an insane demand for their time, so they have to prioritize who they'll listen to first, and that's usually a band they already know. Finally, as hard as it is to face, it may simply be a case of the outlet not liking the music.
[4 Reasons You're Not Hearing Back From the Press (And What to Do About It)]
5. When (and how many times) should I follow up?
There's a delicate balance between pestering and persistence. You may hear a lot of blogs tell you not to follow up; if they like it, they'll cover you. How do you know they've listened to your music, though? Well, you don't. If a blog specifically states not to follow up, then heed the advice of that blog, but don't let that guide how you contact everyone.
The truth is that most media contacts won't listen to your music based on the first email you send (sad, but true). You may need to follow up two or three times, but you should wait a week before you do so you don't irritate them into blacklisting anything that comes from you. If you receive a "pass," then you should respect that and move onto another contact who would be more receptive.
If you're running your own campaign, be prepared to put in a lot of sweat equity, go through periods of frustration, and face rejection. That's the downside. However, when you do start to see the coverage coming in, you'll have periods of elation that'll keep you going, and you'll have satisfaction knowing you're building your band toward the next level.
Next up:
Janelle Rogers began her 20-year music industry career working for SXSW Music and Media Conference. She then went on to work for BMG Distribution for 10 years in the alternative music department where she championed bands like Kings of Leon, Ray LaMontagne, The Strokes, Belle & Sebastian, and The White Stripes. In 2002 she launched Green Light Go Music PR as a haven of honesty, integrity, and passion for underrepresented artists and labels. She has since been named Mentor of the Year by the University of Michigan, Dearborn, appeared as a panelist at NXNE, and been an official SXSW mentor.