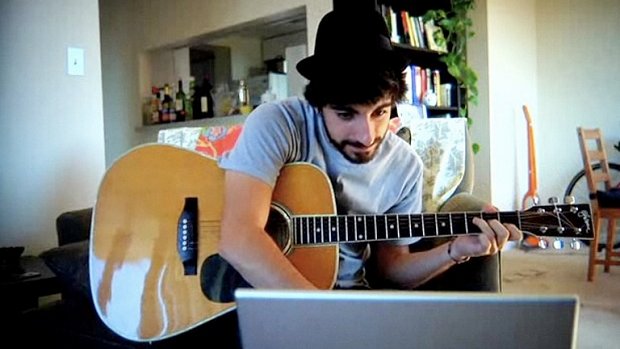 Image via howcast.com
Whether you love it or hate it, there's no denying that social media is a crucial tool in your promotional arsenal, particularly when interacting with members of the press. Smart usage of the medium and a solid understanding of its impact can be incredibly useful for a small or up-and-coming band; even established acts benefit from a clever social media strategy. Though interacting with fans warrants special precautions, interacting with the media can get even trickier, and more care must be taken to ensure you don't accidentally end up blackballing yourself. Here are eight dos and don'ts that could end up being the difference between a follow and a block.
1. Do pay attention
Monitor your Facebook, Twitter, Instagram, and other accounts closely. Choose one member to oversee your band's social media to avoid a confusing "too many cooks in the kitchen" situation. Put some effort into your page, from your bio (spell check, please!) to your cover photo. Your social media account is often the first exposure a potential fan has to your band, so be sure to make the best possible impression.

2. Don't ignore your accounts
Make sure all your information is up-to-date, recent reviews or other press links are posted, tour dates are current, all messages or replies have been answered, and all band photos are recent. Have you created a Bandcamp page yet? You'd better – and update it, too!
3. Do be grateful for shares and retweets
When a writer or publication tweets about your band, shares your status, writes a review, or posts an interview you've done, retweet the link and send a separate tweet tagging and thanking the person; share it on Facebook and do the same. A vast percentage of music writers and bloggers receive either no or very little compensation for their work, and showing them that you appreciate and respect their efforts will go a long way. Send an email thanking the author of a particularly thorough review or interesting interview, and, if you're able, offer to send them some new music or add them to your guest list next time you come through their town. If you show that you value their work, there's a much higher chance that they'll take the time to value yours.
4. Don't send random solicitations
For the love of all that is holy, do not send writers or editors Facebook messages pitching your band unless you already know them personally or have a legitimate connection. This is almost universally hated and ensures that you'll be ignored or blocked. Take the time to find the person's proper email address and send them an email during business hours. Don't invade their personal space and badger them while they're trying to unwind and look at photos of their aunt's new baby. By all means, post those links to your own timeline, but don't be spammy – make sure they're not the only content on there.
On Twitter, spambots roam freely; don't be one of them. Don't tweet links to your music or merch store at every person you follow. This is the fastest way to earn a slew of blocks and really does nothing to help your cause anyway.
5. Do make your posts count
If you're sending a tweet about tonight's show, personalize it a little. For example, "We're at Brick by Brick in San Diego tonight" isn't nearly as engaging as, "We're hitting Brick by Brick in San Diego tonight! Where should we stop for dinner/a drink/to check out some used records before the show?" If you're posting about it on Facebook, give it a little flair by attaching a photo of you guys goofing off in the van, or a pretty snapshot from the van window, or, at the very least, the flyer for the show. Automated apps like Bandsintown are good for making sure the bare details get posted, but it's always worth giving fans something to interact with.
When you're not on tour, share funny stories, ask questions ("What's your favorite Motorhead record? Band X is all about Ace of Spades"), or run contests. If you're in the studio, share videos, photos, and updates. Give people something to talk about. If fans comment on your posts, make sure to leave a response, even if it's a simple "Awesome!" or "Thanks a lot!" Those little touches take some extra time, but they really do make a difference.
6. Don't be overbearing
One or two posts a week – unless you're on tour – are enough. Do not set your page to demand a "like" before allowing a curious Facebooker to listen to your music. This is the worst idea ever, and ensures that your songs won't get heard. Don't send mass event invites for specific shows because, after a while, your fan in Kansas City is going to get really tired of getting weekly updates about the Vancouver gig and unlike your page. The only time when mass event invites are appropriate is when you've created one event with all of your tour dates and ticket information. Spread that far and wide because it's relevant to the majority of your fans. Don't spam fans' timelines with a zillion memes or photos of half-naked people, and make sure not to incriminate yourself, either – no one needs to see you asking people to bring weed to the show, even if it is in Denver. Basically, behave yourself and don't be annoying.
7. Do engage in lively debate with your followers
Twitter thrives on conversation, and if you've got something funny, enlightening, or topical to add to the chatter, you increase the probability of attracting new followers and making valuable connections – and enjoying it! Follow and retweet news from bands you admire, your labelmates, and publications that have supported you. Reach out to fans (Twitter's search function will point you towards them) and try to curate a follow-list of bands, people, and media entities that are relevant to your band. Don't buy followers – make yourself worth following.
8. Don't start fights or drama
Twitter beef spoils damn near everything, and you don't want to alienate potential fans before they even hear a note of your music. Don't bad-mouth clubs, promoters, your label, or other bands; if you have a problem with someone you've worked with, deal with it like an adult – privately and respectfully. Don't air dirty laundry on social media. As tough as it can be to ignore trash-talk or trolling, it's for the best. If your band members have public personal accounts, be aware that there's always the risk that an offhand remark or joke can be taken seriously and reflect badly on the band.

Kim Kelly is a writer and music journalist based in New York City who writes about music and the culture surrounding it for Pitchfork, Spin, the Village Voice, NPR, Wondering Sound, Decibel, and many more. Find her on Twitter @grimkim.