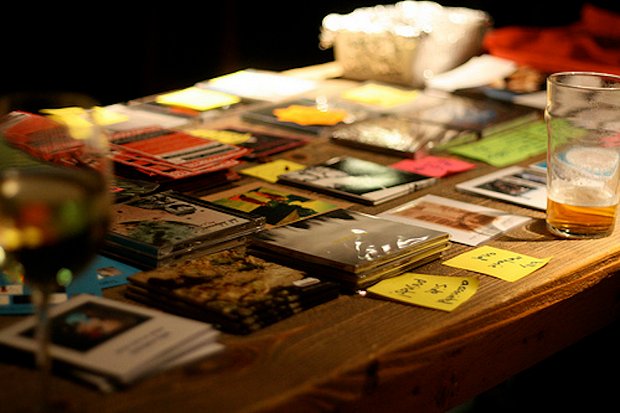 Image via musicodiy.com
At what point is it appropriate to begin dressing your fans? That's basically what you're doing when you sell them T-shirts emblazoned with your band name, after all. In all seriousness, though, selling merch is an important part of your DIY operation. When executed masterfully, it's marketing that pays for itself – and then some.
Merch can work to spread the good word about your awesome band, and income generation can fund future endeavors, like recording or pressing vinyl. But it's an investment: Even if you design and print on your own, you've still gotta pay for the T-shirts. There are ways to lower costs on all kinds of items, of course, but there are also other important boxes to tick before bankrolling a bulk order of buttons. To be sure you're ready to start selling merch, see if your band meets the five criteria below.
1. You're performing regularly
If you've yet to play your debut show, then it's probably not time to order T-shirts. Wouldn't it seem a little pretentious to assume first-time listeners will be so into you they'll want a souvenir? Regardless of how many shows you've played, before focusing any energy on getting merch together, make sure you've honed your live show. Who's gonna want to sport a shirt emblazoned with a band that's notoriously crappy live?
2. You've got music available (or coming soon)
Maybe you can't commit to a proper release just yet – merch can actually be a means of fundraising. Still, you should have something available, even if it's just a couple demo tracks on Bandcamp. Whoever is sporting your merch might want to point interested parties to the tunes, you know? It works the other way, too: enthused listeners will want to buy shirts, stickers, and other items to show support.
3. Your fanbase is noticeably growing
When you reach a certain level, your fans basically require you to have merch available. Okay, maybe that's a bit exaggerated. But have you ever been to a show where the band didn't have merch? Cash in hand, you were totally looking forward to buying a shirt and a record, only to discover they weren't selling a damn thing? It's happened to me more than once, and every time it's a bummer.
4. You've done the research
There are a ton of potential pitfalls in creating and selling merch – dull designs, too-high price points, nonrefundable misprints, and so on – that can result in lack of sales or money lost. As with any DIY effort, thoroughly doing your research is paramount. Here's where you should start:
5. You can afford it
Keep in mind that the return can be slow, especially if you're just starting out. Sometimes one or two members make the investment, rather than pooling together money made as a group, which can lead to internal issues if the debt lingers too long. Factor in how many shows you expect to play (and income you might generate) as well as the possibility of an online shop when considering whether or not you can afford to invest in merch.
Jhoni Jackson is an Atlanta-bred music journalist currently based in San Juan, Puerto Rico, where she juggles owning a venue called Club 77, freelance writing and, of course, going to the beach as often as possible.